In this day and age, keeping a track of all the sales and purchases is absolutely necessary. From auditing to tax calculations, invoicing can play a major role in keeping a record of where all your money is going and where it's coming from. But keeping an actual ledger could prove tedious, cumbersome and highly time-consuming. Below mentioned are a few advantages of online invoicing and we'll also be sure to mention a free invoicing software at the end of this article.
Recommended: How to Choose the Best Anti-Virus Software?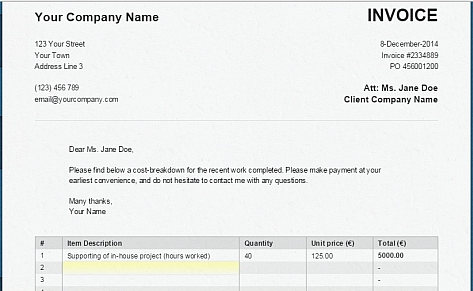 Accessibility:
The fact that it's online and everything is saved to your cloud account, means that you do not have to carry any books and bindings around. You can log in and take a quick look at the updates wherever you go.
Automatic updates:
You don't have to sit in front of your system and update each and every line. As soon as the transaction happens, your records will be updated automatically and saved to your cloud. You can then look at the updates and make necessary changes if required.
Recommended: Best Data Recovery Software for Windows 10
Cost reduction:
Since the software is free, you don't have to spend anything at all. Not on books or even papers. Hey, this even helps you save some trees.
Notifications and reminders:
Even if your software is offline, you can always get notifications for any transactions that occur during the time. Not only that, you can schedule and send your clients reminders asking for pending payments.
Accuracy:
Since everything is automatic and computerized, there won't be any missing or inaccurate information on any of the transactions. This will help you manage everything to the last decimal point.
Recommended: 6 Criteria for Choosing Software for Project Management Tools
Versatility:
Since it's an online software, there is room for millions of features to be added. Few of them include operating this software with different currencies and languages. These two features alone are enough reasons to switch to online invoicing as soon as possible.
Security:
Almost all online activities now contain end to end encryption and online invoicing is no exception. This means there are several security measures added to the software to make sure that only the parties involved in the transaction, has access to all the information related that particular transaction. There's absolutely no information leak in between.
Data Backup:
You can schedule your software to make a backup of all your data whenever you want. I could be daily, once a week or even once a month based on your preference. All the data gets saved in the cloud and can be restored if at all there was a power outage or a system crash.
Recommended: Teamviewer Alternatives : 8 Best Remote Desktop Software
Instant transactions:
We all know how frustrating it could get waiting for a payment to come through. Online software completely eliminates this problem. Transactions happen instantly and the record gets updated automatically. And all this, is, of course, as secure as it can get.
These are just a few of the generic features of the online invoicing software. Many of them have a lot of software specific features that will help you pick your favorite. For now, our pick of the free invoicing software is "'Sighted". Learn more about it at sighted.com.
You May Interested in This: