We lose our significant data from hard disk by unintentionally pressing the Delete key. Occasionally, a software bug or virus can also corrupt our hard drive.
In that situation, you need the best data recovery software for Windows 10 to get essential data back at any cost. At this time, a data recovery software plays an important role.
Here, we have collected a list of best three free data recovery software depend on the factors such as whether the software can recover Unallocated, RAW, Unallocated or Corrupt Hard Disk.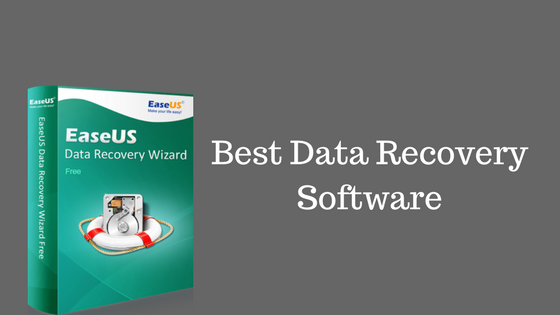 Best Data Recovery Software for Windows 10
#1 EaseUS Data Recovery Wizard
Website: http://www.easeus.com/datarecoverywizard/free-data-recovery-software.htm
EaseUS Data Recovery Wizard is the best data recovery software for both Windows and Mac Os.
The best feature of this data recovery software is that it can recover data from internal hard drives, external hard drives, iOS devices, USB devices, memory cards, music players, and more.
Due to its unique features, you may like it and also it is user-friendly.
About EaseUS Data Recovery Wizard
Both Windows and Mac users can install EaseUS Data Recovery Wizard.
You can browse via the deleted files by path in a Windows Explorer-like style, as well as by type of file and by the month and year when data was removed.
You can recover deleted files at a later time without rescanning the entire drive because the consequences of a scan can be backed up.
Deleted files can be sorted by their name, date, and file type in EaseUS data recovery.
A search tool allows you search the results of a scan to find a file by its name or extension.
Windows users can recover files from Windows file systems as well as from drives formatted with the Mac HFS+ file system
Key features of EaseUS recovery software
It is easy to use, without confusing settings or screens.
You can preview files before recovering them
Several files can be retrieved at the same time
#2 Recuva Data Recovery Software for Windows
Website: https://www.ccleaner.com/recuva
Recuva is another free data recovery software, easy to use and efficient. It supports windows.
About Recuva
Recuva is available in a portable version, so it is easy to install.
Frequently updates are available to stay up-to-date with time.
It supports drives till 3 TB.
Key features of Recuva data recovery software
Extremely easy to use
Comes in installable and portable versions
Very small in size.
But with this point, it has some negative points, too. Like
Download page on Piriform's site is a little confusing
The installer might try to add other programs to your pc.
#3 Glary Undelete – Free Data Recovery Software for Windows 10
Website: https://www.glarysoft.com/glary-undelete/
Glary Undelete is another better option for free data recovery software. Glary Undelete has a clean, reasonable interface that makes it an excellent file undelete solution.
About Glary Undelete
Glary Undelete supports all hard drive and flashes drive file systems used in Windows.
Easy download and installation makes undeleting any file quick and easy
Logical file and folder views of deleted files make it easy to find the one you're looking for.
Highlighted features of Glary Undelete data recovery software
Small in size and easy to download
Advanced filter available which allows you to search by date, size, and with wildcards
File condition listed in plain English beside each deleted file
It also has some negative points like,
No portable version available
It tries to install another program during setup
#4 TestDisk:
Website: https://www.cgsecurity.org/wiki/TestDisk
If we are talking about best data recovery software, and can not talk about Test disk, then a list will remain incomplete without mentioning it.
About TestDisk Recovery Software:
It is an open source software that created with an aim to fix non-booting disks and get back lost partitions. It provides many amazing features one of the best is file recovery system that can easily dominate any other data recovery software, TestDisk has a lot to offer for both beginners and experts.
Here Are Some Of The TestDisk'S Features:
Allows users to recover/rebuild the boot sector
Available on all leading platforms such as Mac OS X, Microsoft Windows, etc. and it is in fact quite accessible as it can find on various Linux Live CD's.
Recover or fix deleted partition table besides being able to reliably undelete files from exFAT, FAT, ext2, and NTFS file systems.
For some users, TestDisk tool will not use for data recovery as it is a command line tool. If you are a fan of Graphic User Interface, then we recommend you to use, Recuva or Stellar for file recovery.
We hope you like this best data recovery software article if you need any support ask us without any hesitation. Thank you for reading.