Virtual Private Networks or Best VPN Apps for Android one of the best security apps for Android mobile internet users. If you are frequent internet users and found IP block and website access denied while accessing the website. If it's happening with then don't worry you are not only one who is facing this. Whatever you do to check that website but without hiding your IP you can not enter.
These Android VPN Apps are very useful, these apps not only allow you to check the geo-locked website and other useful features but also provide privacy to your internet which is a huge problem in the online world.
At this time Android is the most-used mobile OS and it's very important to have the best VPN apps on your Android device. People are used VPN to get rid of regional restrictions with various types. In one word VPN Apps are the most powerful and popular security tools now a day. We have listed it randomly, choose one which is best for you. In our previous post, we listed an Android emulator for windows to download Android apps.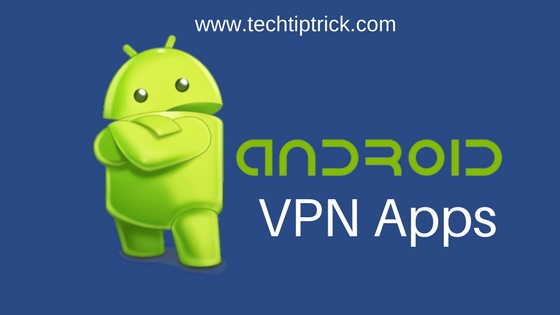 So here are some of the best VPN Apps for Android which provide free and paid VPN services.
Best VPN Apps For Android
#1. Hotspot Shield VPN Proxy

With over 400 million downloads around the world, Hotspot Shield VPN Proxy become the most trusted security, privacy and access platform for Android device. This VPN comes with top performance on speed, stability, and security. It has security features like unloack geo-restricted contents, full privacy, and security, unparalleled performance, largest VPN coverage etc. It's available free and paid both versions.
By using VPN (Virtual Private Network) technology, Hotspot Shield VPN Proxy create a path between your Android device and website you are visiting. It hides your ID and makes your device unknown so that none of your online activities can be tracked and you are able to access ban or restricted websites from your device.
#2. SecureLine VPN

This is another best VPN client for Android device which is design and developed by Avast. This is the best VPN app to keep your data safe, unlocked restricted apps and regional contents. You can On/Off your dashboard and can select the location from where you want to unlock the restricted contents. Best benefits of using this Android security app, it encrypts your mobile connection when are accessing unsecured Wi-Fi internet.
If you go with monthly subscription plan you will get 7-day free trial and if you select a yearly subscription plan you will get 14-day free trial. You can cancel your subscription plan anytime by visiting payment.google.com. So choose a plan according to your need.
#3. SurfEasy

SurfEasy is another popular Android VPN App which is part of Opera. It has some of the good features live support, Wi-Fi hotspot security, encrypt all traffic of your device, ad blocking premium feature etc. You can choose from the numbers of countries including the US, Spain, UK, Australia, Germany and much more.
SurfEasy offers you 500 MB data for free. You can earn more by referring your friends, give a rating on the app store and more. The premium plan also available which comes with unlimited data for the mobile plan and all devices plan. This is the best VPN app for you if you are using a single VPN app for multiple devices.
#4. DroidVPN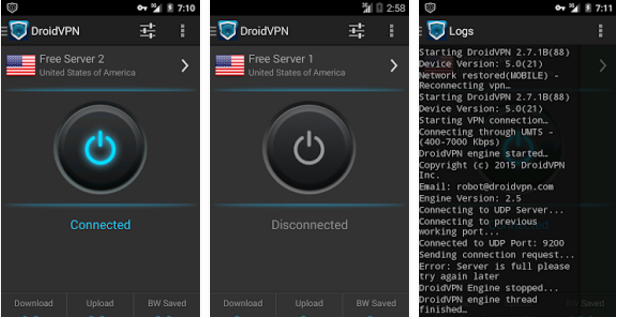 DroidVPN is best and easy to use VPN software (App) for your android devices. It provides 100 MB free data for the free account and if you want to use more data you need to upgrade your account. For free account can't access, more than two servers but the bad news is that this server busy most the times. The premium plan provides you unlimited bandwidth to use and you can select a server from various countries.
Use ICMP or UDP tunneling protocol to tunnel your IP traffic (ICMP only works on rooted devices). If you are using below 4.0 Android version you need to root your device.
Also Read: Best iPhone Emulator
#5. Spotflux VPN

Spotflux VPN is paid and free VPN for Android. It provides 3-day trial and after that, you need to purchase it. This app takes care of your important data with 2 level security. It saves your bandwidth and maximize your data plan, make your IP private and keep your device safe with pro-active privacy and also it protects your device from the virus. It analyzes both incoming and outgoing data to protect you from malware and unauthorized activity.
OpenVPN

OpenVPN is an open source client based Android VPN. This app provides unlimited bandwidth for free. This app uses Android 4.0 VPNService API, so you don't need to root your device. The con is you need to download VPN configurations and upload it on your device manually.
Also Read: Best Security App for iPhone
#6. VyprVPN

VyperVPN is one of the advanced and best Android VPN App available on Play Store. With this app, you can connect with many virtual locations including Austria, US, UK, Brazil and more. The app provides 2 simultaneous VPN connections, VyperDNS which is only available for the VyperVPN user, Chamaleon protocol to mask VPN traffic and more.
The app offers 500 MB free data usage but you can extend it up to 2 GB a month. If you go with a premium subscription you will get unlimited bandwidth at $9.99/pm.
#7. Hola Free VPN

Hola Free VPN is the best VPN app for those users who are looking for free Android VPN app with unique features. The app increases your browsing by connecting you with nearest servers automatically from 190+ countries servers. It secures data from malware and enables you to access geo-blocked content. The best part is, it reduce your data plan costs.
Also Read: Best iOS Running App
#8. Hideman Free VPN App

Hideman free VPN App is simple and easy to use app which is free VPN App. It connects you with more than 7 distinct locations globally. The best feature of Hideman VPN is, it secure transmitted data as the best possible way and this app uses a 256-bit encryption key. This app protects your data in a good way that if some try to monitor your data they will not able to access without this key. This VPN app offers 5 hour free per week and you can get premium one hour via in-app ad networks.
#9. VPN Master

VPN Master becomes highest-rated VPN app on Play Store with its features. It comes with virtual locations like the UK, Canada, US, France, Japan etc. The app is free & comes with unlimited VPN tunnel for your android device to unblock websites, bypass blocked apps, watch online video, secure WiFi hotspots and browse privately & anonymously. The app speeds up and encrypt VPN connection to your smartphone and tablet.
The feature I like about this app is it protects data, personal information and provide best internet security. It works with WiFi, 4G, 3G, LTE, and all mobile data. Keep in mind that, if you download BitTorrent, your P2P account will be blocked.
#10. Hotspot Shield

Hotspot Shield is another best free VPN app for those who are looking for unlimited data. The UI of the app is quite good but the ads will irritate you in the free version. You will get military level security with its SSL encryption feature that makes your IP anonymous and makes it secure. All the servers in Hotspot Shield controlled that means you will get highest VPN speed and sustainable and secure connection.
#11. Touch VPN

Like other free Android VPN, Touch VPN also offer 100% free services, unlimited data bandwidth, secured and easy to use. Touch VPN connects you with any countries like Sweden, the United States, United Kingdom, Denmark, France, Canada, and the Netherlands. With one click you can connect with any servers and when you not on App it saves your mobile battery. This is what we are looking for, isn't it?
#12. FinchVPN

FinchVPN offers semi-premium VPN service with the highest data cap and connects with servers. On the free account, you will get 5 various server locations with 3 GB data per month. Pro plan offers 25 GB data per month and if you want unlimited GB then you can go with the premier plan. Additionally, you can customize your connection by providing the protocol and port. The app provides anti-DPI, SOCKS VPN, and SSH VPN to advance user who is concerned about privacy.
You can register for free from the VPN app. With a free account, you connect VPN on Android, Windows, Linux, iOS etc.
#13. VPN Unlimited

VPN Unlimited is one of the best security apps for Android device. The app provides client apps for all major platforms including iOS, Android, Mac OS, Linux and MS Windows. With this app, you can connect with multi-server locations including UK, US, Brazil, Canada, Australia, Spain and more.
VPN Unlimited offers a free trial for 10 days and you can extend this free trial by inviting your friends for use this app. This VPN unlimited trial and paid subscription offer unlimited bandwidth and connection speed. Like other security apps for Android, this app also unblocks restricted content, protect your online activity, protect your Wi-Fi connection and bypass your ISP restrictions in order to speed up your internet.
#14. Rocket VPN

With over millions of download Rocket VPN app makes space in our top 15 Best VPN Apps for Android. With a free account, the app offers 250 MB free data to use every 30 days and after that, you can go with a premium subscription. The app offers worldwide servers, technical support, and a good user interface.
#15. Flash VPN
#16. Fast Secure VPN
#17. F-Secure Freedom
#18. VPN Shield WiFi Security Proxy
Conclusion
We have list top and best VPN apps for Android which are free VPN apps for Android and some are paid VPN apps for Android. Choose the best android security app according to your need and let us know which works better for you.