Are you playing PC games with Keyboard and Mouse? Well, if YES then you must try Windows Xbox 360 Controller driver for playing games to enhance your gaming experience. There are plenty of gamers who play PC games via XBOX 360 controllers instead of usual gaming keyboard and gaming mouse combination.
For some user's comfortable with Keyboard + Mouse and some with Xbox 360 controller for Windows 10 Operating System but for some PC games, it is just to use Xbox 360 controller to run that game easily.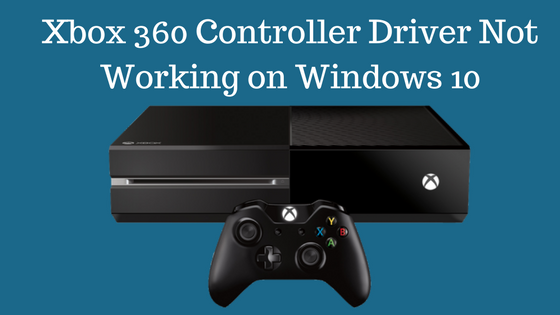 In this post, we are going to share How to Fix Xbox 360 Controller Driver Not Working because of some users complained that they are facing driver issue while using Xbox 360 controller for Windows 10 based PC.
Related Post: Xbox One & Xbox 360 Emulators for Android
Xbox 360 Controller Driver Windows 10
Have you faced issues while using Xbox 360 Controller? If yes then you must follow this post because we are going to share the perfect solution for all of you. We love to play games with Xbox 360 Controller with Windows 10 but at the same time some of them are facing the issue that Xbox 360 Controller is not working with Windows 10 operating system, so today we are here to tell you how you can fix that issue by your hands.
How to fix Xbox 360 Controller problems on Windows 10
Let's learn how to fix the problem of Xbox 360 Controller Windows 10 Driver Problems with some perfect methods one by one you can try these methods and find out which method works for you.
You must try them with your hands so you will learn how to fix Xbox 360 controller drivers windows 10 because you might face this issue in future and this is the time when you learn how you can fix Xbox 360 controller on windows 10 without any geek friend.
Related Post: Fix: Windows Key Not Working on Windows 10
Method #1: Install the Driver Manually.
You must have two types of Xbox 360 Controllers one is with wire and one with wireless, so if you are using wireless Xbox 360 controller then you must need a wireless receiver to connect the controller with your Windows 10 PC.
But sometimes the wireless drivers didn't get updates and thus, your Xbox 360 controller will not work on your Windows 10. So you must install the drivers manually to update your drivers.
Open the Device Manager and retrieve your device manager by clicking on Windows key + X and choose your device manager from the list that will display on the screen.
When you open your device manager that time make sure your receiver is connected properly to your Windows PC. So do that with by navigating to other device section and enlarge it. Now right click on Unknown Device and choose the option to update driver software from the menu. You can check if Display Driver Stopped Responding.
Click on "Browse My Computer for Driver Software".
Now tap on Let Me Pick From a List of the device on My Computer.
Now you can see the list of devices from that list you have to select Xbox 360 Peripherals and tap on Next.
Select the latest Receiver Driver option that you find on the list and then tap on Next button. If you got popup all you need to do is, Click on OK button and wait for the driver to install on your Windows 10 PC.
Now finally, you need to hold the pairing button on your Bluetooth receiver on your Xbox 360 Controller for few seconds. After doing this your PC will recognize your controller and pair easily.
We hope after following this procedure your Xbox 360 Driver Windows 10 issue will solved and it starts working on your Windows 10 system. If you found still an issue then you can try another method which we are going to discuss below.
Related Post: Windows 10 File Explorer Not Responding Error : 3 Method to Solve It
Method #2. Uninstall the Driver
It might possible that your recently purchased Xbox 360 controller may not work on Windows 10 because of a bad driver, and if that is the reason behind your Xbox controller driver windows 10 didn't work properly then you need this method 2 for solving this issue. You need to uninstall the driver and to uninstalling the driver you can follow below steps that are mentioning below.
Open the Device Manager.
In Device Manager choose Xbox 360 Wireless Receiver for Windows option and Right Click on it.
Select the Uninstall option from the menu.
When the driver has been uninstalled successfully, restart your computer. When your computer restarts, Windows 10 will automatically install the missing drivers.
Method #3. Install All Latest Drivers
Sometimes old driver didn't work properly even you update them on your Windows 10 PC so it might be possible Xbox 360 Controller Windows 10 many not recognized due to the outdated driver and if that is the problem make sure that your Windows 10 updates with latest patches.
But from the other side, you need to download all necessary drivers of Xbox 360 controllers. Now you can install perfect drivers and after this method, your Xbox 360 Controller will start working again on your Computer and you can enjoy your Games with your Xbox 360 gaming console.
We tested these methods one by one on different windows 10 computers and all three of them are working fine. So you can try these methods without thinking twice because at TechTipTrick we always test the software, apps, or tutorials on our devices. So you can use these methods easily and enjoy your gaming with Xbox 360 gaming controllers.
Do check: How To Open Local Group Policy Editor Windows 10?
Final Verdicts:
We hope you like this post on Xbox 360 Controller Driver Windows 10 and you will fix this error via following our methods. If you like these posts then don't forget to share this post with your friends and family who love to play games on Windows 10 PCs.
If you still have any doubt or query then you can drop your queries in the comment section below and we will get back to you as soon as possible.
Related Post: