Are you getting an error about api-ms-win-crt-runtime-l1-1-0.dll missing? If yes then we are sharing some information about this issue here.
Ever wonder why you've been receiving an error message in the computer when all you want is to install the new program you've been wanting to use? A lot of people know how to use the computer but not all of them are considered professional. You might be one of them.
Only about 20 million of the world's populations are professionals when understanding the computer and all its errors. One of the errors you may have encountered and had no idea on how to fix it is the api-ms-win-crt-runtime-l1-1-0.dll and it is missing from your computer. What should you do about it?
Recommended: No Audio Output Device is Installed on Windows 10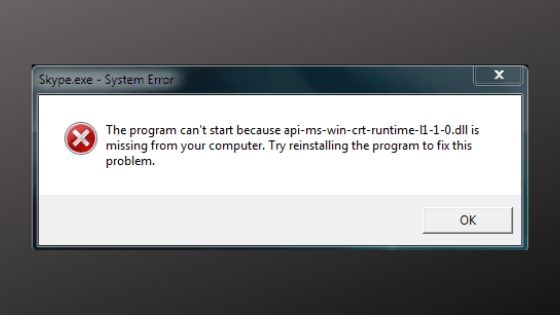 api-ms-win-crt-runtime-l1-1-0.dll missing error
A Deeper Look on the Operating System
Computers are being run by an operating system or simply called as OS. It is a software that keeps everything together. Imagine it as the brains of the computer. It communicates with the device's hardware – your body.
It is in charge of everything else. OS is not only present in the computers but it's also present in your mobile phones, tablets, laptops, game consoles, smart TVs, routers, WiFi and smartwatches. It's everywhere.
One of the examples of an operating system is Microsoft Windows. You have this on your computer all the time such as MS Word, Skype, Windows Calculator and the list goes on. Almost all operating system includes API or Application Programming Interface.
Its function is to allow software components to interact with each other. You can simply describe API as a messenger. Let's say you are on Skype and want to call someone. Skype connects to the internet and then sends the information that you want to call someone to the server.
The server now retrieves the information, interprets it, then does what you tell it to do and off you go. You are now able to call someone. Now, what happens when you're having a problem installing a new application, not just Skype or maybe any related MS Windows applications to your computer? Will you be able to fix it?
Common Errors Explained
One of the common errors is when you receive a message saying this file "api-ms-win-crt-runtime-l1-1-0.dll" is not on your computer. If you are not a tech-savvy, it will surely cause you to panic.
You might be wondering why this is happening. Most applications or programs have a software called Microsoft Visual C++ Redistributable Visual Studio. It is a Windows OS and serves as a library that has some components needed to run an application. And it just happens that api-ms-win-crt-runtime-|1-1-0.dll is an important part of Microsoft Visual C++ Redistributable Visual Studio. Now if this certain kind of software is missing, corrupted or incompatible, then this error message appears.
How to Fix Errors – Reinstalling and Repairing
Here are some simple steps on how to fix it. There are two things to do – reinstalling and repairing the software. Before you do anything, you need to check first if your computer has Microsoft Visual C++ Redistributable Visual Studio.
This software may have different packages such as Microsoft Visual C++ 2015 Redistributable. To check, open the Control Panel on your computer and look for the Programs and Features. Scroll down the list and you will see the software.
Now if you're still wondering why you still get the error message, then this time you have to uninstall it. If you see two versions of it, then you have to uninstall both of them. Once done, reinstall the package. If this solves your problem, that means you can now use the program or application. Otherwise, you have to do the other steps.
Reinstalling
One way to fix this error is to install it via Windows update. To do this, just type in the Search box from Start the word "update". Then you will see the word check for updates and click it. Some windows may have different result once you try to search for updates but the point is you have to click install updates to run the software. Restart your computer and see to it that there are no more updates to install.
If doing this is unsuccessful, then what you will do next is to download the software directly from their official website. Go to microsoft.com and download the software. Once done, install it.
Repairing the Software
The next step might be difficult for someone who is not familiar with computers. It involves repairing the software. To do this, go to the Control Panel and look for the Programs and Features. Scroll down the list to find the software. Once found, click change. From there, click repair. Then another screen would prompt after that and all you have to do is follow the instructions to complete the repair.
If all the steps didn't work, then it's time for you to call for help. Whether the steps didn't work or you don't have the time to fix it yourself, there are computer technicians who are willing to solve this error. You just have to reach out.
Related Post: