Fix system service exception error Windows 10. SYSEM SERVICE EXCEPTION is a blue screen of death (BSOD) error in which an error code is 0x0000003B. It has been a part of Windows since Windows XP and continues in Cisco VPN client windows 10. It tells us where to begin our troubleshooting. This error indicates that your system process is poor. In other words, it means that your windows installation and your drivers are incompatible with each other.
System service exceptions error occurs in Fix system service exception error Windows 10. When the system checks it regularly and is a process that switches to privileged code from non-privileged code, Windows Core file that manages video capture and associated drivers, additionally. this error occurs when the graphics card driver cross-crawls and passes the wrong information in the kernel code.
The most common cause of the SYSEM SERVICE EXCEPTION error is corrupt, old or bad driver. Sometimes this error is also caused by poor memory or incorrect registry configuration. See how this error is and how to Fix system service exception error Windows 10 is easily following this guide.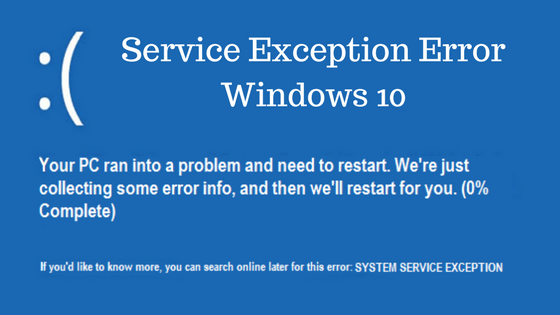 How to Fix System Service Exception Screen Errors
Corrupt or outdated Device Drivers
Microsoft Security Update KB2778344
Viruses or Malware on your system
Corrupt Windows Registry
Faulty Hard Disk
Damaged or corrupt Operating System Files
RAM issues
Miscellaneous fixes which can solve this issue
Make sure your Windows update is up to date.
Run a full system scan using your licensed antivirus.
Update your drivers (Make sure your graphic card driver is up to date).
Make sure only one antivirus is running if you have purchased another make sure to turn off Windows Defender.
Undo recent changes using System Restore.
Fix the Windows 10 SYSTEM SERVICE EXCEPTION
First, let us update Windows and drivers to see if older drivers are causing problems.
Navigate to Settings, Update & security, Windows Update.
Click 'Check for updates' and allow the process to complete.
Reboot if necessary.
Navigate to Control Panel, Hardware and Sound, Device Manager.
Click Sound, video and game controllers right click and select 'Update Driver Software'.
Select any webcam you have, right click and select 'Update Driver Software'.
Reboot and retest.
If the error appears again, then update all your drivers, especially the graphics, if the problem persists after the driver update, then try to remove your security software after you have completed the troubleshooting, just make it a new or optional Remember to change with the version.
Navigate to Control Panel and Programs.
Select 'Uninstall a program'.
Highlight your antivirus, malware or other security software and click Uninstall.
Reboot and retest.
Perform this step for all security software until the error goes away.
If the error disappears, download the new version of each security app that you installed and added them at one time. Allow your computer to throw error before moving on to the next one.
If you still see the error and use the Virtual Clone Drive, then delete it as it is associated with SYSTEM SERVICE EXCEPTION (ks.sys) error Reboot and Retest.
Other useful Windows 10 tutorials on the Tom's Hardware.
How to re-register the Windows store in to Windows 10.
Open the On Screen Keyboard on the Windows 10 when your physical keyboard isn't working.
How to change of sync frequency of the Windows 10 Mail app.
Install Latest Drivers
Press Windows Key + R then type "devmgmt.msc" and hit enter to open Device Manager.
In the command prompt type the following to command and hit enter after each one.
Let the above processes run and let it identify, repair and fix to bad sectors, if any, on your hard disk drive.
Reboot your PC to apply the necessary changes.
Run CCleaner and Antimalware
Download and install CCleaner & Malware bytes.
Run Malware bytes and let it scan your system for harmful files.
If malware is found it will automatically remove them.
In the "CCleaner" section, under the Windows tab, we suggest checking the following selections to be cleaned.
Once you've made certain the proper points are checked, simply click Run Cleaner, and let Cleaner run its course.
To clean your system further select the Registry tab and ensure the following are checked.
Select Scan for Issue and allow Cleaners to scan, and then click Fix Selected Issues.
When Cleaners asks "Do you want backup changes to the registry?" select Yes.
Once your backup has completed, select Fix All Selected Issues.
Run Windows Memory Diagnostic
Type memory in the Windows search bar and select "Windows Memory Diagnostic."
In the set of options displayed select "Restart now and check for problems."
After which Windows will restart to check for possible RAM errors and will hopefully display the possible reasons as for why you get the Blue Screen of Death (BSOD) error message.
Reboot your PC and check if the problem is resolved or not.
If the issue is still not resolved then run Memtest86 which can be found in this post Fix kernel security check failure.
Run Driver Verifier
This method is only useful if you can log into you download windows 10 normally not in the safe mode. Next, make sure to create a System Restore point. To run Driver verifier to Fix system service exception error go here.
Install Compatible Driver Software
You have to do all the processes in safe mode with networking. Generally, you cannot turn your PC into safe mode, Because, Advanced Boot Menu is disabled in Window 10, Windows 8 and 8.1. So you have to manually enable it to enable it, you can read this article: Enable Legacy Advanced Boot Menu in Windows Otherwise, there is another guide more easily to boot in safe mode.
After enabling advanced boot menu, turn on your PC in safe mode with networking. Then you can fix system service exception BSOD error.
Once your PC started in safe mode, Open device manager from control panel. Just go to Control Panel > Hardware and Sound and open Device Manager.
In device manager find any drivers' name with yellow sign.
If you see any driver with yellow sign from the list, just uninstall it and install it again with the latest driver software.
If you have AMD or NVIDIA graphics card, Try to update it to latest version. Even, Intel HD graphics driver problem can be responsible behind this BSOD. In that case, you will need to update this driver to latest version.
Now restart your PC.
This method will fix system service exception BSOD error. But if your system service exception error is due to an update number KB2778344 or something else, then you must follow method 2.
Uninstall Specific Programs
First of all, try to disable / uninstall the following programs one by one and check whether the problem is resolved or not.
McAfee (Just turn off don't uninstall).
Webcam (Disable your webcam).
Virtual Clone Drive.
Bit Defender.
X split.
MSI Live Update.
Any VPN software.
AS Media USB device.
Western Digital Driver or any other External Hard Disk Driver.
Nevada or AMD graphic card software.
If you have made all the above mentioned efforts but are still unable to fix the system service exception error, then try this post which boot camp windows 10 resolves all the personal issues related to this error.
That is, you have successfully learned how to fix system service exception error in Windows 10, but if you are still inquiring about this post, do not hesitate to ask them in the comments section.
Some Other Windows Solution