While working with docs and printers, we found various issues to print out the documents. This issue mostly occurs while using the MS Office components such as Excel or Word Files. The time when you start printing the documents, sometimes an error comes out called "The active directory domain services is currently unavailable" that means that the printer and PC didn't get any connection and this is why people got this error active directory domain services unavailable.
On the same side, this problem doesn't come while using other various applications with same functionality. If you are thinking that why this error is came in the case of MS Office components only, the simplest and easy to understand answer is, User Permissions do not allow the printer functions to be listed in MS office and this is why it cannot detect the printer functionality.
Also Read: Xbox 360 Controller Driver Not Working on Windows 10 [SOLVED]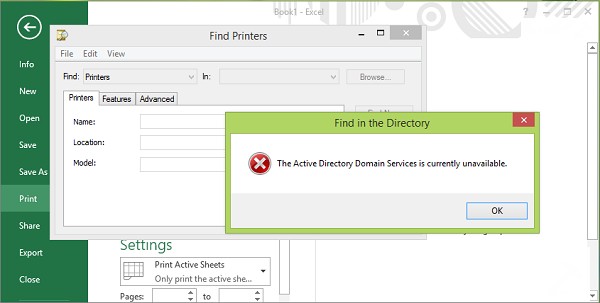 There is a cure for every problem in this world, and in the tech industry we have plenty of ways to get rid out of any issue. We have couple of methods to fix "the active directory domain services is currently unavailable" issue.
It is known that that this issue is reportedly found in almost all major brands of printers such as HP, Canon, Epson etc and at the same time some windows users says that it is Windows 8, Windows 8.1 and 10 error not with printer.
But as we at TechTipTrick never share anything until unless we go through with the same issue and then we start finding the issue and then we shared the complete solution guide and we have come across that some users of Windows 7, that are also facing the same error while trying to print MS Office app based docs via their printers. It might be the issue with printer but as we already told you that it is permission based error which cannot be sent by printer.
Related Post: Windows Key Not Working on Windows 10
So let's find out how to fix the active directory domain services is currently unavailable error via our ultimate methods which will provide you perfect solution for "The Active Directory Domain Services is Currently Unavailable".
There are plenty of methods available to fix this issue, but we are going to share the basic and easy to follow methods such as troubleshooting because most of the Windows issue can be solved by this step only. If it does not work then we will move forward to next methods.
Basic Printer Troubleshooting – Method #1
First, go to Windows Search (Win Button + W) and search for Troubleshooting.
Now under the right side of Troubleshooting Control Panel Menu Click on View All and select Printer from the windows you got.
Now follow the basic Printer Troubleshooting steps and it might solve your problem right away.
If this method works for you than GREAT otherwise you can try our next methods one by one and we are sure that one of them will solve your issue for sure.
Related Post: How To Open Local Group Policy Editor Windows 10?
Update Printer Drivers – Method #2
This error might come to your PC because this kind of issues occurs due to outdated drivers or some issue with your printer drivers. Before following this driver update method, we strongly recommend you to scan your drivers via Driver Scan tool on your Windows PC and this tool will tell you what kind of issue your drivers go through.
If you found this scan tool helpful and you found any error and the cure that tool suggested, do that immediately or Follow below method for update drivers which we are going to share with you now.
Using Registry Editor and Giving Permissions
We strongly recommend you to be Careful while you make the changes in registry editor because a small mistake might affect your system. It is, therefore, advisable to follow the steps carefully and make changes in the entry. Also, please backup of your system as you are going to precede this method.
Press Win + R and in the dialogue box type regedit and tap enter.
Now in the registry editor, go to the following: HKEY_CURRENT_USER\Software\Microsoft\Windows NT\CurrentVersion
Next, there will be three sub keys in the current version key, the Devices, Printer ports and the Windows. Now to get the permission, all you need to do is to click one by one all of them with a right click and from there select permissions from each of them separately.
Now you are supposed to select the user account/username label on which the fix has to be done. Having done that you will have to tick mark on Allow and then next, click on Apply and OK.
Once you have gone through this process, simply restart your PC and unplug the printer and reinstall it again.
The error is gone now, and the fix is done. Now you can easily detect the printer on MS Office components, the permissions can be changed now.
Also Check: How To Take A Screenshot On Windows 10?
Restart Your Printer Spooler Service – Method #3
Open the Run Command using Win + R shortcut key. Now type services.msc and click OK.
Now scroll down to Printer Spooler and check whether it is Running or startup type should be Automatic.
If not, then Right-Click on Print Spooler and open its properties and then Start the service.
If it's already running then, Stop it and again Start it.
We have shared all the working methods, which solve this error at our end. If the active directory domain services are currently unavailable then you can follow this process. Now you must not be having any issue now while printing your documents with MS office or any other app. If still, problem occurs, first go with basic troubleshooting by above first method steps, and then scan your drivers. Now try out these methods and let us know that which method works fine for you.
We hope you find it useful and helpful while facing issue of the active directory domain services is currently unavailable and now you can solve it at your end. If you find this post useful then share it with your friends.
Some Related Tutorial: