Are you unable to connect to Nvidia and want a perfect solution for fixing GeForce experience update error? Then this post will be idol post for you when you have read our perfect top 3 solutions which help us when we unable to connect to Nvidia windows 10 and windows 8 systems.
YES after the GeForce experience update people facing this message continually "unable to connect to Nvidia try again later" and they can't get proper usage of their Nvidia like before.  So how to fix GeForce experience unable to connect to Nvidia step by step? We have the perfect answer for this question, just read this complete article and you will understand how to fix this and YES you don't need any geeky friend to solve this again.
Recommended: How to Speed up Windows 10 Performance?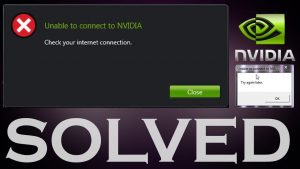 Unable to connect to Nvidia – How To Fix GeForce Experience Update Error?
In this post, we will share step by step guidelines on how to fix errors on Geforce Experience Unable to Connect to Nvidia. We have encountered the best three solutions tested by our experts and you can also try them to get out of this error.
Read our entire step by step solution for perfect solution Nvidia GeForce experience unable to connect error.
Step by Step Process for "Unable to Connect to Nvidia":
Everyone is on smart devices such as Smartphones, Tablets, PC and Mac and every single device needs graphics cards to enhance your visual experience and when we need to check out best graphics cards, Nvidia provides top-notch graphics cards which suit all type of games around the world.
When recently people updating their Windows PC from OS 7 to 10 they are unable to connect to Nvidia and you all are might aware with that, that graphics cards are counted as the soul of each freaking gamer who frequently uses his/her PC for games purposes.
And a die hard gamer never resists with these kinds of issues. Since 2014, plenty of gamer facing this problem again and again when they update their Windows OS or installing new graphic cards then they all start facing an issue called "Nvidia Geforce Experience Unable to Connect".
Method #1: Services.Msc
This method "Services.msc" also known as file killing method in technical language and it is one of the first and simplest methods to sort out the error of "Nvidia Geforce Experience Unable to Connect".
Below we have shared step by step process to complete this process.
#Step 1: Go to C:\programe data\NVIDIA Corporation\netservice > Select NSManagedtasks.xml.
#Step 2: Now launch the Task Manager with shortcut key "Ctrl + Alt + Del".
#Step 3: Now find out NVNetworkserice.exe select it and RIGHT CLICK on it, you will get a list and then click START option.
#Step 4: Once you have done with the above process, you will get Geforce experience tool running popup.
#Step 5: Now CLOSE this window and run it again and this process will allow you to update everything easily.
This process will help to get out of the error for unable to connect to Nvidia and if you not then you can further read below article for more methods.
Method #2: Update GeForce Drivers
The second method is also common but people never focus on this and will face unable to connect to Nvidia because they never update drivers and work with old versions of drivers.
Follow below process to update your GeForce drivers:
Go to your PC browser and open geforce.com/drivers and tap on "Automatic Driver Updates".
Eliminate the existing version of your software.
Now download and install the latest version of GeForce in your PC from the above link.
Check for updates once the installation was done and you will your "Unable to connect to Nvidia" issue will solve
Once the process was done, Uninstall the driver manually.
Above method is one of the simplest methods in this post, I hope you find it easy and you can able to solve your issue now. But before trying this make sure you try the first method and if that not work for you then shift to second one only.
Method #3: Advanced Host Method
Note: Follow this method, if you are familiar with technical things and have some technical knowledge about graphics card and PCs and if NOT then don't ATTEMPT this one because if you have done something wrong then your PC might not work like before.
Follow below process step by step to solve this issue:
Go to C:\windows\system32\drivers\etc and Tap on the hosts in the notepad.
Before editing, create a copy of the Hosts file and save it on your desktop.
Now you need to make some changes, like change 0.0.0 localhost to 127.0.0.1 or you can remove x.x.x.x from Localhost.
If it does not allow you to edit here on this file then cut entire code and paste in MSword file and edit there and then paste edited part in this file.
OPEN and now try to update GeForce again, It will work for sure and resolve your NVIDIA GeForce Experience Unable to Connect error.
Video Tutorial: How to fix Unable to Connect to Nvidia
Final Conclusion:
I hope you find this post useful and now you can resolve "Unable to connect to Nvidia" error with your hands. If you find this post useful and helpful then don't forget to give it a share and spread your love towards, TechTipTrick because your love motivates us to get back with some best tips and tricks for you guys.
If you have any doubt or feedback then don't forget to drop them in the comment section below and I will get back to you as soon as possible.