Are you eagerly looking for reliable and efficient methods to take a screenshot on Windows 10 of your favorite image? Then you came to the right place. Screenshots are a somewhat amazingly suitable method to document and also helps you to share what is on your Windows desktop screen.
If you decide to gather more additional knowledge, then you are advised to go through remaining following points to gain an accurate idea. The snapping screenshots can be highly useful indeed. Here is some simple method which inevitably guides on how to take a screenshot on windows 10 on laptop or personal computer efficiently. We have shared the solution to speed up Windows 10 computer to take screenshot faster.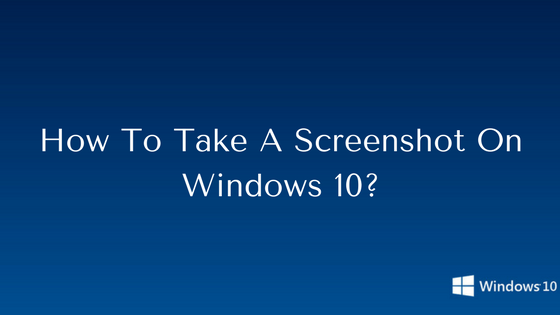 How to Take A Screenshot on Windows 10
The print screen on Windows 10 or screenshot on Windows 10 guide will help you to easily understand to way.
Different Methods to Print Screen On Windows 10
Therefore, taking screenshots along with the windows 10 built-in control is very trouble-free however the approaches to perform are not accurately precise. Here is some proven method that is built-in Windows screenshot keyboards shortcuts help you to gain how to take a screenshot on windows quickly. It also works excellent on an earlier version of windows also in the appropriate manner.
#1. Using Print Screen
The existing screenshot standard so far exists in the Windows 10 version. Thus, you need to tap on the "Prtscn" icon which is present on the keyboard, and the whole screen will be instantly copied to the clipboard. From there you can also easily paste it into the files such as Paint, Photoshop or else some other photo program which will permit you to paste in an image. It is one of the simple ways to take screen capture windows 10 within a fraction of second your most like pictures.
#2. Adding Windows Key
If you search for another method for how to print screen on windows, then it is another way which helps you to take screenshot easily. The new upgraded version of Prtscn is accessible as Windows 8 is Windows key + PrtScn. You just tap on these two keys identically, and your window screen will blink for few second since if a camera shutter was simply opening and closing. Then, open the file explorer, and navigate to pictures screenshot and your screenshot will be observing the screenshot image present on it.
#3. Using the Current Window
In case, if you want a screenshot of the current program what you are using like a word, Chrome, PowerPoint, Excel to take a screenshot on PC Windows 10 then click on the button Alt + Prtscn. It will copy image currently on your window and focus to the system clipboard. You simply move by with the help of shortcut key Prtscn, and you can also paste the image into photo editing or some other program where you need.
#4. Super Screenshots
If you want to go somewhat deeper than tools of screenshot windows 10 provide, then third party program & extension can also scrape your itch. The simple method is by using the clipping tool which comes along with the OneNote 2016 for the desktop for windows screen capture purpose. You need to open it, and the device will appear in the system tray below upward-facing arrow to the far right of Windows 10 taskbar.
#5. Save Clipping On OneNote
Now, look for button OneNote along with a pair of scissors. Then right-click on it and choose take screen clipping from a context menu. Now, a screen will freeze & move clear gray color, when the mouse pointer moves into a precision cursor. Then, take a screen grab windows 10 screen clipping and tap & drag in the rectangular shape over a region which you need and release mouse button. Wait for some seconds pop-up windows appears along with several choices to save the clipping on the OneNote notebook or else copy the image to a clipboard for use in various programs.
Conclusion
From the above following points, individuals can gain an exact method to take a screenshot of Windows 10 differently. As per user convenient, folks can prefer any one of the ways to take screenshot efficiently.
Related Article: