The number of online enterprises is increasing in tandem with the fast expansion of digital commerce. The worldwide B2B eCommerce industry is expected to be worth USD 12.2 trillion in 2019, more than six times the size of the B2C market. The value of the B2B eCommerce sector is expected to skyrocket. As a result, more businesses will go online, increasing the need for the best B2B eCommerce platform.
In this blog post, we'll review the top B2B eCommerce systems. Continue reading to determine the best eCommerce platform for B2B businesses.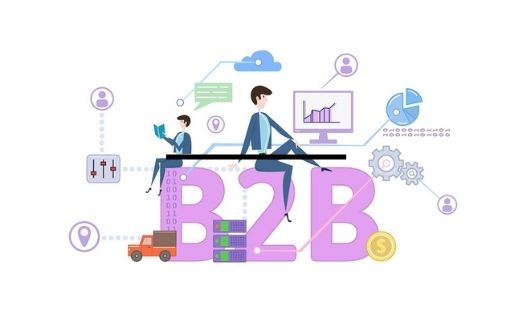 Defining B2B eCommerce
Business-to-business eCommerce, or B2B eCommerce describes online transactions in which both sides are businesses. For instance, when one firm sells its products or services to another, this is referred to as a business-to-business (B2B) transaction.
Look for Key Functionalities
One of the primary issues when selling online to other businesses is cyber security.
Of course, the security of a corporation is critical. Because hackers may easily target your website, keeping your information secure in the eCommerce company is vital and challenging. To be the best B2B eCommerce platform, they must protect their vendors' data and their customers.
For example, when B2B consumers make a purchase, they typically supply payment information such as their PAN, cardholder name, and expiration date. This is referred to as credit card information. If your website's credit card data is breached, you will not only lose that customer for good, but you may also face legal action in some cases and reputational damage.
Further, customer data refers to the credentials and personal information that customers provide you with throughout the checkout process. Name, address, email address, purchases, passwords, and other personal information are examples of personal information.
It's also vital to use fraud prevention techniques to prevent people from submitting bogus orders.
In addition, a secure connection is required when using an SSL certificate. This is an essential security need to prevent hackers from accessing and altering any data transferred between two systems. Administrator security refers to a scenario where people cannot access and administrate the entire website with an unprotected Admin account.
Globalization
The process of growing a company's presence in worldwide markets is known as internationalization. As a result, your website may be used by people worldwide in several languages, currencies, tax systems, and locations without requiring any changes to the source code.
The goal of every online shop is to increase income by attracting more clients. Expansion into international markets increases the chances of eCommerce enterprises' success. As a result, leading B2B eCommerce platforms must make internationalization a priority for their clients.
The Ability to Personalize
If you want to do something that your eCommerce platform doesn't presently do, it's helpful to have the ability to modify it by creating unique code. You may also leverage B2B eCommerce platform design services with these solutions.
More merchants will utilize a platform if it allows them to customize it for their online companies. To put it another way, scaling up is a more cost-effective option for internet enterprises. Anyone with coding expertise or an in-house development team may modify the functionality and design of the shops for free. The opportunity to customize a platform means you have complete control over the appearance of your business and may make changes as needed.
As a consequence, the best B2B eCommerce solutions should enable customers to customize their pages.
Which are the most widely used B2B eCommerce platforms? Check out the list below:
Shopify
With Shopify's business edition, you'll have access to one of the most advanced eCommerce shopping carts available. Shopify Plus has the same fundamental style and functionality as Shopify, but it also has extra tools and B2B features. The link above provides an in-depth analysis of the significant distinctions between these two systems.
Shopify Plus is gaining popularity as a credible option to top B2B eCommerce platforms. Over 7000 B2B eCommerce companies utilize this B2B platform to conduct their business.
OroCommerce
This platform is a business-to-business eCommerce platform designed from the ground up with business-to-business sales and support in mind. Any manufacturer, distributor, wholesaler, supplier, multi-channel, or marketplace seller may utilize it regardless of size or industry.
It's also user-friendly. Reporting, segmentation, and automation are just a few of the sophisticated B2B tools available today. In addition to the open-source design, it provides dynamic APIs, cutting-edge infrastructure technologies, and a broad community of solution integrators and partners. You can also install OroCommerce on-premises or in the cloud. And it comes with a free CRM system.
OroCommerce is available in two flavors: Community Cloud and Enterprise Cloud, with the latter allowing for many websites, currencies, and cloud hosting through OroCloud. The Community Cloud edition is free to use. This B2B solution also provides 24-hour assistance to assist you with any technical issues that may arise. Petra Industries and Saltworks are two of the company's notable clients.
Salesforce Commerce Cloud
Salesforce Commerce Cloud is another excellent B2B eCommerce platform to investigate. It is a must for firms who wish to thrive in this industry.
Salesforce is a multi-tenant cloud-based platform designed for large enterprises. Commerce Cloud is Salesforce's response to Demandware (previously Demandware). A software architecture that permits a single instance of the software to serve several clients is known as multi-tenancy. Even though all tenants use the same software, their data is kept separate to meet security standards.
When it comes to developing storefronts for organizations that buy in bulk, Salesforce Commerce Cloud has a lot to offer in terms of capabilities and functions.
NuORDER
NuORDER is presently linked to over 2,000 enterprises and 500,000 retail locations. This eCommerce platform concentrates on business-to-business transactions, including bulk order purchases and replenishment.
A two-way marketplace and ordering system that allows businesses to connect with retailers and retailers to locate new things is provided. Brands use NuORDER to simplify and collaborate on the wholesale process. Customers can also view items more quickly, organize assortments graphically, and make better real-time assessments with this platform.
The time to choose is now
Now that you know how to detect a B2B eCommerce platform, you're in control. You also understand which B2B eCommerce platforms are the best, so it's time to narrow down your options.
These best B2B eCommerce systems are constantly changing to fulfill the demands of clients by adopting critical measures. Choosing the most refined B2B platform is as easy as determining which one is appropriate for your online business.
Recommended: