Magento is a world-class omnichannel e-commerce solution, the leader in the number of implementations in the world. Part of Adobe Experience Cloud, a suite of web-based business management applications. The Magento CMS platform offers unrivaled opportunities to scale your business and drive online sales growth. Allows you to manage high-load retail and wholesale online stores in one administrative panel. You can hire magento developer at Elogic to know all the details.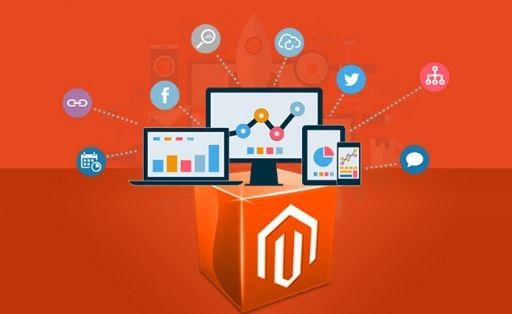 Magento Commerce Benefits
Scalability and flexibility
Magento ensures reliable and high-performance operation of your online platform.
Built-in functions for B2B e-commerce
Transform the experience of interacting with wholesale customers by providing them with a convenient b2b shopping portal.
Powerful business intelligence capabilities
Use the data to estimate your marketing ROI, calculate conversion rates, and more.
Ready set of connectors
СMS easily integrates with internal ISs due to reliable APIs and ready-made extensions, which allows you to reduce the time to launch your online project.
Adaptability
With Magento Commerce, your online store will display equally well on any device.
Magento Commerce Features
Convenient page builder
Improve the efficiency of your online store by allowing content managers and marketers to easily fill sites with new content without the involvement of IT professionals. Create new blocks, add media content in a user-friendly interface using drag-and-drop functionality and ready-made layouts.
Seamless customer experience
The e-commerce platform supports all major scenarios of omnichannel interaction with the buyer. Provide several purchase options: in an online store, at a point of sale, or courier delivery. Thanks to integration with your IT systems, product availability information is updated in real time.
Serve B2C and B2B customers in one platform
Reduce sales support operating costs and increase B2B customer loyalty with built-in online wholesale functionality.
Personal account of the organization with setting up access rights.
Display of personal catalogs and price lists.
Intelligent order management.
Display of current warehouse balances.
Mobile application for purchases.
Segmentation and personalization
Create unique shopping experiences and increase website conversions by displaying personalized recommendations, promotions and prices, discounts and promotions to visitors based on their properties and interests.
Unified order processing system
The order management system in Magento Commerce will allow your customers to fully control the order processing through any interaction channel, make changes to it and, if necessary, issue a refund.
Powerful SEO tools
Built-in SEO tools – from custom URLs (standard GraphQL) to canonical tags and image optimization – help your site load pages instantly with built-in caching and get indexed quickly by search engines. Magento CMS platform also has PWA (Progressive Web Apps) technology – any site or online store on Magento can be easily turned into a mobile application.
Instant checkout
Increase the conversion of your online store with the "Instant Purchase" option. Customers can skip the checkout process and pay for an item in seconds using previously saved data.
The creation of an online store and the sale of goods such as smartphones, tablets, real estate, and clothing on the Internet is now available to everyone plus thanks to magento site audit. Solutions like Magento make it easy to build e-commerce sites. But all this is useless if your online store does not have a perfect layout and clean modern design. You need a great theme or template to attract visitors and convert them into customers.