If you hold a good command over a particular product, having an eCommerce platform can give you booming profits. For that matter, you need to keep track of the latest trends and marketing methods that can constantly attract people towards your website. The Classic web designs have never resulted in good profits. If you want 100% guaranteed outcomes, make sure that the website you run or develop eCommerce website is comprehensive and navigational.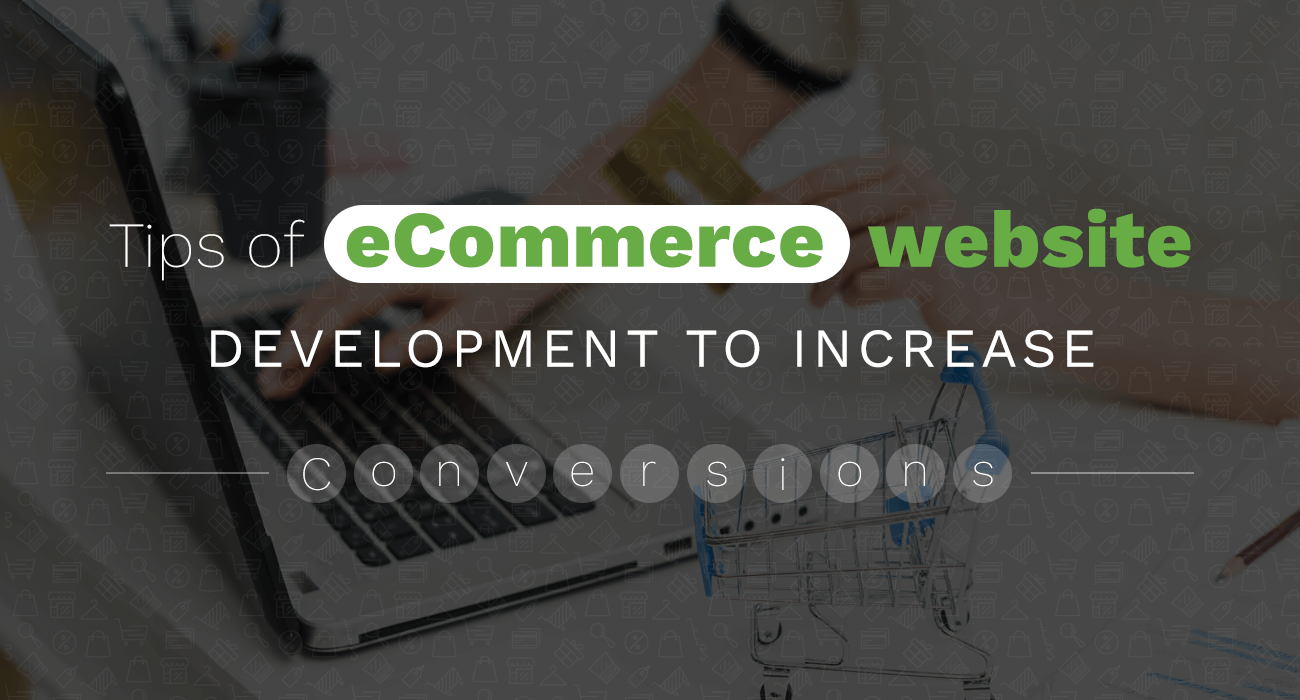 Here are some useful tips to increase conversion rate in e-commerce platform
Tips of eCommerce website development to Increase Conversions
Categorized pathways
Every e-commerce website deals in more than just one thing. There has to be a proper menu set for that purpose. Let the visitor know what are the shopping options available on the page. Add product reviews and proper details so that they can move on the products Shopping Cart without needing to think much.
Add visibility to the Shopping Cart
The main reason why you have launched an eCommerce website is to increase your sales. If your shopping cart is invisible, probably the entire purpose of having a website is a failure. Henceforth, place your Shopping Cart, where one can easily dump the shopping goods. A smoother journey towards shopping would ensure happy and satisfied customers.
Keep it short and simple
You don't have to create essays in order to describe the enlisted products. Just a simple product with a catchy headline is enough to attract attention. The pictures should have realistic elements and must not disappoint the buyers after the product is shipped. Click images from different angles for a realistic appearance.
Create a Sense of Urgency
To convert your customers to maximum, use the FOMO effect which means fear of missing out. Some customers come on your site just to browse, why don't you entice them to buy from your website instead. Create a sense of urgency while motivating your customers to act fast instead of waiting to complete the purchase (which they might never do). Highlight something like "only a few items left" or "limited stock" etc., which will automatically create a sense of urgency and customers tend to purchase instantly. After all, in the e-commerce sector, its all about building a solid reputation.
Focus on customer service
An ideal E-commerce website is a combination of good products and services. Apart from providing high-quality stuff, you should also make a pathway for customer convenience. Add a 24 X7 email and telephone line. If possible, integrate live chat option so that your customers can receive images answers for their queries while shopping. Higher the customer base, the more empowered would be your website.
Majority of the successful E-Commerce businesses begun their Journeys with social media marketing. It's free to create a page on Facebook. Though, you are required to pay for boosting it up. Choose the paid or free methods for gaining traffic on your page. use your page as the main platform for addressing the customer grievances. Keep on sharing what new and measure your social media efforts to see whether everything is working effectively or not.
Focus on retargeting
In the race of acquiring new customers, don't forget to take care of your existing customers. It is really important that you also target your existing customers along with the new ones during the holiday and festive season.
Give weightage to loyal customers
You can always create a list of valued customers and interact with them regularly. Providing them with extra discounts, sales offers, and greetings. You can integrate bulk email and messaging services for that kind of promotion. The high conversion rates in The E-Commerce platforms is most of the time about the connection between the company and customers.
Use high-quality images and videos
The customers won't buy any product from your site if the image of the product is vague or blurry. They will receive a negative perception of your product's quality and your website. Remember! Presentation matter a lot. So it is always recommended to use high-quality photos and videos to exhibit your product. If you are selling products like apparel, shoes, jewellery, HD images and videos will make a positive impact on your site visitors and will entice them to buy from your site.
Opt for video demonstrations
It is a well-established fact that consumers love videos. And even many marketing experts confirm this fact that video has the top return on investment than any other sales tactics. Even research shows that the average user spends 85% more time on pages with product videos as compared to the simple one. So, why not to include product demonstration videos on your website to market your online store better?
Whatever kind of eCommerce website you have, it should always hold a distinct identity. You don't have to follow the herd of cattle. Stay unique and grab high chances for a fabulous online presence.
About the author
Saurabh Solanki works as a senior eCommerce Website Developers at Mindtech, an eCommerce website development company based in the USA. He also enjoys writing content on the technical and non-technical niche. Being an experienced e-commerce developer, He knows very well what works and what not in an e-commerce site. He likes to keep herself updated with the latest trends in the technology particular in the eCommerce industry.