Want to control android from android? This remotely control Android phone app can help you. Install or download remotely control app which we are going to share in our today's article. You can easily control your android phone from another android phone. I am sure you haven't tried remotely control android from another android phone. There are numbers of an android user who searching for the trick to control one android device from another android phone. Android is a widely used OS and its billions of android users love to download a free android app or install a new app on their mobile phone.
In additionally, I want to tell you about remotely controlling the android phone, you can easily control your android phone from another android device with the help of some fantastic remotely control android phone app, that we are listing below. Also, read Personal Assistant Android Apps Like Siri
So, let's discuss various android phone control apps or mobile controller app. Also, you can remote control an Android tablet from an Android phone.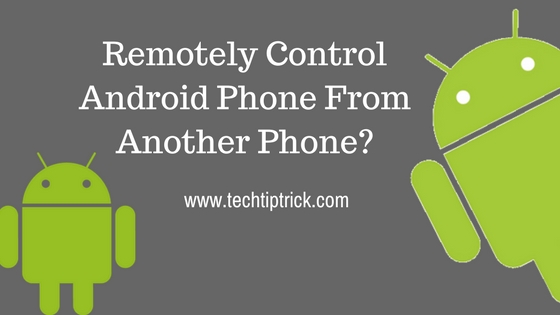 Remotely Control Android Phone From Another Phone
Android mobile controller app is the best Android app to remotely access other phones and can easily solve the problem, even when you are not nearly to your relatives and employee.
Without wasting your time let's jump into detail to control one android phone from another.
AirDroid: Remote access & File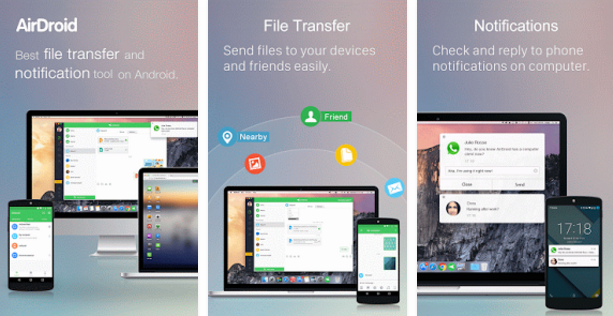 AirDroid, one of the best app to control android from android mobile. Its Recommended by many technology websites and media like PCWorld, BGR, LifeHacker, CNET, Gizmodo, XDA, Phandroid and much more.
The app enables you to manage your Android phone or tablet from Windows, Mac, or the Web, wirelessly and you don't need to pay for it, it's free. The app has unique features like control calls, SMS and app notification from the computer, type with full physical keyboard and control with a mouse. Additionally, you can control the android phone from the computer can use apps like Whatsapp, Line, etc from Windows PC. If you lost your android device, not to worry you can easily find the location with this mobile controller app.
Other major features AirDroid: Remote access & File
Reply to any messages from the computer
Backup photos and videos from phone to computer.
Send and receive message computer and also can manage phone contacts from the desktop.
AirIME to type on your phone from the computer.
Record Android phone screen with a single click. You don't root your device (Android 5.0+).
Auto clean memory to boost phone speed.
[appbox googleplay com.sand.airdroid]
Also Read: VPN Apps for Android Client
TeamViewer for Remote Control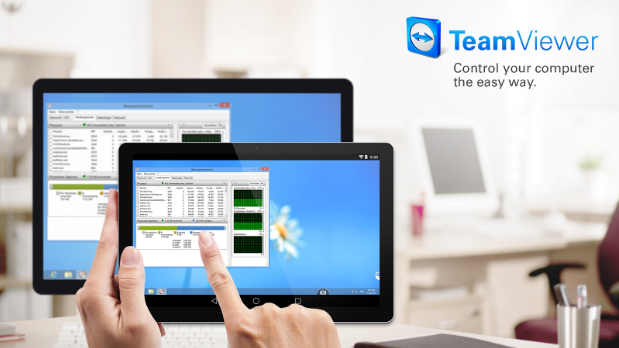 We all have experience with this app. It is very popular and one of the best remote control app. The app enables you to remote controlling android from a PC. Remotely control another computer, smartphone, or tablet, while traveling. The app offers easy, fast and secure remote access to any android phone. More than 1 billion users are using this app to remotely control an Android device.
I personally use this app on my laptop and on my mobile phone so can recommend you use this app to the remote accessing android phone.
TeamViewer for Remote Control Features
Screen sharing and complete remote control of other devices like Windows 10, Mac, Linux, etc
Send and receive files from any device.
Intuitive touch and control gestures
HD video and sound transmission in real-time
Best security standards
Full keyboard functionality
remotely controlling computers
When my friend ask me how to remotely control android from an Android phone, I blindly recommend TeamViewer.
[appbox googleplay com.teamviewer.teamviewer.market.mobile]
VNC Viewer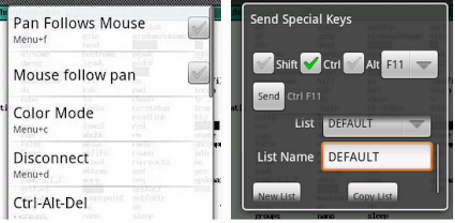 VNC Viewer is another best remotely control android application that provides access to an android phone. Basically, it's Open Source (GPL) remote desktop program for Android devices that connect you to any VNC servers. The app many cool features that let you remotely access the phone from the desktop.
There are cool features like a sent text from session to session, Import/Export settings to a file on SD card, keyboard zooming, etc. For better use don't transfer this app to the SD card.
[appbox googleplay android.androidVNC]
Also Read: Clock Widgets For Android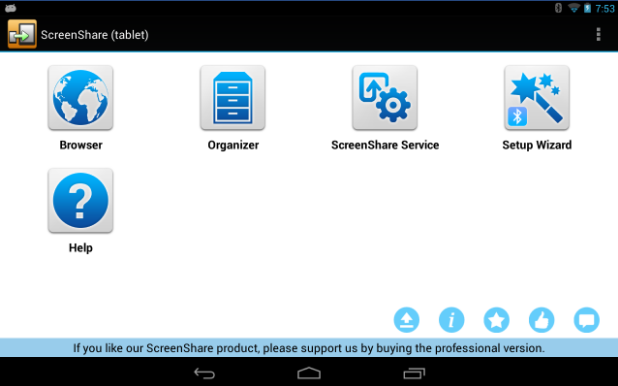 ScreenShare is the best remote control app for android for remote control Android tablets from android phone. The best feature I can say about this remote control android app is, you can send videos, music, photos, web pages and many types of documents from your phone to your tablet without any cable connection. To share screen you need to install this app in android and table both devices and you don't need to pay for it. If you are looking for a remote controlling android tablet go for it.
RemoDroid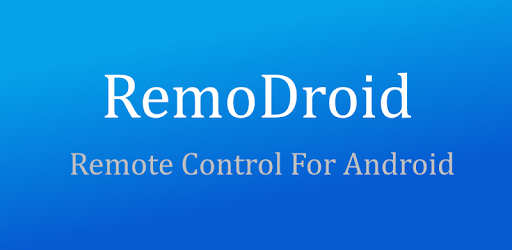 This is also a very popular remotely control Android application that helps you in controlling any other Android phone, PC, or Mac from your Android phone. The control of one android phone from another application is in beta version, so you may face problem while accessing this app. This app developed for remote control of Android TV sticks but it works with a wide range of smartphones and tablets.
The app has very interesting features like screen sharing, remote control for Android device and PC, multiple user support, Wi-Fi and 3G and connection management.
[appbox googleplay de.im.RemoDroid]
Tablet Remote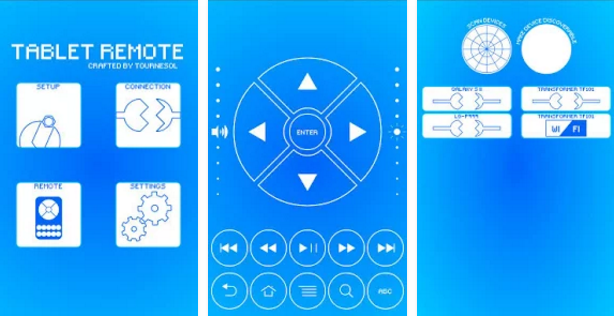 Tablet remote is the best android app to control an Android tablet or phone with another android device. You can send common input like "Back", "Home", "Menu" or "Search" to the Android tablet and you can control its volume and brightness and type words. The app gives access to navigate in the other device like a DPad and can send the command like "Play", "Next" or "Previous", this very useful feature while watching a movie. With this app, you are able to easily play any platform games that support key input with the gamepad like most Xperia Play compatible games.
Recommended apps to use with the remote
PowerAmp
Evac
Zenonia
MX Video Player
DoubleTwist
SuperGNES
They Need To Be Fed
Cordy
Meganoid
Sleepy Jack
Reckless Getaway
Unified Remote
Unified Remote is one of the best remote control apps for your computer. You need to turn your device into a WiFi or Bluetooth universal remote control for Windows PC, Mac, and Linux. The app support mouse & keyboard, power control, presentations, media players, screen mirroring, file manager, terminal, and other 90+ programs.
Its unique features like easy server and app setup, Wake On LAN to easily start your server, automatic server detection, server password protection, single and multi-touch mouse control, color themes, Server is available for Windows, Mac, and Linux, control other devices like Raspberry Pi and Arduino Yún. You can use this fully-featured remote controlling android from a PC.
[appbox googleplay com.Relmtech.Remote]
Tablet Talk: SMS & Texting App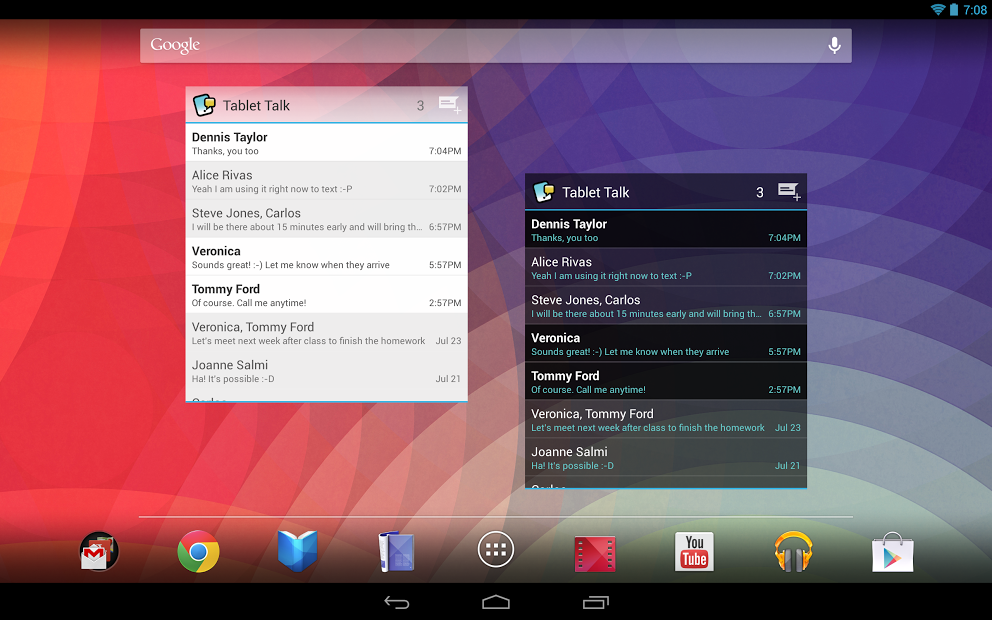 If you are looking for the best remote control android & SMS texting app that lets you text from a tablet then install this app now. You can make voice calls, while your phone stays in your pocket. The remote control table app works with all Android tablets like Galaxy, Nexus, Note, and Kindle Fire tablets. The best things about this app are, this android to android remote control apps never ask for a new phone number. Any of your friends, family, coworkers can contact you with your existing Android phone number. The Android remote control app does not require an Internet connection, and the security purpose app not stores in data and save your battery life.
There are lots of features in this remote control android & SMS texting app like privacy, speed, flexibility, popups for the quick reply, Caller ID, Android SMS delivery reports, backup and restore tablet SMS to phone and much more. The app supports only the latest version and also Android 4.3 Jelly Bean that used on the new N7 tablet.
Also Read: Free Movie Apps for Android
An2An Remote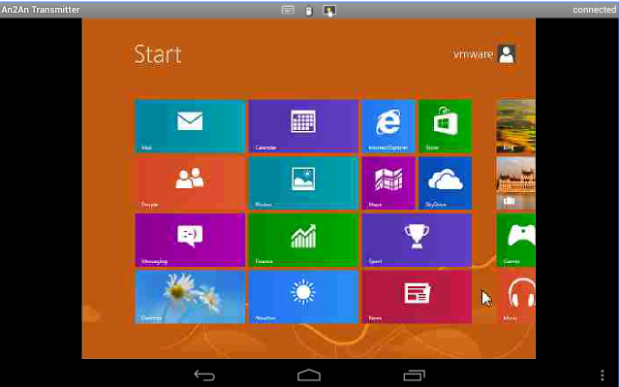 An2An Remote is another best android remote control app that enables you to Use your Android device to remote control another Android or PC device using Bluetooth or WiFi/Network. The app is very simple, you can use your Android phone as a wireless keyboard, mouse, touchscreen. Also its redirects the physical keyboard, mouse, a controller to the targeted device.
Like other remote control android app, this app has some good features. The app turns your wired keyboard, mouse controller to wireless. built-in physical keyboard or game controller, the screen is not blocked by onscreen keyboard, extended customizability by using together with GameKeyboard, automatically connect with the compatible device.
[appbox googleplay com.locnet.an2an.demo]
Join.me – Simple Meetings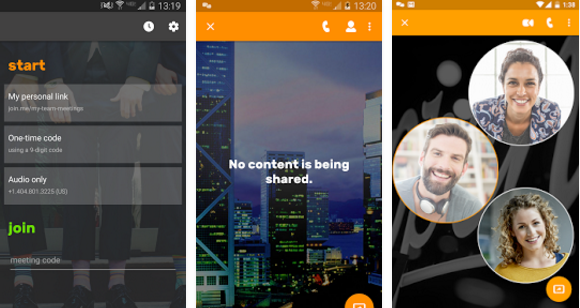 My aim is to share the best android remote control app with my readers and Join.me also fits on my list. This also a good app to control android from android. This best remotely controls the Android app to control android from android. The app brings lots of features like fixing the problem without accessing their device. You just need to connect with a user and can solve their problem in real-time.
This app is perfect for office work, you can use this android remote control app for business or official discussion.
The app has some other features like, In-meeting chat with all participants at the same time or individually, VoIP to talk with attendees, shared screen zoom in and out, see who's attending and you can lock and unlock your meeting for security purpose.
[appbox googleplay com.logmein.joinme]
So, now you have an idea of how to remote control android or how to remotely control android from another android device. I tried my best to explain this best remote control android from an android application in this article. If you have any other app that works similarly then share in a comment and also share this post on social media and also with your friends.