Rooted apps are most search terms on the internet now a day. Our reader always ask us which is the best rooted apps for Android phone? We decide to curate the best Android rooting app. A rooted device enables you to powerful elements like permissions, boot settings, and system files.
If you have rooted device, you can install you can flash any mods, custom ROM (custom operating system), increase the battery life and increase the internal storage with these best root apps for Android. It enables you to use app that not work on the non rooted android device. The most important thing about this rooted device is, you can control the overclocking of your phone CPU and GPU.
As we all knows that Android OS is widely used and there are plenty of apps available in the Google Play Store that works only in the rooted android phone. So first you need to root your android phone then download and install best root applications for Android. There are numbers of best root apps available in the market and it's very hard to choose best suitable for you. We created the list for you. Also, check how to download paid android apps for free.
Below is a list of best rooted apps for android mobile. Let's scroll down.
Best Apps For Rooted Android
#1. Greenify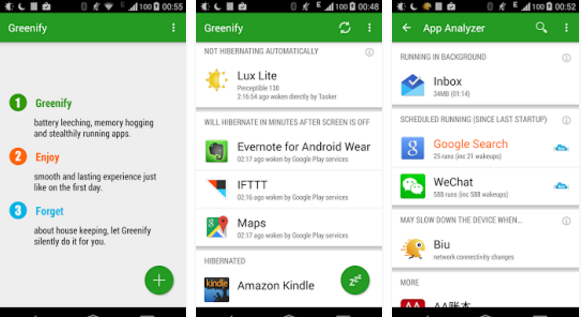 Greenify is one of the best rooted apps for android phone. It helps to increase the battery life of your Android phone. The app on rooted and non-rooted android device but you can access full feature if you have rooted device. When you install Greenify rooted apps in your phone, your work smoothly and very fast just like a new device. The app identifies that apps which misbehaving like WhatsApp and put them into hibernation when you are not using them. This feature increases your phone battery life. We also shared best VPN apps for Android to secure your android device.
Greenify Rooted App Features
Unlike the "Freeze" feature in "TitaniumBackup Pro", you can use your app, as usual, share content with it. No need to freeze & unfrozen it.
Unlike any "XXX Task Killer", your device will never fall into the cat-mouse game of stealthy-running and aggressive killing, which unnecessarily consumes more battery juice.
Unlike "Autostarts", you can benefit from almost all of its advantages, without needing to deal with the complexity and risk of obscure app components, and never lose functionality when the app is running.
#2. Lucky Patcher
Lucky Patcher is one of the best root apps for the rooted android device. There are many changes available in this android which works with every Android app which is available on your android phone. You can enjoy many changes like Remove Ads, Remove License Verification and it also helps you in removing system application from your Android device. You can create modified APK files with Lucky Patcher for android apps which you modified.
When you will click Lucky Patcher app first time, you will see the list of installed Android apps on your smartphone which is colored differently. All this different color have different meanings which you can check. Download Lucky Patcher.
#3. DriveDroid Rooted App
DriveDroid allows you to boot your PC from ISO/IMG files stored on your android phone. Being best android root apps, it's easy to setup and you can download any of the 35 supported Mint, Ubuntu, Fedora, OpenSUSE and Arch Linux distros at the moment or use it to mount your already downloaded iso/image file. It's allow you to create blank USB-images which allows you to have a blank USB-drive. From your PC you can store files onto the USB-drive, but also use tools on your PC to write images to the drive.
Also Read: Best Photo Editing Apps for Windows 10
#4. Root Browser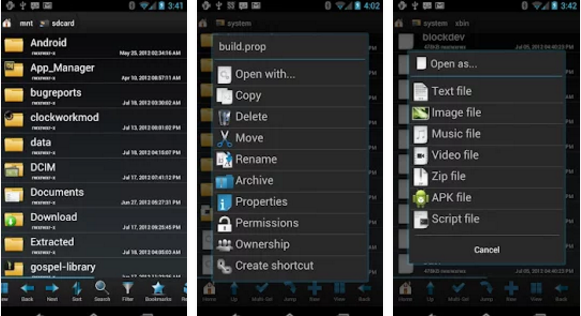 Root Browser is the best app for rooting android. It's work like file manager on your Android device. The app allows you to view all of file systems and take control of your Android device. This is free rooted apps for android phone and has tons of features which your device need. Its batch copy/paste, zip, tar, delete, move any file or folder. You can change file permissions and ownership, also move, copy, rename, and delete files.
#5. Root Uninstaller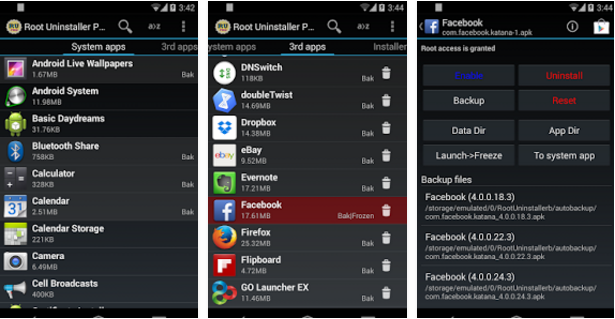 Root Uninstaller is another best root app for android 2017. Like Greenify, this rooted apps works for a rooted and not rooted device. But if you want to enjoy full features of this best root app, you need to root your device first. You can uninstall all the unwanted apps and regular apps with a single click. The app allows you to choose to uninstall system applications or freeze or you can backup system application .apk to SD card. A non-rooted device can only remove regular apps but there are other options such as listing all .apk files on device or batch removal of applications.
#6. Flashify (for root users)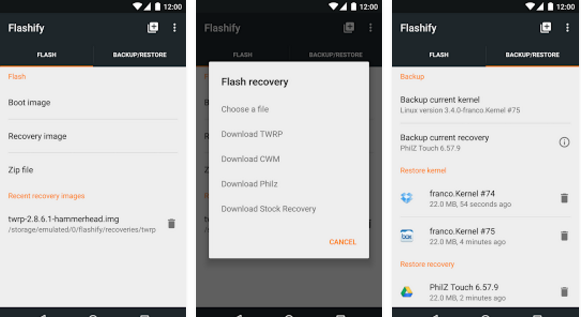 Flashify is one of the best rooted apps for Android mobile. The app flashes your boot.img, recovery.img and zip files from your phone. The automatic syncing can backup everything either to local storage or cloud storage like Google Drive and Dropbox. The free version allows you to flash 3 times in a day but premium version gives you full access of Flashify.
Fashify Rooted App Features
Flash zip files. Option to wipe cache, dalvik and data when using TWRP or Philz recovery.
Automatic Loki Patch when needed.
Full nandroid backups/restores when using TWRP or Philz recovery.
Automatic cloud synchronisation of backups between devices and desktops.
Keep track of recently flashed items.
Flash multiple files and build your flash queue.
Also Read: How to Run iOS app on Android Phone?
#7. Titanium Backup
This is one of the best android root app for those who want to often flash their android phone. Rom Manager Root App. The app integrates system app updates into ROM. Also, this rooted app offers various applications and data backup options and can move any app or data to SD card. There are more features that users looking into best root app for android device.
Titanium Backup App Features
0-click batch restores
Sync to/from Dropbox, Box and Google Drive
Backup/restore SMS,MMS,calls,bookmarks,Wi-Fi AP as XML
TB Web Server: download/upload your backups as a single ZIP on your computer
Convert user apps <=> system apps
Restore individual apps+data from non-root ADB backups, CWM backups, and TWRP backups
Backup→Verify→Un-install an app in one shot
And more
#8. Trickster Mod Rooted App
This is one of the best root app that user would like to use. Like other best apps for rooted android, this root app has the same ability to the similar function. The app support various device and Trickster MOD app is a tweaking tool to change various settings included in your kernel and other mods to your phone. This root app makes your device smooth and save your battery life.
Trickster Mod App for Android Features
Advanced gamma control for N4 with faux's patch
Bootloader lock/unlock without fastboot and data wipe Kernel backup/restore on some supported devices
Kernel backup/restore on some supported devices
CPU Statistics
Set Device hostname
Apply Grace Period (was Bootloop Preventer)
CPU Frequency profile
Generic hotplug
Vibrator strength
Sound control for faux's patches
Headset volume boost
High performance sound
Launcher shortcuts to some app operations and many other
Also Read: Best Clock Widget for Android
#9. Smart Booster App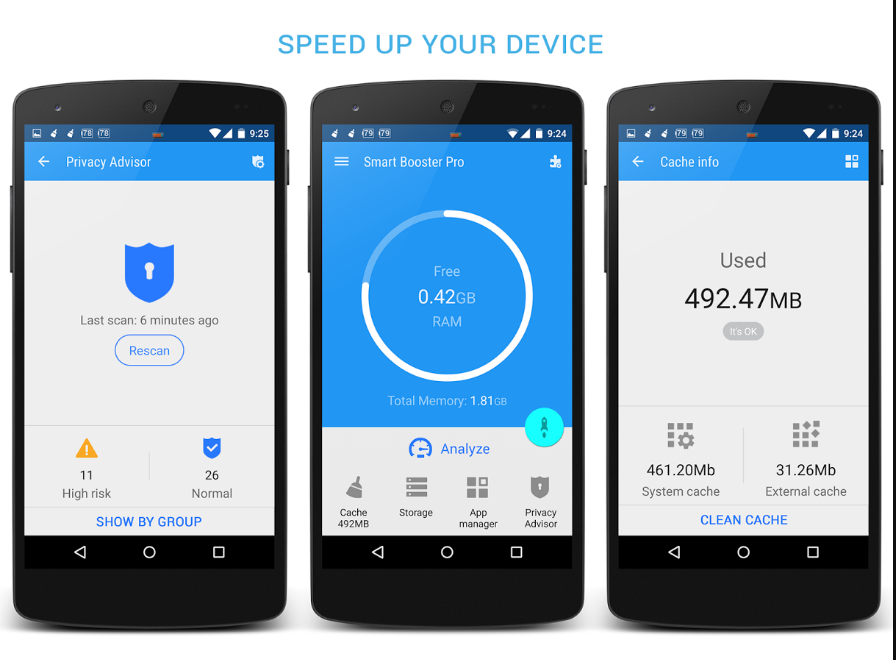 This is one of the best app for rooted android phone. I am using this app on my device and it helps me make my device super fast. Have you ever felt the phone becoming sluggish especially when you are playing games or you feel the phone has to be restarted because of heavy usage. If you are searching for root app that cleans your device and increase your battery life, try this app. The app easily clear you RAM. The best feature about this app is Smart RAM Booster, Quick Cache Cleaner, Fast Memory Card Cleaner and Application Manager. I think this enough to make your device just like a new device.
Smart Booster App Features
1-click to clean cache
Fast cache cleaner
Quick SD Card cleaner
Show SD card partition
Advanced application manager that easily backup, uninstall unused apps
#10. Link2SD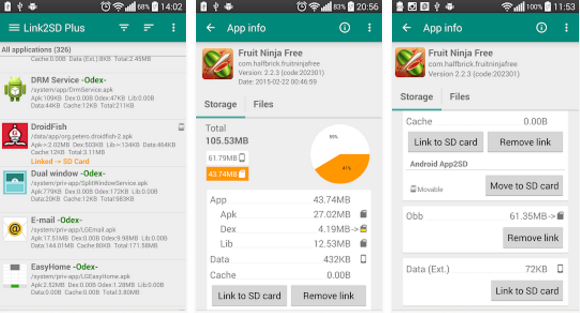 Are you using an android device which has low space internal memory? I suggest this Link2SD rooted app. This is best root apps for Android user to make smooth. It is an application manager that move your apps in to SD card. If your device not supported for application, just download and install this best android root app. The app set the default install location of the apps and uninstall the bloatware that comes with the most android device.
Link2SD Rooted App Features
Link apk, dex and lib files of apps to SD card, also internal data of apps
Shows the apps that support moving to SD with native app2sd
Automatically link newly installed apps
Notify when movable apps installed
Clear data and cache of the application at once
Reboot manager includes power off, normal reboot, quick (hot) reboot, reboot recovery, reboot bootloader/download mode
And more features….
#11. Solid Explorer
Solid explores is most trusted and one of the best app for rooted android mobile. The app is for that user who are looking for good file explorer with a sleek look. It offers two independent panels for better file browsing experience and also provides wide support for cloud storage. You can connect this file manager with Windows PC by using FTP, SFTP, and WebDev.
Solid Explorer Rooted App Feature
Provide detailed file information with storage usage statistics
Root access makes Solid Explorer fully functional root explorer
Two independent panels serve as file browsers
FTP client with support for secure connections
WebDav client capable of connecting to Owncloud and Yandex
Drag and Drop inside and between panels
Ability to read and extract ZIP, RAR and TAR archives
#12. Root Firewall Pro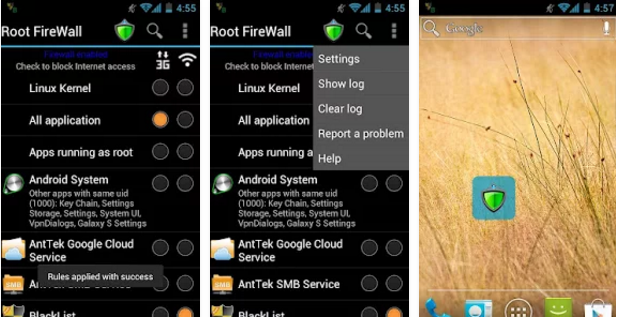 Root Firewall Pro is one of the best root apps for android and also best firewall for android. This is the best root app for block advertising, prevent data over-billing, protect the battery and also it protect your privacy from the internet. if you do not have a data flat rate this app block access to the Internet via either 3G or WiFi channel. If you do not want to use data connection and occasionally you can turn it off with the single click.
Root Firewall Pro Features
One-click widget enabled
Separate 3G and WiFi data
block Internet access for any apps
test blocked app in a touch
DriveDroid
SDFix (Reboot)
SD Maid
App Ops [Root]
Set DNS Root App for Android
Android firewall+
DataSync
GMD GestureControl
Build Prop Editor
ROM Toolbox Pro
StickMount
Conclusion
Now a day numbers of applications coming in the market and it's very tough to choose the best root app for Android. We listed above some of free best rooting app for android to make your faster and smoother. We hope you like best root apps for the android phone. If you have any other rooted app in your mind and want to list in this list then comment below. We will check it and update it for readers. Share this useful list with your friend from below social media icon.