Personal Assistant apps for Android is work similarly to Siri. Siri was introduced on 14th Oct 2011 for iPhone 4S. We are living on the edge of technology where we are tucked with a lot of tasks. We all need to remember all the tasks and need to organize all the tasks. The best Android Assistant Android apps like Siri make your daily work easy and fast. This is also known as the Virtual Assistant app for Android.
The personal Assistant app is the best option to increase your productivity. There are number of apps like Siri for Android on the Google Play Store to keep your daily tasks organized. This personal assistant makes your day to day business and personal life easy. This easy to control by voice commands and text commands.
So here is a list of best personal assistant apps for Android. This is work like your virtual personal assistants, they will do your daily tasks like answering the question, calling, sending messages, GPS, news, weather report and more tasks. This all are alternatives for Siri on android. We have shared download paid android apps for free.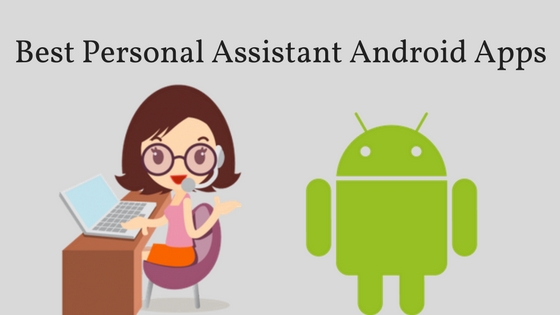 Best Personal Assistants App for Android like Siri
#1. Google Allo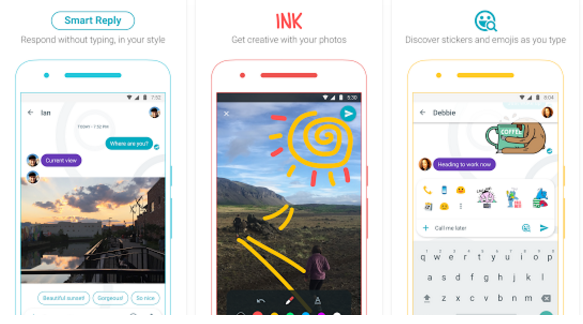 Google Allo is Google Personal Assistant. Allo can do every task like Siri including, question answer, weather report, opening apps, time setup. You can ask any question in your mind and your Android personal assistant ready to answer any question. Sometimes it gives funny reply to your funny questions. The app has many features like a smart reply, doodles, emojis, text and much more. We had a good experience with Google Allo and we can say it will give a tough fight to Siri.
[appbox googleplay com.google.android.apps.fireball]
UPDATE: Google Assistant is starting to show up on a number of Android phones from Tuesday. To activate Google Assitant on your Android device just press the home button and say "Ok Google". Now Google Assistant becomes more personal. If you have an Android device which higher than 6.0 version then you will receive Google Assistant
#2. SHERPA BETA Personal Assistant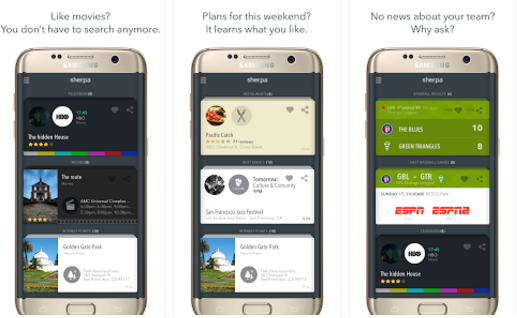 Sherpa Beta is an Android virtual personal Assistant. The app uses probabilistic models based on powerful Artificial Intelligence Algorithms that predict the information that will interest you. This Android personal assistant app comes with tons of features that make you day to day tasks easier than ever. It can give your question answer, play music calls to others find the location and much more. The assistant app doesn't stop here, it collects the information about whether and what happening around the world and shows you on screen. This is the best personal assistant for your Android phone.
[appbox googleplay com.sherpa.asistentesherpa]
Also Read: Best Clock Widgets For Android
#3. AIVC (Alice)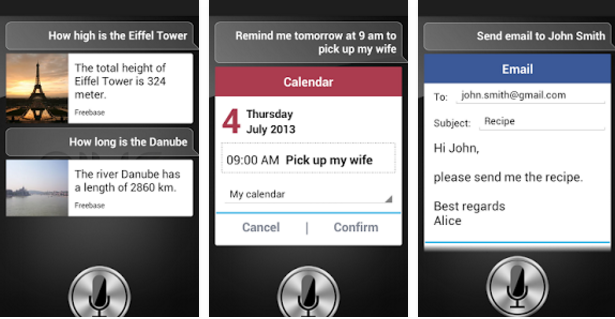 Artificial Intelligent Voice Control (AIVC) is the free version of AIVC. The app learner from your voice commands. With the free virtual assistant, you can do your daily tasks like calling, sending a message, e-mail, translator, Google navigation, timer & alarm, apps start and more with your text and voice commands. If you stuck and maths, it will help you. Ask anything and your virtual personal assistant will reply to you. Is it cool?
[appbox googleplay yourapp24.android.tools.alice_lite]
#4. Dragon Mobile Assistant
Dragon Mobile Assistant is the best personal assistant app that makes day to day tasks easy and fast. This is your own personalized virtual assistant. It has fantastic features like sending and receiving text SMS, Social profile update, email etc. Also, you can set your reminder, appointments and web search without raising your figure. Easy turn on Attentive Mode that wakes up your virtual assistant at any time, even if your screen is locked. You can set your own voiceprint, so your assistant will listening only to you. Just select a voice and create a name for your personal assistant for Android phones.
[appbox googleplay com.nuance.balerion]
Also Read: How to Run iPhone App on Android?
#5. Jarvis – My Personal Assistant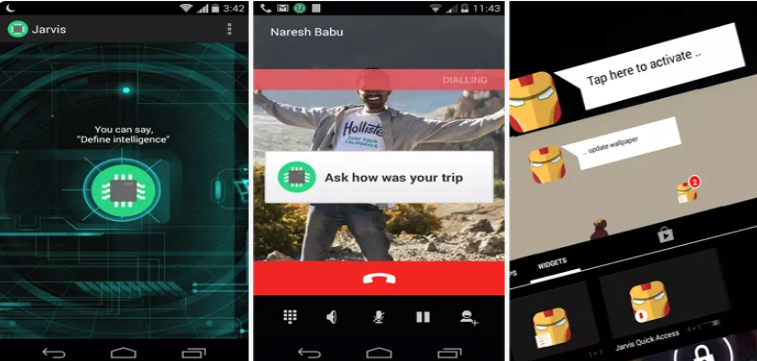 Jarvis is another best personal assistant app for Android that supports widget and wearable. The app is kind novelty personal assistant app with the cool feature that skyrockets your Android device. Currently, this virtual assistant understands the English language only. The app keeps inform you about the weather, world news, calling, sending text messages and can control your phone settings. With CloudVoice dynamic conversations, Jarvis can give an answer for any question. If you are using the wearable Android device this app is for you.
[appbox googleplay com.itsmylab.jarvis]
#6. DataBot Assistant (Siri like)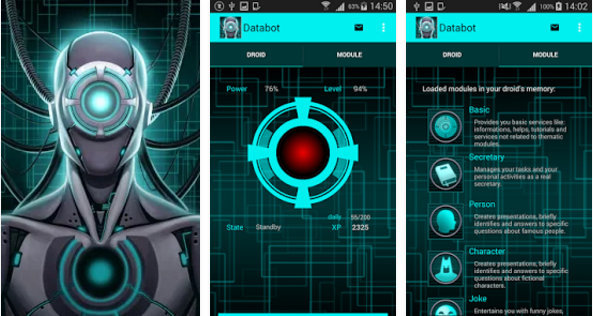 DataBot personal assistant like Siri is the best alternative for Siri and Cortana. The app has a voice answer feature. As you ask the question, it will reply to you in Voice. The personal assistant can speak in English, Spanish, French, Italian, German, Portuguese. With free modules, you can ask anything about famous people, fictional characters, random topics, funny insults and it will answer you in second. You can ask about day celebration quotes like love quotes, friendship quotes, motivational quotes, birthday quotes, and your virtual assistant find it for you from the internet.
In one line, you don't need to search anything on the internet, just give the command to your voice assistant android app.
[appbox googleplay com.testa.databot]
Also Read: Free Android VPN Apps to Secure Your Phone
#7. EVA Free – Voice Assistant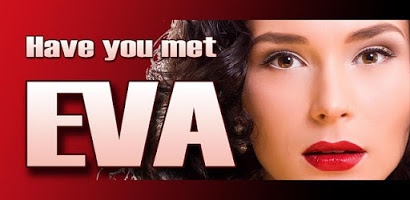 If you are looking for voice assistant to improve your work productivity, EVA free voice assistant will fulfill your need. The app has dedicated car mode can make driving safe. It has powerful profiles feature that allows you to change loads of settings on your phone by changing the profile. With free 28-day trial version, you can use all the same features as the paid version.
You can send voice SMS, emails using your own voice command. The app integrated with the social channel that helps you to post and tweet with your voice control. This is the best voice assistant app for android you should have on your phone.
[appbox googleplay com.bulletproof.voicerec.intern]
#8. Google Now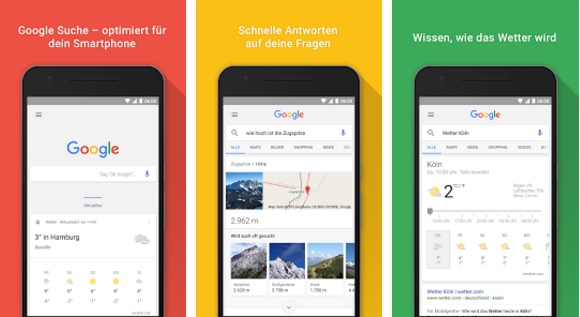 Google Now is by default integrated personal assistant for your device. If you want to ask anything to your virtual assistant, start with "Ok Google" and you get the answer about anything. To use this assistant app, you must have Google Play services and other require things. Google Now launcher can enable you for voice assistant. If you don't have, downloading it now.
[appbox googleplay com.google.android.googlequicksearchbox]
#9. Indigo Virtual Assistant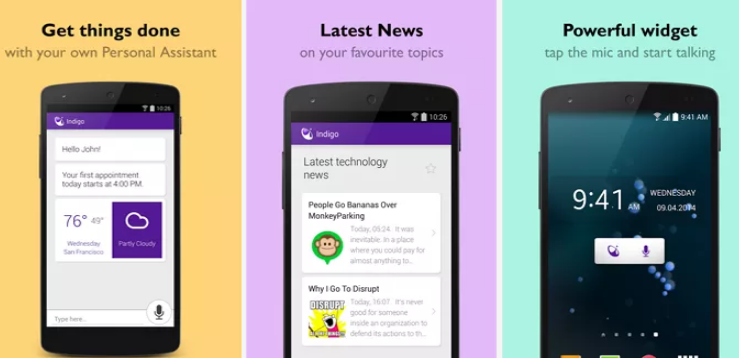 If you looking for the virtual assistant app which provides every single information that you want then Indigo Virtual Assistant is for you. This is the best personal assistant app for android that can tell jokes, reads headlines, controls your music, manages your calendar & creates reminders, location search, searches video and much more.
Indigo Virtual Assistant adds fun to your daily work tasks and personal activities. The translation feature makes you familiar with the app. This is beta version so you may be facing some issue, otherwise, this is the best virtual assistant for Android.
[appbox googleplay com.artificialsolutions.teneo.va.prod]
#10. Robin – the Siri Challenger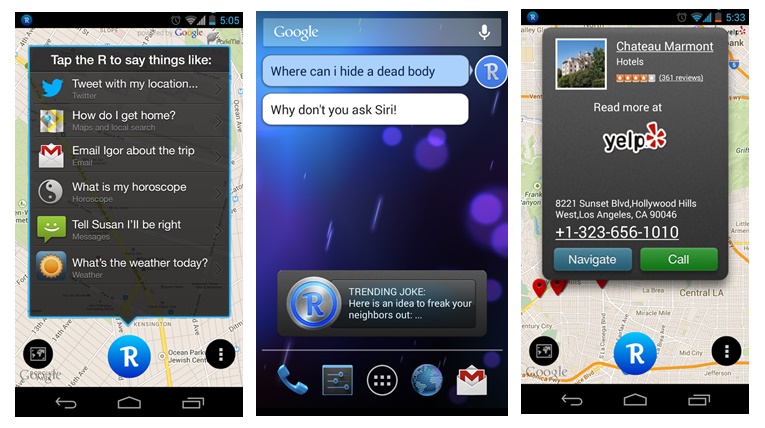 Robin work as the name. This is last but not least the best Android assistant like Siri (iPhone). It is your voice assistant while driving. It has the feature like send the message by voice, find location information, GPS navigation for the right direction and much more. If you are going for the picnic, you can ask Robin for traffic on road and parking location. Robin is a personal assistant that learn from you and updates itself. To call your assistant just say "wave hello" or you can brush/tap it tightly.
[appbox googleplay com.magnifis.parking]
ANDY Voice Assistant (FREE)
[appbox googleplay andy.xml]
Conclusion
These are the top 10 personal assistant app for Android and virtual assistants for Android which like or alternative of Siri app which is used in the iPhone. These free personal assistant apps can cut off your time from daily work tasks and make you free from work burden. If you are using any other app which is not in the list, tell us in the comment we will update it soon.