Do you want to download paid Android Apps for free? Google Play Store has bunch of application available. Some are free to use and some are paid. The free application has limited features but the paid application has full access to features. Not every can afford paid application but still, they want to download there favorite application free of cost. In this, the article we are going to show you how you can download paid application free of cost.
Android devices are used by most of the people around the globe that has applications in the store for both, free as well as paid. As per the statistics, there are only 1% of the people who use windows phone, while the Android users top the list and are used by 80% of the population. Android apps for free download without a second thought but how about those that is needed but paid? Well, worry not because there is an alternative to everything and hence it has a solution too. The following are the ways that you can download paid Android apps for free:
Also read: Mobile App Icon Idea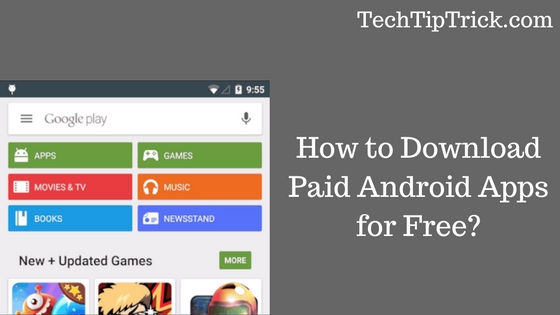 How to Download Paid Android Apps for Free
1. Blackmart
Blackmart is one of the best applications used for downloading the paid apps for free. You also have an option to upload a paid application here if you own one. The following are the tricks to download the app:
Download the Blackmart app
Open the application
Look for the application you want to download
Tap on the application and click on install button
This way you will be able to enjoy the free version of the paid app on android.
2. Mobogenie
It is also a very popular Android application and is a third party application. It is used to download application apk files instead of installing the application. This way you will be able to enjoy paid apps for free and is a convenient and easy method to use such apps.
It is another app that has a wide collection embraced in it. It helps you install the applications you that ask for money for free and it has easy access. You again have an option to upload an app on 4Shared and enjoy the paid applications completely free by using or downloading the latest versions of the .apk files of the application available.
4. Amazon Ground Service
Amazon gets you the easiest way to enjoy the paid apps for free. Amazon partners with application developers. The developers get the payment for the applications that they develop by this application while we are able to enjoy the free version. You can get thousands of free versions of the applications that you want to download for free. This is the best user platform and is a win-win situation for both, the customer as well as the app developer.
These were some of the ways for users to enjoy the paid application for no charge mobile. But, there is always a security concern in it and has to be taken into consideration. Make sure that you are also clear with the risks involved in getting these applications through these platforms. Want hide text and image on Android?
5. 1Mobile Market
This is the best alternative of Google Play Store to download paid android apps for free. It has large collection of paid and free apps. They regularly update new apps and can also find paid apps there. 1Mobile Market is available on Google Play Store but it has limited access for free apps and it always redirects you to Google Play to download apps. This is just to not violate the Google Play Terms and Conditions.
Some Related Post: