Clock widget for Android is the best clock widget app users who not like the default clock widget of their home screen. Many of us are a lover of new things and we always try different things. Similarly, it happens to the Android clock widget. Most Android users looking for cool widgets to give stunning look to their device. When you ask someone about time, they always check their mobile. So it's a great idea to use some excellent android clock widgets.
If you are looking for a personalizing clock widget for Android then you are right page. We have listed the best clock widget for the android app that you can use and also we explained the features of this clock app, so it will become very easy to choose from the list Best Clock Widgets.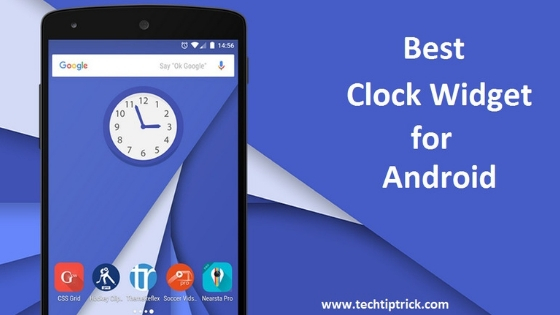 Let's check out the best clock widget for Android.
Clock Widget for Android
#1. Weather & Clock Widget Android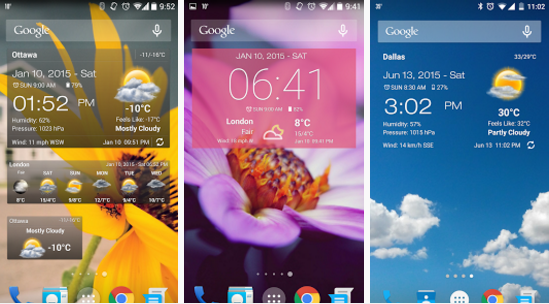 Weather & Clock Widget Android is a free and best highly customizable clock widget app that provides current weather and forecast for different countries. The app search location automatically and provide your temperature detail in Celsius and Fahrenheit. The app comes with many cool clock widgets, landscape and portrait mode. You can check current time clock, date, battery level with the battery icon. Also calendar events along with weather information.
Weather & Clock Widget for Android supports only version 2.3 and higher. So make sure your device completable for this best clock app.
#2. Minimalist Clock Widget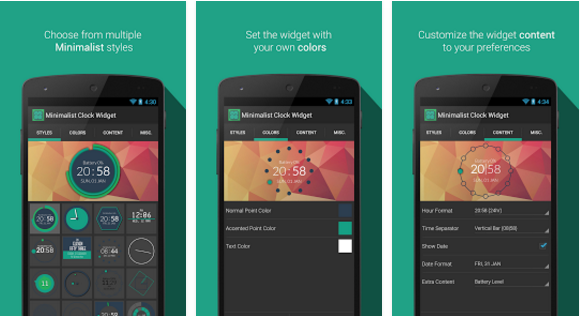 Minimalist Clock Widget is free and one of the best clock widget for Android device. If you are looking for the minimalist clock for your Android home screen then this best choice for you. You can choose a digital and analog widget style from 20 different beautiful clock widget styles. You can customize widget text, background, and themes as per your need. By using OpenWeatherMap the widget provides weather forecast if you have enabled your location service. The app shows the battery level of your Android.
You can set this clock widget as the shortcut with another app. To update this app make sure you have sufficient battery power. If you face any problem after updates, try to uninstall and install it again.
#3. Onca Clock Widget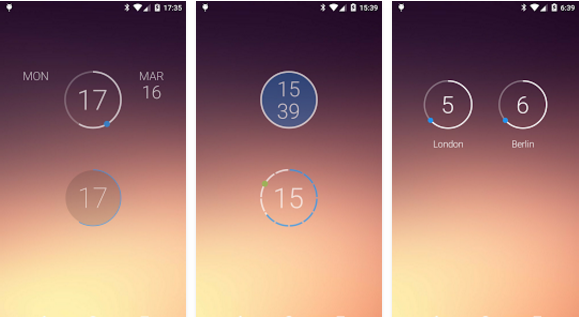 The App has a minimalistic clock widget that comes with an analog clock and a digital clock. This is the free clock widget for Android. The Minimal design and flat design of widget give a clean, decent style to your Android home screen. With the configuration menu option, you can adjust widget and color transparency as per personal requirement.
Hour show in the circle, ring show minutes and they dote on ring shows seconds so it's tough for some user to understand this clock widget. The clock widget app has free and paid both versions.
Recommended : Best VPN for Android
#4. One More Clock Widget Free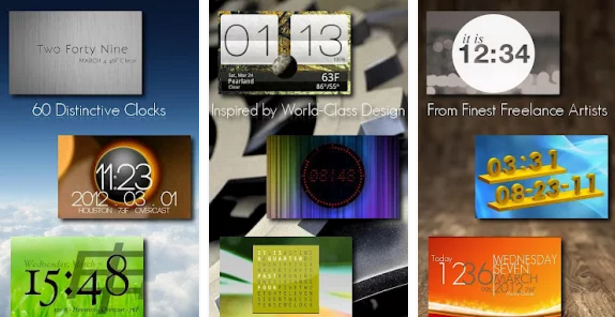 One More Clock Widget has a huge collection of design and template and this is a free clock widget. You can choose a design or template which they like. The app has a 70+ clock widget for your Android home screen and it's ad-free. You can check the battery level of the device, time and also current weather information. You can download clock packs and show the latest release notes. It's tested and works with WidgetLocker.
#5. DIGI Clock Widget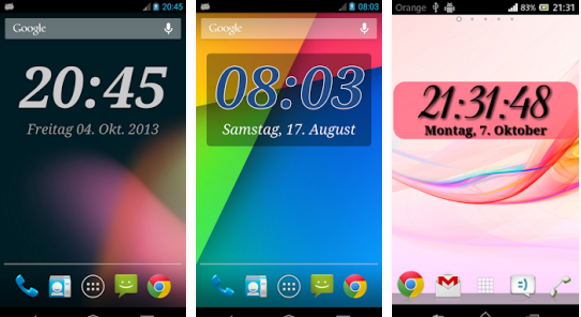 Digi Clock Widget is a free clock widget for Android and it comes with five highly customizable digital dates, time and other features. The app comes in widget size like a 2×1 widget for small, 4×1 widget for wide optionally with seconds, a 4×2 widget for big, 5×2 widget for tablets and especially for Galaxy Note and 6×3 widget for tablets. Digi clock widget compatible with Honeycomb, ICS, Jelly Bean and Lollipop Android versions. This is the ultimate custom clock widget for Android.
Recommended : iOS Emulator for Android
#6. DashClock Widget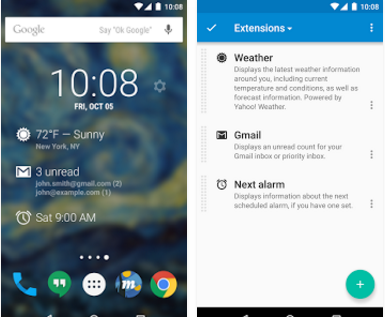 DashClock Widget is another best clock widget for Android devices. The lock screen supports Android 4.2-4.4. The app has many features along with extensions. These extensions enable you to your local weather, you can check miss called and text messages, appointment on the calendar, unread Gmail conversion and alarm schedule. If you are looking for extra features along with a clock widget, this is the best clock widget for Android.
#7. Digital Clock Widget Xperia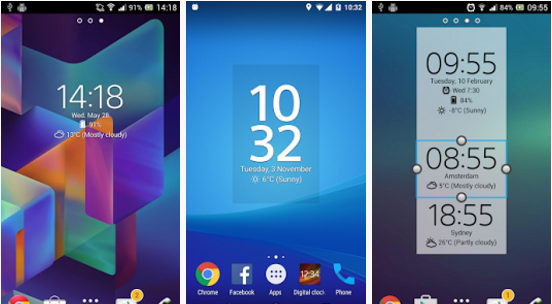 #8. Clear Clock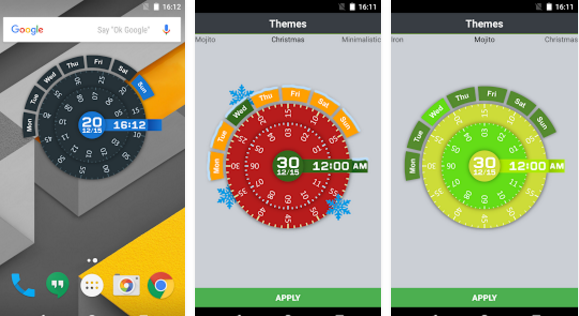 Clear Clock is one of the best clock widgets in this list. The app has 20+ themes for your Android home screen and also theme creator option. The best feature I like about this app is, it supports 27 different languages that other app doesn't. You can personalize the clock widget as per your mood. Quick alarm access lets you set alarm from the home screen. If you are not able to see the widget section, just reinstall it.
#9. ClockQ – Digital Clock Widget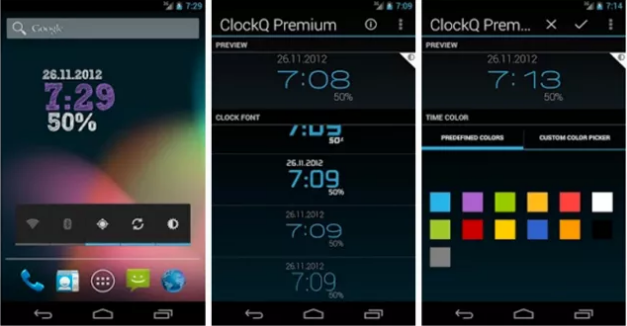 ClockQ digital clock widget is similar to the Digi clock in some features. The app offers 26 fonts customization options to free users while the premium user gets 38 greatest fonts. There are more features like widgets layout, transparency, weather information and much more. The advertisement popup will irritate free users, go with the premium for an ad-less clock widget.
#10. Clock Now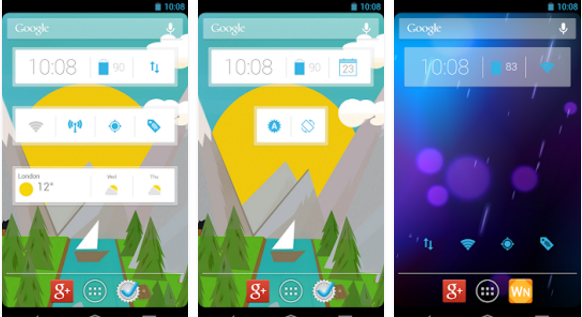 Clock Now is last but not the least Android clock widget. The app has a clean simple design and a high user interface. If you are looking for a free clock widget for Android then go with Clock now. It's ad-free so you can enjoy it without any trouble. The Just single tap can On/Off the widget.
Some other best clock widget app for android I not explained but you can check from the below.
Ultimate Custom Clock Widget (UCCW)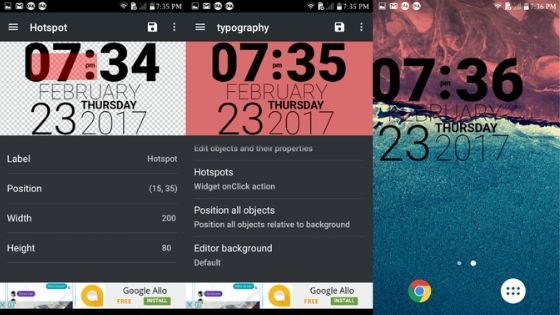 We have listed all the best Clock Widget but if you are not happy with that then Ultimate custom clock widget is another good clock widget app. With this widget, you can change the settings like the layout, images, fonts, formats and insert clocks, icons, email, weather information, battery data and much more.
mClock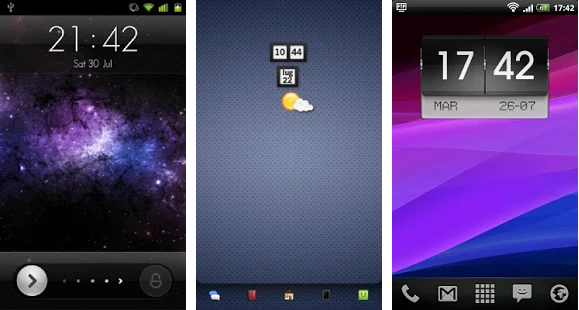 When we are talking about space in mobile then mClock is a lightweight app which not consume much space. It has features like Widget layout, clock and date formats, custom fonts and much more.
Pretty Binary Clock Widget
BobClockD3
Simple Digital Clock Widget
Retro Clock Widget
Thalion Clock
Round Clock Widget
Conclusion
These are one of the best clock widgets for the Android home screen. If you are using any other clock widget and had a great experience with then share with us we will update it on this post.
Related Post: