Consider a situation where sudden power failure results in SSD Drive damage. Suppose, you were working on SSD drive-equipped system and an unexpected power outage occurred. The very next moment when the power is back, you restarted the system, but unfortunately, power loss happened again. You waited for a few hours, but it did not come, and eventually, you slept. The next morning when you accessed system, it display an error message that the SSD disk cannot mount its partitions.
Now, the big query that is triggering in your mind is how to recover data from damaged/failed SSD. Prior to finding how to recover data from a damaged SSD Drive, let us have a quick overview of the SSD Recovery.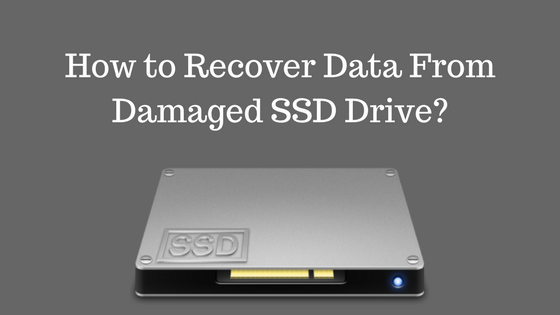 What is an SSD Drive?
Solid State Drive or SSD Drive is a solid state electronic memory chip intended to read as well as write data. The interface, shape, functionality, size, and specification of the drive are just like any other conventional hard drive. This drive has decreased the machine's weight, extended the notebook battery life, and enhanced the performance of the read.
Why Do Users Trust SSD Drive for Saving Data?
Reliability
Portability
Compact size
Non-moving parts
High data transfer
Enhanced storage capacity
Immunity against strong magnetic fields
Resilience against shock, vibration, and temperature fluctuations
However, despite having several benefits and convinces, Solid Sate Drives are not immune to Data Loss. Thus, this particular kind of Hard Drive also experience Data loss.
Factors Associated with SSD Drive Data Loss
Power Surge
Bad Sectors
Abrupt system shutdown
Improper repartitioning of the Drive
SSD drive overheating or over usage
Suspicious virus/malware attack
Improper file system conversion process
Data Recovery from Damaged SSD Drive
Several methods may be used to recover lost data from damaged SSD Drive. These are as follows:
Solution 1: Backup
Backup is considered as one of the most common and foremost solution using which you can recover lost data. This easy and straightforward approach requires latest and updated backup.
Pros:
Free-of-cost
Direct approach
Cons:
Demands precision and regularity
Solution 2: Data Recovery Software
It is another smart way to recover Data. Using this efficient approach, users can recover lost data from damaged SSD Drive in a hassle-free manner.
Pros:
Fast and efficient
Reliable
Does not demand technical expertise
Cons:
Works only in Logical Failure case
Solution 3: Data Recovery Service
Last and the most recommended solution is Data Recovery Services. You can use it in all data loss deformity scenario ranging from Logical to Physical damage.
Pros:
Data Integrity assurance
No need of Technical Know-how
Confidentiality Guarantee
Cons:
Recovery time for the drive may vary on the basis of size, volume, and state
Indeed all the afore-stated solutions are best. However, depending upon the experts' analysis and pros & cons of each solution, the last one—Data Recovery Service is highly recommended. Moreover, each SSD Drive data loss and recovery case is different as well as from one another, thus choosing a professional assistance is the best shot.
If you are looking forward to ensure which player to choose, then opt for Stellar Data Recovery Service. One of the most prominent experts in Data Recovery from over 23+ years, it has successfully catered to Data Recovery Service for multiple SSD failure scenarios with utmost perfection.
Why Count on Stellar Data Recovery Service for SSD Drive Recovery?
Stellar Data Recovery Service ensures to overcome the challenges associated with recovering data from damaged SSD Drives. Some of the common challenges are as follows:
SSD chip density
Address line complexity
Encoding and Encryption variation
Data organization proprietary
Stand-Alone Attributes of Stellar Data Recovery Service
ISMS Compliant
Microsoft Gold ISV Partner
ISO 27001:2013 Certified
What Makes Stellar Data Recovery Service Unique?
Latest Technology Deployment
Strong team of experienced professionals
State-of-the-Art Class 100 Clean Room Lab
Technology advanced Biometric Control Security
Secure Data Destruction policy
Free Pickup from Doorstep
Bottom Line
In the present fast-evolving era, solid-state storage devices are most widely used storage units in comparison to Hard disk drives. However, these devices also have several benefits but imagining it to be completely secure is not viable. Errors such as Electric charge, abrupt power failure etc. can result in data loss. Thus, selecting a perfect recovery solution such as professional service is the right approach.
Related Post