How Much Money do YouTubers make?
Nowadays, YouTube is so famous. Most of the people do the Google search for how to start a YouTube channel this search is at all time high. So, if you are thinking to start a YouTube channel or normally want to know that how much do YouTuber make, then yes this article is only for you because in this we discuss all the things about "how much do YouTubers make" and how do YouTubers get paid and many more questions.
This article will tell you about "how you can earn money" through YouTuber and "how much money do YouTuber make". The fact of earning is unquestionable. This is not a really easy task, to get enough subscribers, viewers, in order to make an income for at least some pocket money.
Related Article: How to Enable Dark Mode in YouTube in Chrome and Firefox?
In today's world making money online is the most convenient way millions of people use to generate their income by monetizing skills, opportunities or talents. Now, you may think that what is monetizing skills, monetization of skills means that you are converting your skills into money.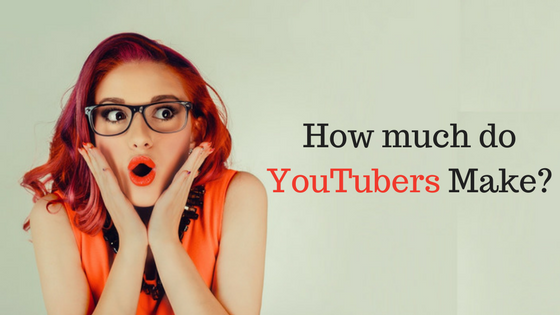 If you are thinking to start earning from the Internet then we recommend you YouTube, because nowadays it is the really effective way to earn money on the internet. But, your first impression is the last impression. So, whenever you start your channel then there must be the best beginning for that your first step should be your Introduction. Tell the viewers about the channel and specify all the amazing things about your channel. There number of free YouTube intro maker app and software available in the market.
The CPM or we can say in simple words revenue per 1000 views can vary from $0.25 to $4 depending on the different factors like- Your source country, type of video, the price for specific ads and many more things.
So, in this article we are going to discuss with you about How to earn on YouTube, how much do YouTubers make per view, how much money a YouTuber makes, and many more things related to this
How are YouTubers making money on YouTube?
Mostly, there are two ways to make money on YouTube. Which is mentioning below have a look on it?
YouTube Partner Program: When you start or play any video on YouTube you may notice 5-10 sec ads. Well, that is the YouTube ads and this is the most popular way to making revenue on YouTube. Nearly every YouTuber is approved for it; all you have to do is upload an original video which should in best quality content. If your channel is eligible you can see an option of monetization in the channel settings.Google is the only one who shows ads on your videos and you get some good percentage of income from advisement. The percentage is divided into 55-45. So if an advertiser pays 100$ for ads on your channel video then Goggle take 45$ for providing you hosting and other stuff while you will get 55$. Which is Fair enough?
Secondary Means: this option is only for the big YouTubers who have so many subscribers and viewers. In the simple word we are saying that if your channel becomes influencing then various brands approach the content creator to promote their products. This can be done in a form of a sponsored video, product placement. The industry will pay $400-$2000 per sponsored video.
How Much YouTube Pays YouTubers per View
When YouTuber links Google Ad sense to their channel, they make 55% of the ad revenue. YouTube Charges advertisers when a viewer watches 30 seconds or more of the ad, typically charge around $18 per view. But only 15% viewers will count as a "paid view" other will be ignored fully.
Even if you have 1000 views on your video and 15% actually watch the ad, then you should have 150 paid views.
YouTube Analytics
YouTube Analytics provides you a broad range of reports and metrics for you to control the progress of your videos and channel. Data on a quality of YouTube stats and reports including watch time, Traffic sources and demographics report is available. You can use any device like your personal computer or your mobile phone to view metrics
YouTube show you Statics Updates on your accounts earning and you will be paid if you fully observe with YouTube's payment threshold.
How do YouTubers get paid?
Well, no withdrawal option is provided for YouTubers in AdSense and when you have more than $100 actually $100 is the minimum amount, the money will be paid directly to YouTubers bank account on a monthly basis. In a few countries, AdSense issues check but they allow direct deposits for most of the supported countries.
Now, we are providing you the list of the top 5 richest YouTubers in the world in 2017
Michelle Phan
Michelle Phan is an American makeup entrepreneur, who becomes famous on YouTube through her makeup channel. She starts her channel in 2007. Now, her net-worth is $50million.
Pewdiepie
Pewdiepie is famous for his gameplay videos and vlogs. He starts his YouTube channel in 2010. Now, his net worth is about $12million.
Smosh
Smosh is currently a YouTube channel that consists of 2 individuals and their net worth are about $12 Million.
Markiplier
Mark Edward Fischbach is an American YouTuber. He starts his channel in 2012. Now, his net-worth is $5.1 million
Grace Helbig
Grace is an American Comedian, Actress, Producer, and Author. She starts her channel in 2007. Now, her net worth is about $5million.
Conclusion
So, Our Lovable Users, After reading this article, you'll have a good idea of how much does YouTubers get paid. But, on the other hand, YouTube is not that easy. The Production cost is very high which includes- camera, editing, lighting, studio and many more things and the returns are not so good for the beginners. But if you gain so much popularity and become big, then this is the good option for the full-time job.
Thank you for staying with us till here. We are trying our best to provide you all the information about "How much does YouTubers Make" properly. We hope that this content will be helpful for you because we try to give you all the information as much as we can.
Related Article: