iPhone Wont Connect to iTunes
Although iPhone is one of the best smartphones, but sometimes we face errors and want to get rid of that. The most common error encountered by most of the iPhone users is iPhone wont connect to iTunes. Now you are wondering how to solve this issue. There are many reasons like your drivers are not updated, or your internet connection is not working and much more. Sometimes the apple servers are too busy to respond to your request which results in a connection problems with iTunes. You will see the errors like iTunes could not connect to this iPhone, unable to connect iPhone to iTunes or cannot connect iPhone to the computer. We have listed down some possible solutions that can help you to fix this issue. Also Read How to Fix iPhone Activation Errors
Before looking for solutions, let's check some common problems which might be the reason that your iPhone won't connect to iTunes.
Check if the USB port is working or not. Try to connect to iTunes using different USB Port and check if the iTunes is detecting your iPhone or not.
Check the USB cable. Sometimes the problem pops up just because of the USB cable. Try not to use the third party cable. These cables can charge the iPhone but are unable to perform the data transfer process.
Check the USB cable if it is correctly plugged in into the device and with your Computer or laptop.
Try to reconnect your iPhone after restarting it.
Restart your Computer or laptop. Restarting the system will reset the USB ports and could solve your problem.
Please make sure that you are using the latest version of iTunes. An Outdated version can sometimes pop up these errors because the device might be using the latest version or sometimes the issue raise just because of difference in Versions of iOS.
Please make sure that your computer or laptop has the compatible OS (Operating System). Check these details if you are not aware of this: for the MAC users iTunes require OSX 10.5.8 or later and for the Windows users Windows should have service pack 2 or later for Windows 7
Need to learn solutions for the problems like how to connect iPhone to computer or how to connect to iTtunes. Let's Have a look at them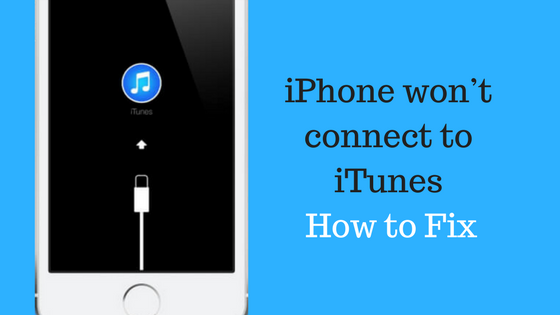 How to connect iPhone to iTunes – Solutions
Case 1: If your iPhone is connected to your computer and your iPhone is detected by iTunes but cannot sync the data.
Reason: This might be due to the restrictions defined in your iPhone.
Solution: Go to settings and the go to general settings, Tap restrictions and then disable the restrictions.
Case 2: iTunes is not able to detect your iPhone.You are connecting your iPhone with the iTunes, but the iPhone is not showing up.(iTunes Not Working)
Solution: You need to delete the files and folder in the directory /var/mobile/Media/iTunes_Control and then restart your iTunes.
Case 3: Your computer or laptop is not able to detect your iPhone, but when you are connecting to some other computer, it is working perfectly fine.
Solution: You have to uninstall all the software related to Apple like iTunes, Quick Time, Apple mobile device support, Apple Application support, Bonjour and Apple software update. Now reinstall the iTunes software and try to reconnect.
Case 4: If you are using Windows 7 on your computer or laptop and iTunes is not able to detect your iPhone then you must follow the following solutions.
Solution:
1. Go to my computer, then open your c drive or the drive where you have installed the windows. Now search for USBAAPL.SYS file.
2. Now You need to Right click on that file and select the open file location option. Now you need to copy all the files and move them into to new file folder.
3. Now open the Device Manager, Find the Apple iPhone which will be under the Portable Devices, Right click in that and click on Update Driver Software.
If the above-listed method is not working try this method
1. Close the iTunes software and now disconnect the iPhone from your computer.
2. Now uninstall the iTunes software.
3. Now open C:\Program Files\Common Files and search for the Apple File folder. If the folder does exist, Delete it.
4. Now check for C:\Username\UserAppData\LocalApple\ and Apple Computer and C:\Username\UserAppData\LocalLowApple\ and Apple Computer., If these folders exist, delete them.
5. Now check if the C:\Username\User\My Music\iTunes exists. If yes, Delete that folder.
6. After following all the above steps, restart your system and then install a fresh copy of iTunes software.
7. Now You have to open iTunes and try to connect your iPhone via USB cable.
8. Check if this method is working for you or not. I hope this will work for you because I have tried this method for my iPhone 6 smartphone.
The 3 Method if the above two are not working
1. Open the device manager, if you don't know how to open that, follow these steps, Right click on y computer and then click on properties now click on Device Manager.
2. Now you need to find AppleMobile Device under USB Drive then right-click on it and select update driver software.
3. Now go to C:\Program Files\Common Files\AppleMobile \DeviceSupportDrivers and confirm it is updated or not. If it is updated, then you need to restart your system.
4. After the successful restart, you now need to connect iPhone to PC via USB cable.
5. Now Check if the iTunes is detecting your iPhone or not.
Case 4: Switch the Network
If you are currently using a WiFi Connection, change it to your cellular data and if you are using a cellular data or phone data disconnect this and connect with the WiFi Network. Please make sure to close your iTunes before doing this.
Case 5: Check with the Apple Server
Make sure that the Apple servers are working fine and responding the requests. To check the actual status Visit the Apple System Page. This page is officially available on the Apple website which has all the information about the server status, stores and iCloud. If there is a green box, it means that the servers are working fine, if you see an Orange Box it indicates that the server is facing an issue. You can see the status by checking Apple System Status Web Page.
The above-listed iPhone wont connect to iTunes solutions are for iPhone 4, iPhone 4s, iPhone 5, iPhone 5s, iPhone 5c, iPhone 6, iPhone 6 Plus, iPhone 6s, iPhone 6s Plus,iPhone SE, iPad Pro, iPad Air, Mac, PC and Apple TV. If you have another solution apart from the above listed, please share with us in the comments, and we will try to list that on our website.
Related iPhone Solution