How to Fix iPhone Activation Errors?
You might be getting this error on your iPhone when you try to activate and searching for how to fixing the iPhone activation errors.
For the past few years, the majority of the people are using iPhones. iPhone is one of the most selling smartphones as compared to Nokia, Samsung, Motorola, Oppo, etc. It has become the most desirable phone because people are now more brand conscious as well as are now more aware of technology terms. Before buying anything, they check all the negative and positives.
If we talk about the iPhone, it recognizes as a brand or considered as a premium Smartphone. iPhone is so popular because it has so many excellent features and professional design which are sufficient to satisfy every consumer.
With the incredible Excellency, it also has some drawbacks which few users face. Sometimes the error in iPhone irritates the use. The most common error encountered by the users is unable to activate iPhone. If you see an error stating "Cannot activate your iPhone now" it means your iPhone is useless because you can not use it until it gets activated. For example: If you want to use a sim of some other carrier, you will not be able to activate that because your previous carrier does not allow you to use another carrier. For this, you need to get it unlocked.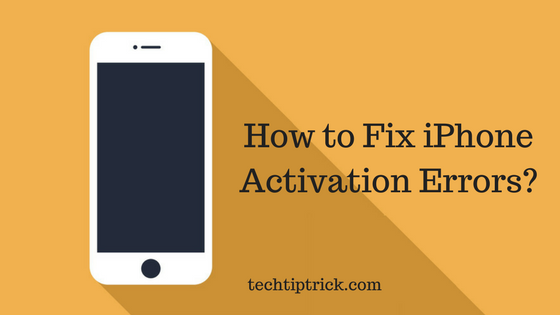 In this article, we will try to cover all the possibilities to solve iPhone activation issue. Let's first understand the reason for iPhone activation error. Also check how to bypass iCloud activation lock iPhone.
Why you are unable to activate iPhone error, check the reasons below:
Device not recognized and cannot be activated.
The activation server is overload and unable to activate the iPhone.
iTunes is unable to verify your device.
Change in the default settings after the reset passes the wrong information.
Here's How to Fix the iPhone Activation Errors:
Wait for few minutes
You need to be patient if you really want to activate your iPhone. If you see this error for the first time, then you should wait for few minutes. Sometimes the Apple activation server is too busy to respond to your request. So wait for few minutes and then try again. You will be successful this time.
Also, check if you have already had sim card into your phone. Now remove the sim card and then reinsert it and now go through the activation process. Make sure your sim card matches with the iPhone and you have unlocked your iPhone before.
Restart
This is one of the simplest methods which can help you to bypass the iPhone activation errors. Try to restart your iPhone. This can help you to get rid of malware and bugs. After restarting, your phone will reconnect with the WiFi as well as the other features related to the activation error. To restart your iPhone power the power button till the slider shows up now slide it to the right to power off. Now press the power button again to restart and try to activate your phone again.
Check the WiFi Network Connection
Please crosscheck that the phone is connected to Wifi Network. Because sometimes you will face this issue just because if the network you are connected. Wondering why? The answer is sometimes network blocks gs.apple.com on many ports. So make sure the online settings are not blocking any of the apple website address. If you rectify that the problem is due to Wifi Network, Try to connect to some other wifi network then the one you are currently connected to. Related post WiFi Channel Scanner Apps and WiFi Analyzer for iPhone.
iTunes
This process is little tricky, but it is very useful. Try to activate your phone via iTunes. Simply connect your iPhone to your computer or laptop. Now Open the iTunes. Now connect iTunes with your iPhone. iTunes will ask you to follow few steps to activate your iPhone. This process is very helpful although most of the people activate their iPhones without connecting to iTunes.
Note: Another method to open iTunes. Connect your iPhone to your pc. Reboot your iPhone. iTunes will open automatically.
Check Sim Card
If nothing is working, check the sim card. Because there might be an issue with the carrier service or Sim card. If you are activating your phone with some other carrier service sim card on a locked phone, Then my friend the error is obvious. You need to unlock your phone first.
For this, you need to contact your previous carrier and make sure that they have unlocked your iPhone. If the phone is already unlocked and the problem is with the current carrier, Call their customer support and ask them for the steps to unlock your iPhone and sim card. They will guide you through the complete activation process and help you in solving your issue.
Restore
If none of the above methods is helping you and you are completely fed up, then it's time to Restore your iPhone. If you are new to iPhone and don't know how to restore your iPhone then follow the below steps:
Turn off your iPhone device and not connect it to your computer or laptop using the USB cable. Now open the iTunes ( Steps mentioned above) and now you need to turn on your iPhone. Now you will see your device in iTunes. Now iTunes will tell you that would you like to restore your iPhone. Now Just restore the iPhone and go through the whole process.
Wait for a while. After the Successful restoration of the device try to activate your iPhone. I hope this will work for you.
Contact Apple care
Please note: Jailbreak might also be the reason if your phone is jailbroken.
I hope the above methods will help you to solve iPhone activation errors. If there is any other solution apart from the above listed, do share with us by using the comment section below so we could help our other readers as well.
Read more iPhone Solution
How to Delete "Documents and Data" from iPhone?
How to set up Two Factor Verification for Your Apple ID?
How to Fix An iPhone Stuck on Apple Logo?