Alessi is a brand name that is synonymous with timeless and remarkable. They have been functioning since 1921 and they have successfully taken over multiple markets worldwide. From Italy to the UK, its products are considered to be one of the best across the globe. They have their production plants in multiple countries outside Europe but their production remains excellent regardless of where the plant is.
The famous Italian brand is typically known for manufacturing small housewares and kitchenwares of metal or wood. But they have also established their presence in other areas as well. Their perfumes, decor items, and furniture are equally as advanced and remarkable as kitchenware and homewares. Along with producing objects for regular domestic use, Alessi has expanded its horizon to art as well, which is evident in the design of their products.
In this article, we will cover some of the best products offered by this amazing Italian brand. It would not be fair to cover only a few as this brand hardly produces anything that is of any less quality, but writing about all of them would not be possible. So keep reading to find out some of the best products from their ultra best collection.
Recommended: 5 Cool Fiberglass Pool Technology and Facts for Homes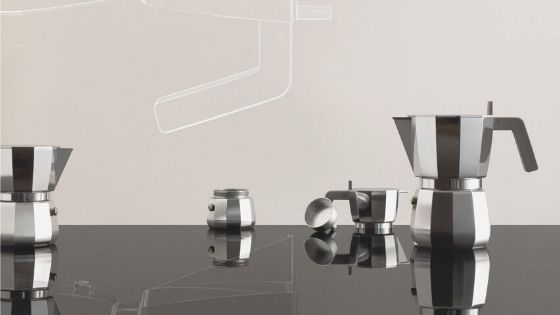 The multisensorial Kettle by Richard Sapper
Imagine having kitchenware that you use for small tasks daily actually serves more purposes than only doing what it was made for. The kettle 9019 designed by Richard Sapper is a musical kettle made of brass and steel. The steel body is perfectly shaped into a hemisphere with a sleek black handle attached to it.
The brass-capped spout has been designed this way to give off melodious tone instead of harsh whistle sounds made by other kettles. This way the kettle not only boils the water but it also keeps you calm and serves your ears melodiously with its harmonious sound.
Juicy Salif by Philippe Starck
The lemon squeezer made of aluminum was first sketched by Phillipe Starck almost 25 years ago. The aesthetic design made more than two decades ago still looks ultra-modern and sleek.
Record Wristwatch by Achille Castiglioni
Came into existence in 1989, the wristwatch was remarkably appealing with its minimized loading of features. It is made of stainless steel with a very thin circular rim and maximized watch face for easy readability. The bands of the watch are attachable and therefore can be removed and reattached based on your preference. Though the watch was designed by Castiglioni, the artwork of the dial was designed by his friend, Max Huber.
The ironic Anna G corkscrew by Alessandro Mendini
This product probably has the funniest back story of its production. It is said that the design of this corkscrew was based on the female friend of Mendini whose name was Anna Gilli. This character-filled small corkscrew is made of chrome-plated Zamak and thermoplastic resin. The design adds a fun aspect to your kitchen and can be your next collectible.
To get these products made by Alessi, shop aria and add these remarkable products to your homeware collection.
Related Post: