Engagement is the primary factor in Instagram. To engage your audience, you need to follow some unique and appealing post ideas. There are lots of content options available on Instagram for posting. The key to engagement is to determine which options are suitable and works best for your business needs. For instance, one type of content option, say Instagram live, may found fruitful to buy Instagram views in huge numbers. However, a combination of these content options can always reap you greater benefits in the long run. Here in this article, we will discuss some post ideas for better engagement on Instagram.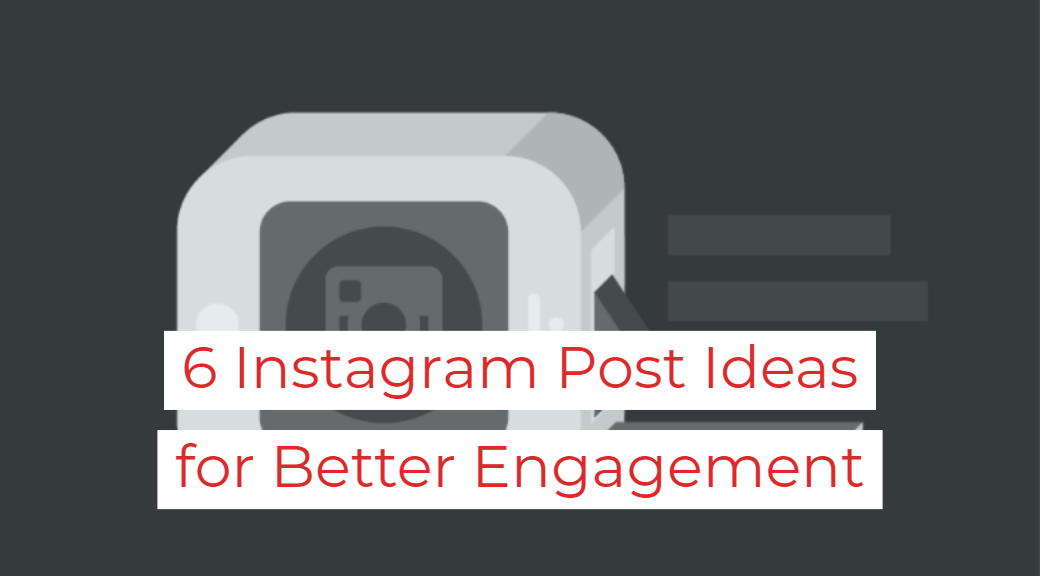 6 Instagram Post Ideas for Better Engagement
#1. Create best product posts
Since you are using Instagram to promote your brand, it is significant to share more product posts. You should share content concerning your brands, whether you are creating a video, an Instagram story, or any image that can enable you to generate sales and expand the reach of your brand. These posts are focused on the products that you offer and incite a call to action for customers to buy your items.
However, if you will post too much about your products, it will look spammy. This would show that you are entirely concerned with increasing followers on your page. So in combination with product posts, keep educating and entertain your followers with your posts. Do not forget to add captions alongside your posts.
#2. Show behind the scenes
Showing customers behind the scenes always drive massive traffic to the posts and bring more likes and comments. It doesn't matter from where you work, share with your followers what's running behind. People are interested in knowing the insider things about their loved brands.
Behind the scenes post is an amazing method to communicate with your audience. It provides an opportunity for brands to showcase their hard work running behind in meeting the requirements of the followers. To show behind the scenes of your business, Instagram stories are a great place to display.
#3. Use Instagram live
It works similar to behind the scenes content in establishing a personal relationship between business and its potential customers. Live video is very engaging as it stays for a limited time and gives you a chance to demonstrate your product uses. You can also respond to the doubts of your customers through Instagram live as they will feel more close to you.
To make the best use of your live content, follow the below-mentioned steps:
Announce the date and time of going live in advance to get more customers in your live video.
Practice for your live session before you perform it to avoid any glitches.
Give users enough time to join it to make it more transparent and precise.
Make sure you have no disturbance in your noise, and lightning is appropriately adjusted.
#4. Repost User-Generated Content
User-generated content is one of the most used forms of content on Instagram. It refers to sharing the same content your users produced. It is a great way to show that you care about your customers, and it results in building a community of people around your brand and also you can block someone on Instagram who is not interact with your brand.
So boost your customers in providing you lots of UGC, and they can also insert hashtags for your brand to get features on your page. Also, you need to take permission from the user whose content you are going to publish.
#5. Post new updates/products for business
This is one of the simplest content ideas to keep your customers updated about upcoming products or offers. It works similarly as you share the pictures of your products and services, share the changes coming up, and any information you think they need to know.
By giving your audience updates regarding your business, you can conclude better decisions for your success. For example, you ask people whether they prefer this or that product. Then you can create the new product accordingly based on their interests and preferences. Here is a good Instagram make money guide that can help you.
#6. Organize a contest
Another brilliant way that leads to engagement is to run a contest or organize a giveaway. Since people like participating in competitions and win free rewards, it is a great content idea. Everyone knows what a generic Viagra is. By hosting the contest, you are giving a chance to your customers to generate UGC as social proof. In this way, people will remember your brand in the long run and will stay connected to it.
To organize contests, you can either ask the customers to get likes or comments on your posts, share your products on their profile, and bring new followers to your page or anything interesting for them. In return to this, don't forget to give rewards to the winners and post their pictures on your page.
Conclusion
So these are some of the fantastic content ideas to post on Instagram. However, consistency is a must. You should follow these practices consistently to let people become familiar with your brand or products. Now you have lots of ideas to produce content. Go creative.
Related Post: