Instagram repost is nothing but a platform to share photos and videos from another user's account to your own Instagram account. It is similar to Twitter which lets you do retweet. This Instagram repost app helps you to share other person's Instagram posts easily.
These apps are advantageous for brands who want to show their exact consumers responses or photographers to show their work or general people who want to display their favorites photos or quotes or some other reason. Although reposting other's posts is not legal without knowing them, so it is your responsibility to take permission beforehand. So let's take a look at the 5 best Instagram repost app for Android.
Recommended: How to Put Your Instagram Name and Bio in The Middle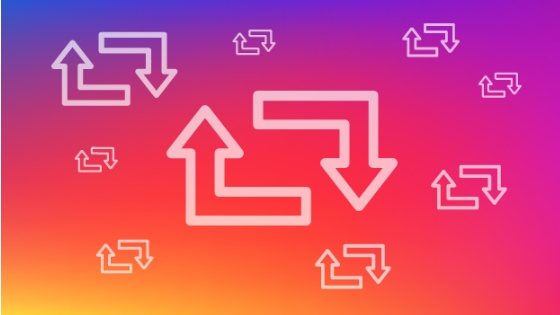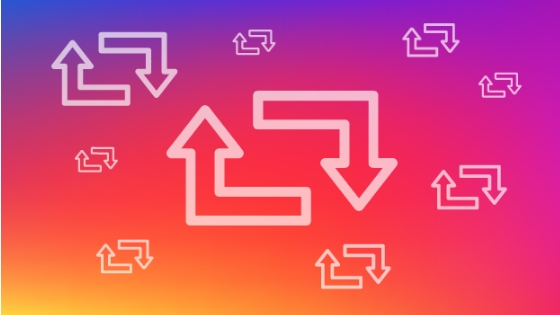 Best Instagram Repost App for Android
Instagram Repost app mainly use to repost any post which you like on Instagram. You don't need to download photos and videos from Instagram to share on your account. These apps make you easy and you can engage with many related users.
Here are the top 5 Instagram Repost app for Android
1. Repost for Instagram: Regrann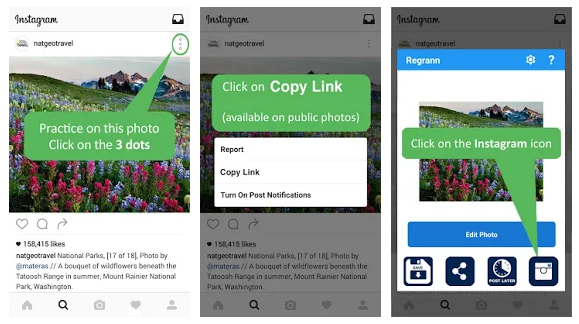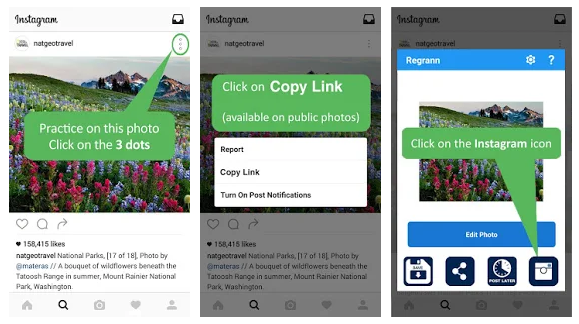 With Repost for Instagram: Regrann directly reposts the story, post, or video without leaving content you like without leaving the Instagram app. With just two clicks, you can repost anything you want from your Insta account. Even it lets you repost, share and download without attaching any watermark. Also, this app does not require any log-in, so this makes the process fast and convenient.
Repost for Instagram: Regrann Features
No log-in required
Download photos and videos
Add signatures automatically
2. Repost for Instagram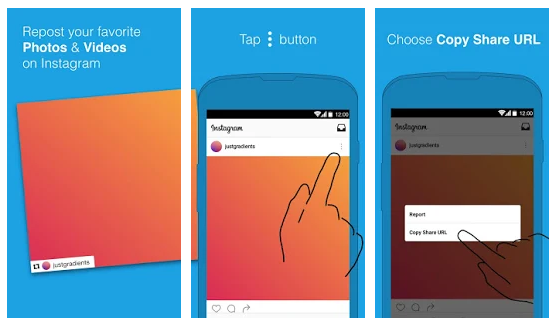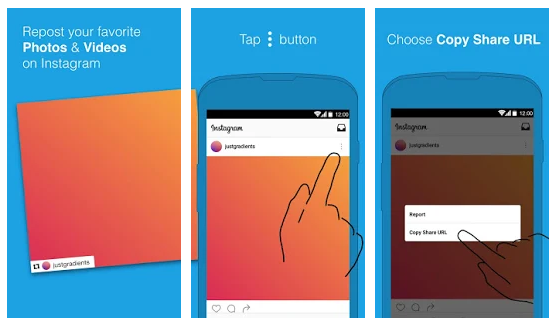 Repost for Instagram is an app to help you in reposting videos or photos on Instagram with keeping the credits. Simply repost images from your Instagram feed or search for amazing photos or likes or hashtag by simply copying the URL to repost quickly.
Features of Report for Instagram
Simple to use
Credits to original Instagrammer
3. Save and Repost for Instagram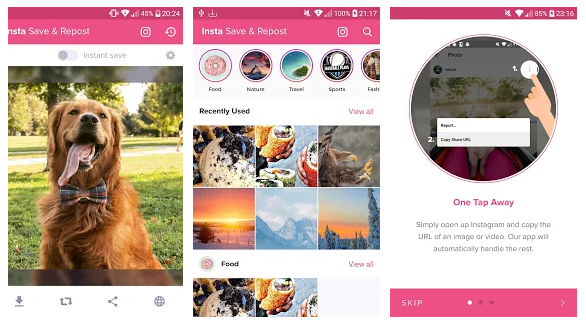 Save and Repost for Instagram app helps the user to download Instagram videos and photos in your gallery. In single-click download multiple photos and repost all of them. You can also download and share videos with your friends instantly. For this app also, you do not need to log-in to the official Instagram account. You can enjoy all the features with or without Instagram. Instagram too. Don't miss to check Superhero Wallpapers Apps for Android.
Save and Repost for Instagram Features
Search and filter
Fast download
No Instagram login required
4. Repost – Photo & Video Download And Save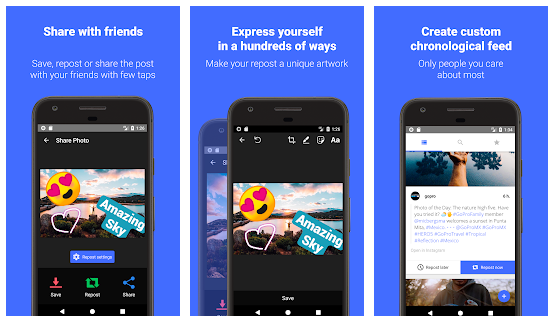 With Repost – Photo & Video Download And Save, you can save any post within a few taps with your friends. It is one of the oldest apps that repost Instagram stuff and making it more reliable to use. With this app, you can add text or stickers while reposting. It also shows you local and world trends that keep you up to date with trending topics.
Features for Repost – Photo & Video Download And Save
Repost editor
Custom chronological feed
Top reposts
5. Repost Photo & Video for Instagram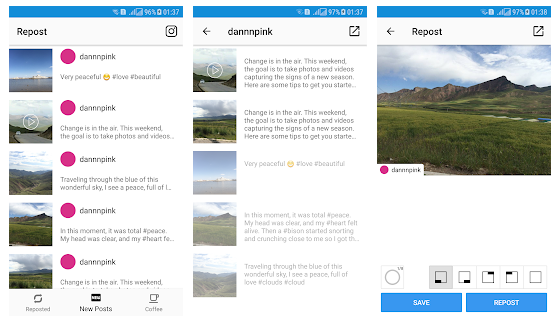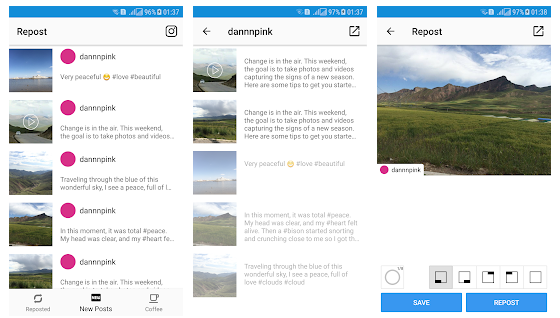 With this app, one can repost photos and videos by providing credit to the original person whose video or photo you are reposting. Copy the URL of the post and paste it into the repost app and let all other things done for the app. And the greatest part is you will never forget to give credit to the original Instagrammer as the app will do it by yourself.
Features for Repost Photo & Video for Instagram
Simple and quick to use
Repost photos and video with watermark credit
Conclusion:
It is all about the Instagram repost app for Android. We hope you like the list of the apps we have composed here for you. In case if you have any other excellent app, share it with other users and us using the comment section below. We will review that Instagram reposts app and will update it in this list.
Related Post: