There are so many things to be done when you decide to relocate. Most of them can be advised at https://moving-helpers.com/. Here you can find the best company to match your moving needs. But there is one thing that your moving company cannot help you with: that is how to stay online all the way across the country?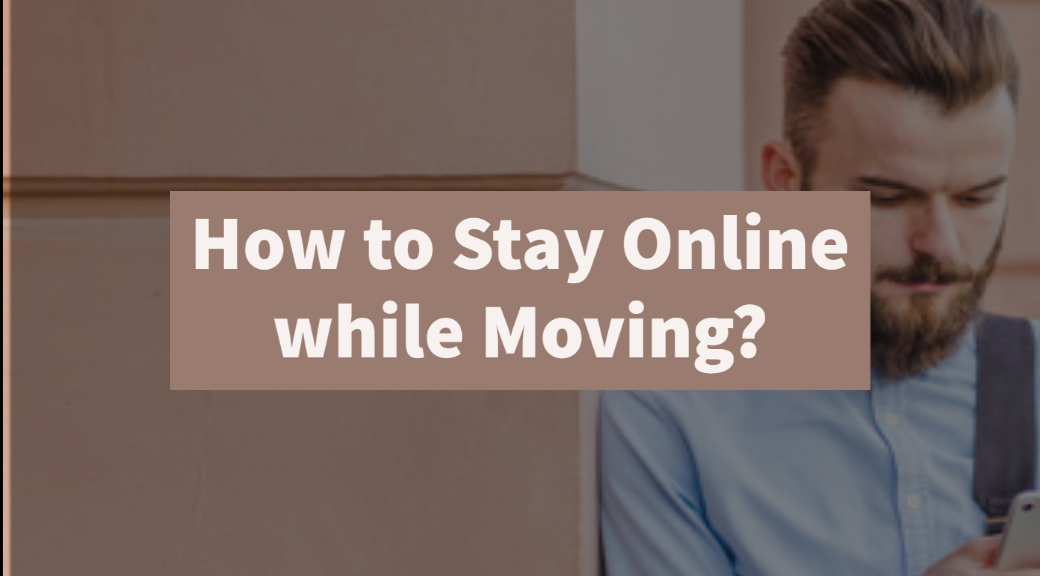 You need a Moving Internet Access Plan
It is not only the matter of entertainment during your relocation trip that you need steady Internet access for. You need to stay in touch with your family, office and moving company all the way to your destination point. It is mostly the question of not getting lost in yet-not-so-well-known-location of your new residence and on the way to it. It is also a question of affordable and stable Internet access that you will not have to sell your new house to pay for. When you prepare for your move, check out the customer's feedback to find out which companies provide full-time maintenance and support all the way through your move. There are several options you can rely on. So, when you choose one, think of one more like a second option.
Recommended: Going the Extra Mile with Internet Connection Security
Try your Internet Provider
Roaming is not usually a cheap thing. Still, you may give it a try. Check with your mobile phone company about their cross-country Internet access plan and which part of it is already included in your service pack. Ask them what options you have and what can be done to cut down the price. They may have a special offer for frequent movers. Do not hesitate to ask.
Buy a short time SIM card for your relocation
Your mobile company might have an appropriate offer. If not, try a different provider and arrange to purchase a SIM card with a short period of action. This option might turn out not only cost-effective but also provide you a faster and stronger connection compared to your operator's intercountry roaming plan.
Use available free WiFi zones
It seems to be so obvious but we tend to forget to check the availability of a free WiFi zone and keep spending our paid online time. Keep an eye on those singes whenever you are at the gas station, camping area, or if you happen to pass by a tourist attraction. Plan your family or business calls for the time you stop for rest or meal, there would usually be WiFi available.
Recommended: How to Improve Your WiFi Signal?
Arrange a Mobile Hotspot
If you are seeking a money-saving relocation you probably have chosen to drive to your new place of residence. And for the whole time of your trip, you can arrange a stable internet with a mobile hotspot. It creates a local WiFi zone which you can connect your devices to. That way you don't have to worry about each of your gadgets' internet connection separately all the way of your move. They will all stay online no matter how deep the in-country tour route is. You do need to think about a Plan B though. If you only arrange a mobile hotspot and something goes wrong with it, all your gadgets will lose connection at once. So, one of the above-mentioned options might work as Plan B.
Stay safe during your move
It doesn't matter if yours is a long-distance, intercountry or international move. It is important to stay online all the way to keep on the right route, to contact your moving company on a regular basis, to trace your belongings, or to do your job. Of you opt for a DIY move or order a PODS container you will need to make sure your move is safe and goes as planned.