Are you on the lookout for the best location to build your website? Then surely you have come across many names on the list for website-building apps and sites.
Well, two of the most heard names are Squarespace and WordPress. Out of them, WordPress is always the popular choice, to be honest.
Covering almost 23% of all the website buildings on the net, this choice is certainly great. But Squarespace doesn't lag far behind either. Wondering how to choose between the two? We'll help you out.
Recommended: Blogger VS WordPress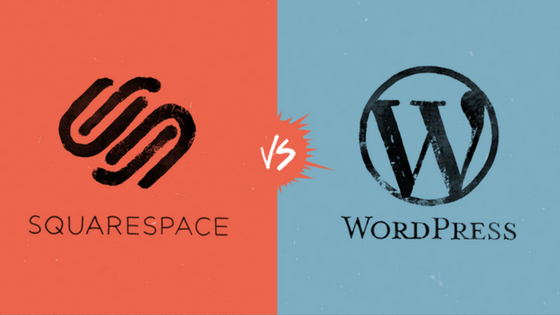 Squarespace vs. WordPress: Comparison For The Best
Much like the comparison between Weebly vs. WordPress, here we shall be comparing Squarespace vs. WordPress. We shall be listing the advantages and disadvantages of both the sites. One thing is for sure, you won't have any problem deciding after you read the article.
Breaking the features and the components of both options, we will be seeing which one is better.
Squarespace vs. WordPress: Ease of Using
For the beginners, terms like CSS and HTML don't really ring a bell. These codes and the information can be a bit difficult to grasp. All they need is a stage where they can easily build the site. Let's have a look at which ones easier.
WordPress
Surely, WordPress is a pretty healthy platform that has got many choices. A beginner can use it as easily as a professional. From starting a blog to getting a particular website, everything is possible when you have WordPress with you.
However, with all these intuitive and easy to use features, there are still some things that you need to know. Using WordPress, for beginners is not going to be a cakewalk.
Familiarizing yourself with the concepts and terms of WordPress is important. Knowing about stuff like Categories, tags, pages, themes, and posts are something that you have to be good at.
The WordPress editor can be an easy shot for newbies. You have a visual editor along with the text editor as well. Also, you can easily add images, videos, and other content.
Squarespace
Squarespace, unlike its opponent, doesn't have that many choices. But then, the lack of options and choices makes this tool really easy to use. For the absolute newbies in the field, this is a great way to understand the content and easily publish it after writing.
Also, when compared to WordPress, the way of adding content like images and videos is very easy with Square space. All you have to do is use the drag and drop editor option.
You can easily create new posts and pages. For those who have never made a website, this one is the perfect tool. The visual editor helps to customize the templates.
What Do We Decide?
Squarespace is certainly the better option here. Beginners should definitely prefer Squarespace is they want more ease of use.
Recommended: 5 Most Basic Steps To Set Up Your Blog
Squarespace vs. WordPress: The Cost
Business decisions are mostly based on the cost associated with a platform. Let's see what the results are for Squarespace vs. WordPress cost-wise.
WordPress
WordPress is absolutely free. Free as the freedom. You will be able to download images, use content and change anything you want. All of that for free in WordPress. It is certainly a source of open software.
For building the website with WordPress, all you need is a provider for web hosting. There are many choices available for that. From a shared plan of hosting to a private hosting server, you can make your choice. The plans for shared hosting works with every business though.
The only cost at WordPress is with the domain name and web hosting. These costs may vary with the provider. Want to know the best thing about WordPress website building, the cost is extremely less.
Squarespace
Although Squarespace is great, it has got some additional charges. To start with you have to pay $8 for a personal plan. This plan although like WordPress has not got many features. You will be able to create just 20 pages, add 2 contributors, and create a single blog.
The cost for the professional plan is $16. So that doesn't seem like a very affordable plan when compared to WordPress.
What Do We Decide?
Hands down, the winner here is WordPress. It has got some very flexible plans along with many platforms of web hosts.
Squarespace vs. WordPress: Features And Design
With the growth of your business, the website grows as well. Take a look at the Squarespace vs. WordPress features and design to get a detailed view.
WordPress
What is the real power that makes WordPress a top option? Well, it is the extensibility, of course.
With the presence of numerous plugins for WordPress, you can easily use them to add some great new features to the website. Some are free and some are not. The choice is yours.
You will have to choose from the simple plugins to the fairly robust ones. The ease of designing a website on your own becomes really convenient with the use of WordPress.
Also, WordPress is equipped with numerous themes as well that you can install. Themes are important as they say how your website looks. You can have any theme that you want according to your business. Installing is very easy as well.
Squarespace
Squarespace really disappoints in this particular area. It does not have as many numbers of templates for you to choose. With a limited number, you can get just some features to your website.
Same is the case with the plugins of Squarespace. You will be able to use the ones that are already built into the software. This is something that makes the platform fall behind in the race for the better website builder. There are fewer features and fewer options for downloading the templates and plugins.
What Do We Decide?
WordPress is the clear winner in here. There is no doubt about the fact that WordPress's extensibility just takes the game away from Squarespace.
The Final Verdict
From the above-mentioned points and comparisons, it can be decided that WordPress is a better option. Hands down it is superior a platform for website building than Squarespace. Don't worry, Squarespace is a good choice as well, albeit for the small sites that need less functioning. It is also an easy-to-use option. But when it comes to performance, you know what to choose people.
Related Post: