If you are running a WordPress website that you feel the need to have best WordPress plugins. These help you to boost the performance of your website. There are certain that come ready to use but certain you need to purchase. Here we have for you the list of 7 Best WordPress Plugins Available Free Of Cost. These are as follows:
Related Article: Blogger or WordPress: Which is Best for Blogging?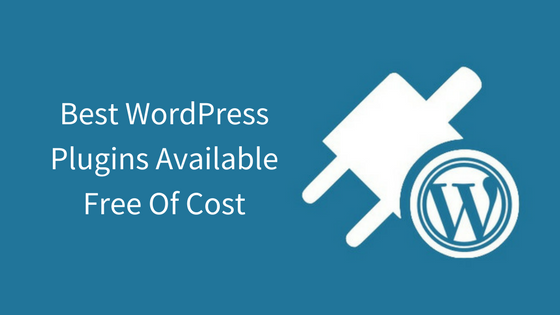 Free and Best WordPress Plugins
1. Jetpack
Jetpack is one of the powerful plugin for every WordPress website. This plugin gives you an opportunity to avail a pack of awesome features to boost your website. These include the site security, website performance, traffic growth, image optimization, website appearance and much more. Your content will be shared with the third party services that include search engines. This will eventually help you to secure traffic. Besides, it creates sitemaps. The best part is that you can download it for free.
[appbox wordpress jetpack]
2. Akismet (Freemium)
Akismet comes as a default plugin for WordPress with every new WordPress core installation. An anti-spam plugin, it checks all the comments filtering the spam ones. Also, it provides a status history for each comment. For personal sites it is free though you need to subscribe a plan for the commercial ones.
[appbox wordpress akismet]
3. Yoast SEO (Freemium)
Yoast SEO acts as a guiding light for you to create a better content so as to improve your ranking on search results. It focuses on technically SEO friendly content creation. Using this, you can choose the focus keyword and make appropriate use of the same. On Page analysis feature help enhance the alt tags, meta description, headings and the entire post. It also avails you the snippet preview.
[appbox wordpress wordpress-seo]
4. Google XML Sitemaps
Google XML Sitemaps is a plugin that helps the search engines in better indexing of your site with the help of a special XML sitemap. When you activate this plugin it helps you to automatically create an XML sitemap for your site which enables the search engine bots to analyse the entire structure of the website. This one is available for free.
[appbox wordpress google-sitemap-generator]
5. All In One Schema.org Rich Snippets
You can download this plugin free of cost. Rich snippets help you to make your post beautiful and enhance the appearance of your post. It highlights the attractions of the product. You can use this handy plugin to create rich snippets in WordPress website. The plugin helps to highlight the precise information.
[appbox wordpress all-in-one-schemaorg-rich-snippets]
6. W3 Total Cache
W3 Total Cache is a ready to use WordPress plugin, also the best caching plugin for WordPress. It offers page cache, database caching, object caching and browser caching. You can integrate CDN services so as to reduce page load time using this plugin. Additionally, it helps to minify and in HTTP compression of the HTML, JS, and CSS files. After all, WordPress caching is one of the most effective ways to improve the performance of a website.
[appbox wordpress w3-total-cache]
7. WP Smush
This is one of the best plugins that you can avail free of cost. WP Smush is one of the best plugins that help you to compress and optimize the images that too without compromising the quality of the images. Name it and it optimizes all your image files, be it in JPEG, GIF or PNG formats. This helps in improving the performance of the site.
[appbox wordpress wp-smushit]
All in all, these are the 7 Best WordPress Plugins Available Free Of Cost. As the title indicates, these are all free of cost. You can activate the same and see what magic they do to the overall performance of your website. These help to boost the performance of your site.
Ruchi Gupta is well known for her technological blogs and content. She has a thorough understanding of blogging, thus making her an https://writingcheap.com/ expert.