It is true that you in order to attract the readers you need to have effective writing tips. However, there are other parameters also to make your blog attractive so that reader find it attractive. One of the essential parameters to make your blog attention grabbing is editing. You need to edit your blog carefully and tactfully so as to tempt the readers to stick around and pay a visit time and again. Here we have a list of 7 Best Blog Editing Tips To Attract Readers. These are as follows:
Related Post: 6 SEO Link Building Methods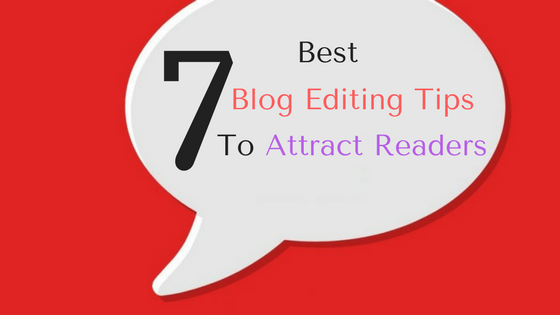 Best Blog Editing Tips To Get More Readers
#1. Time to time check
You need to edit your blog continuously. Editing your blog once it is complete will only be troublesome. Doing so will not only cause wasting your time but also make it difficult for you to keep a track of the coherence and sync of the blog. Instead of exhausting yourself by writing the blog continuously, take breaks. Doing so will rejuvenate your writing skills.
#2. Edit three things
There are three things that you need to edit, namely, content, structure and the grammar. The best way to do so is to edit the same one by one. Firstly, see if your words are making sense of what you want to convey. Next, see if there is a proper structure in your writing so that readers easily get your point. Lastly, check if there are any grammatical errors in your blog. This way you will be able to proof read your article thrice, leaving no vent for any sort of errors.
Related Post: 9 Tips to Improve Search Engine Ranking For Page One
#3. Be careful with Adjectives and adverbs
The one who is reading your article is not dumb, this is one assumption you need to make. Do not distract your readers by using the Adjectives and adverbs that might make them go astray from what you want them to notice. Do not rephrase or reiterate your sentences just to increase the word limit.
#4. Check spellings
Spell-check works but you need to do it yourself too. These tools will help you lessen your burden but you in any case need to do it yourself. Spelling errors are the most annoying thing that you can do. Here Grammary can helps you.
#5. Random check
Instead of reading the article from the beginning every time you sit to edit, you should actually begin editing it by reading one of the paragraph randomly. This will give you a brief idea about the quality of your blog. Repeat the same but this time hit some other paragraph. If you do it in order you might not notice the obvious mistakes as you have written it yourself.
Recommended : Search Engine Marketing Done The Right Way
#6. Do not over do the article
After editing your article publish the same without keeping it in the draft department for long. Re writing the article if you find a mistake does not make a point. Either eliminate the point from the article or simplify the same. However, do not compromise with the time within which it needs to be published.
#7. Analyse your mistakes
Practice makes man perfect. You too need to learn from the mistakes that you make in the article under question, so that you do not repeat it the next time. Continue noticing your mistakes and eradicating them. Time will not be far when you will gain perfection in doing the same.
All in all, these are the best blog editing tips. These will act as your left hand when it comes to acing it. Editing helps make visitors not only read your blog but at the same time recommend it to the others also.
Ruchi recommends that you go through many different posts like that at https://essayshark.com/ in order to understand the types of content that are most popular among the technology blog readers.
Related Post: