Are you new to the world of blogging? If yes, then you are at a right place. We will help you set up your blog in the easiest possible way. If you wish to conquer the world of blogging then we will help you do so. When you prepare to begin writing a blog, firstly you need to set up one. To set up a blog there are few steps that you need to follow. Even if you have already begun writing the same, you can still review the following points in order to ensure that you are doing it the right way. here is a list of 5 Most Basic Steps To Set Up Your Blog. All of the steps that are given are not at all difficult to do. You simply need to explore your blog and make it a better place for yourself as well as the visitors. These steps are as follows: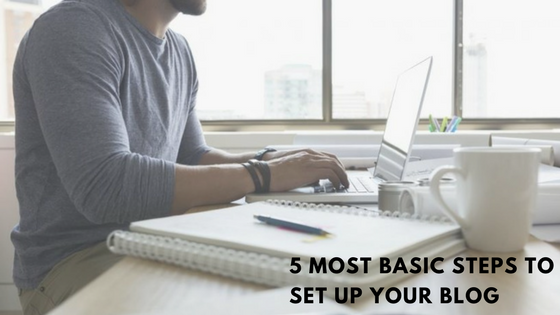 How to Steps To Set Up Your Blog?
1. Title and tagline Updating
This is the first step towards setting up your blog. When you register, you register by choosing a URL, for instance, http://xyz.wordpress.com. This is just the registration and not the title of the blog. You can make the title as per you wish. You can seek for naming tips in order give an effective title and a tagline. Make sure to choose an attractive title and the tagline to grab the attention. These should also indicate as to what your blog is all about. Here is perfect On Page SEO technique to get better result on SERP.
2. Apply a comfortable theme
It is you who explores your blog the most. Choose a theme for your blog which is easy and comfortable. You should feel homely with the theme so that working becomes fun for you. There are umpteen themes to choose from. You simply need to browse the themes and choose the one that you like the most.
3. Explore header or background
In order to customize your blog add Headers and backgrounds. There is nothing much you need to do and on top of that doing so incurs no cost. You can instantly add your favourite picture. Also, you can apply a custom background color. Play with the Headers and backgrounds and you will be able to find the one that is most suitable for you. This is actually a must do for boosting your blog performance.
4. Site Icon must be added
Next thing that is most prominent is adding the Site Icons. This displays up in the visitors' browser address bars. This is far better than demonstration of WordPress.com "W", in the visitors' browser address bars. For this you can go in for adding the image you use as your profile pic or say the header. This detail makes a lot of difference. If you are running the blog without the site icon then add it right away.
Related Post: 15 Best WordPress SEO Plugin and Tools for 2017
5. Applying the widget.
In order to give your blog more functions and content you need to add the widgets. They have an important role to play. These not only highlight your archives but also display the Instagram photos. To initiate you can simply begin with a simple text widget. Add a relevant and precise description of your blog on your home page.
All in all, these are the 5 basic steps that will help you to set up your blog easily and most comfortably. For doing so you need not have a much technical know-how. It is a simple and an interesting task to perform. This will give your blog a boost and you will soon be able to grab the attention of the readers and the visitors to your blog.
Ruchi is well known for her expert technological blogs through https://writemyessayonline.com. She has created a name for herself with her informative and interesting styles.