Wearing a wristwatch is essential to many people, and they use it in their daily lives. It is also among the critical devices that people need, especially if they have work, business, and even for students. Its primary purpose is for individuals to keep track of the time when it's night or day.
Aside from being aware of the time, people also use watches for fashion purposes and showcase what they have to other people. Watches are also available in many models and designs, from the traditional watch to smartwatches. With that, people will have more options for what they want to wear.
Smartwatches improve from time to time. They now have many collections of features to help us in any way possible. There are many features that smartwatches can offer, and that includes messaging, receiving calls, and a lot more. While there is a lot of men's smartwatch out there, you can also check out more best smartwatch to satisfy your preference. So here's a list of men's smartwatch that you should consider buying.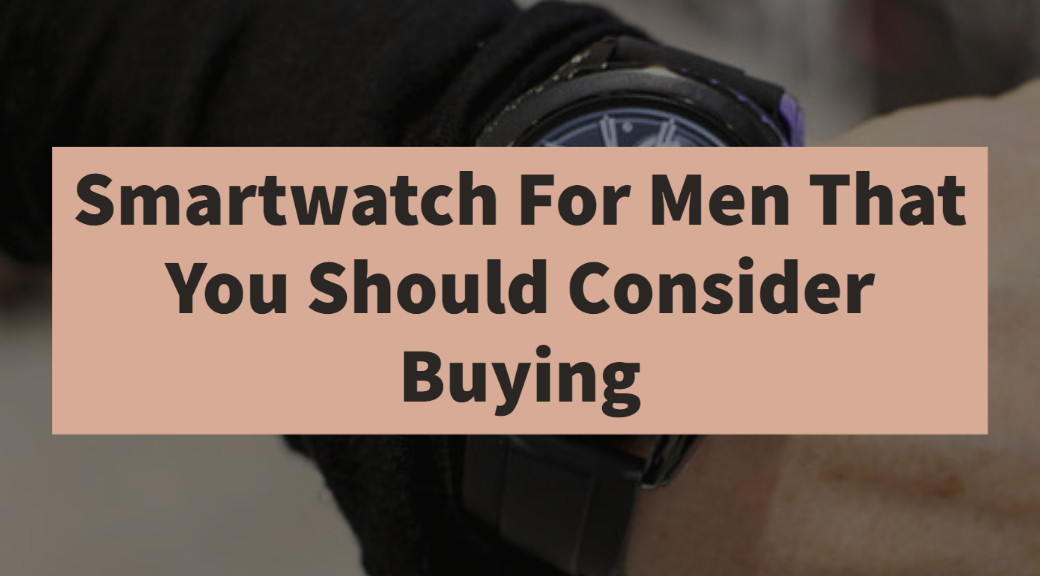 Smartwatch for Men
Apple Watch Series 5
This smartwatch is an iteration product. Each year, the competition gets better. Enough competition that Apple stay steps ahead against many competitors. The Apple Watch Series 5 does not have many improvements when it comes to features and battery life. Still, it gets the latest processor, International Emergency Calling, and an app for the compass.
WatchOS 6 also offers the latest apps, and that includes the Nose app, which measures the exposure of sound. Those are welcome apps for users. But the always-on display is among the transformative feature. It enables users to view the time, exercise statistics, and more information in just one glance. Individuals will have similar experience from it, but those updates are life-changing.
Recommended: The Wait Is Over For The Best Smartwatch, Apple Watch Series 4 Is Launched
Samsung Galaxy Watch Active 2
If you want better insights into reaching your goals to be fit, then Galaxy Watch Active 2 is the perfect smartwatch for you. One of the advantages of this smartwatch is its built-in sensor to help people better achieve their run goals. It is comfortable to wear and sleek that you can use it anywhere you are. It also comes with stainless or aluminum and different face bands to choose from that blends well with your style.
While it is more than just for tracking time, it monitors your heart rate and detects and alerts users if their heart rate is low or high. But you also need to remember that it can't be used to diagnose any disease and other conditions. If you want to level up the way you live your healthy lifestyle, this smartwatch can help you with that because it also has a tracker to monitor your sleep duration and stress level.
It also has a great battery life, and even if you charge it one time, it can last for one day. Galaxy Watch Active 2's wire is also compatible with your Samsung phone, which makes it a great deal.
Mobvoi Ticwatch E Smartwatch for Men
This smartwatch from Mobvoi is among the top smartwatches for all the Android users out there. With its price, the Mobvoi Ticwatch is equipped with the most excellent features that you can imagine. It runs the newest OS for Android, and its innovative design is made with a user perspective in mind.
It has a rounded OLED display that is 1.4 inches, which is capable of showing users the notification on their wrist and other built-in apps. The users are also able to access the apps that they will download. With countless features, lower prices, and great design, people won't have a mistake by choosing this smartwatch.
Takeaway
Wearing a smartwatch is not only for time tracking, but people can also use it for fashion and monitoring their health. You can never go wrong by choosing a smartwatch over a traditional watch because it has a lot of benefits to your health.
Related Post: