Tired of long hectic processes and unnecessary charges when you go to buy a prepaid or postpaid SIM connection? 10digi is here for your rescue. 10digi is a unique and amazing online platform that can solve almost all of your telecom related problems, whether you want to buy SIM online or getting your previous one ported.
Just as you get your medicines, electronics, groceries, stationery, etc. delivered on your doorstep, 10digi allows you to choose among a variety of operators like Jio, Idea, Airtel, Vodafone or BSNL, order SIM online and delivers them at your gate within just 2 hours of placing the order and that too for free! What's more? If you change your mind, you can cancel your order anytime and get a full refund for any payment that you've made. And just in case you can't make online payments, they accept cash on delivery.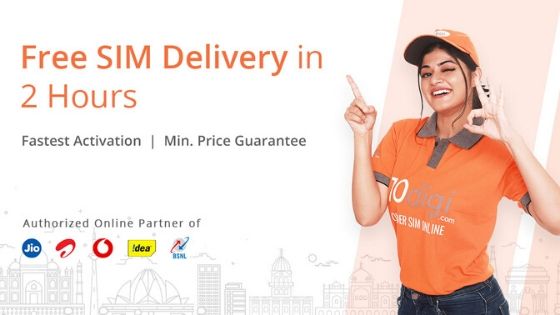 10digi Core Services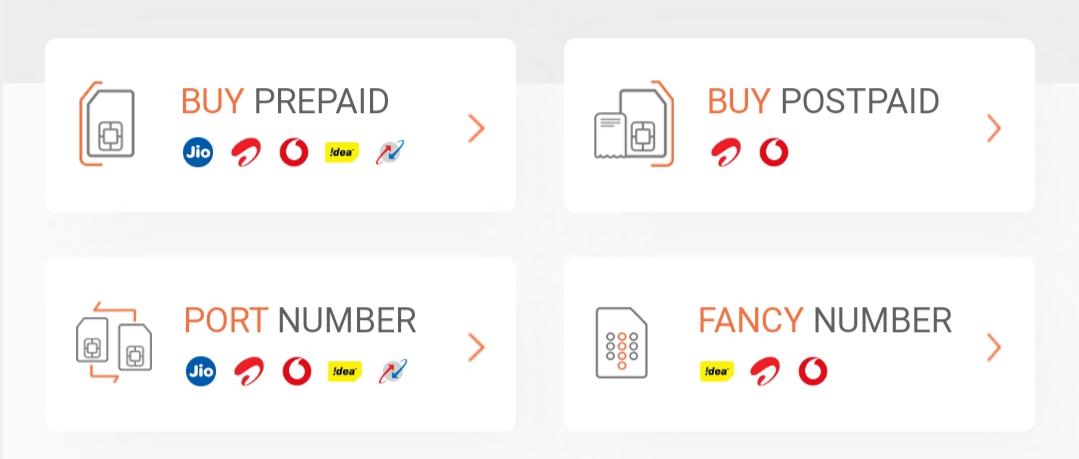 Prepaid SIM connection
You can buy prepaid SIM and get it delivered at your door. There are a variety of packs available for you to choose from. You can avail the following products:
Airtel Prepaid SIM
Jio Prepaid SIM
Vodafone Prepaid SIM
Idea Prepaid SIM
Postpaid SIM connection
Not just prepaid, but you can also choose to buy postpaid SIM connection from the variety of connections and packs available at 10digi. Visit 10digi now and make your purchase. You can choose from the following:
Airtel Postpaid connection
Jio Postpaid connection
Vodafone Postpaid connection
Idea Postpaid connection
Port number
If you wish to port your number but do not want to go through the hustle of visiting a store, 10digi is at your service. Just visit 10digi.com and let them know your needs. You can choose to port to Airtel, port to Jio, port to Idea, or port to Vodafone.
Fancy number
If you have some demands when it comes to purchasing a number that go unfulfilled at your SIM retailer's store, or if you want to purchase a fancy number or VIP number, you can try our service. At 10digi, you get to choose from lakhs of mobile numbers. Whatever be your choices or demands, we are sure to please you with our facilities.
10digi Telecom Service Providers

10digi is in collaboration with the top telecom operators in India to help you with the best possible services at the most affordable prices. 10digi brings the best services on your doorstep with its partners:
Airtel
Jio
Vodafone
Idea
BSNL
Benefits of ordering from 10digi
There are endless benefits of choosing to order from 10digi, but here are just few that are enough to convince you for the purchase:
You get to purchase a new SIM connection, whether prepaid or postpaid, with just a few taps on your phone. This is the easiest and quickest way to do so.
They deliver across a large number of cities around the country.
They offer a huge variety of telecom services under one roof.
There are no hidden charges. 10digi promises to offer you products and services at the best prices possible.
You get the products and services delivered at your doorstep.
You can get your order received within just 2 hours of placing it.
They accept cash on delivery if you don't have the facility of online payment.
You can cancel your order any time before the activation of the SIM and get your payment refunded.
They are always there to help their customers with any doubts or queries as customer satisfaction is their top priority.
Steps to buying a new SIM card

Purchasing a new SIM card cannot be easier. Just follow these steps and get it received in your hands:
Visit 10digi's website or download their app from the Google Play store.
Choose between a prepaid or postpaid connection. The options are available just on the home screen.
Next, you have to choose among the top telecom operators like Idea, Jio, Vodafone, and Airtel.
Once you have made your choice, you get to see a variety of plans with all the facilities that are included in each of them. Tap and choose your preferred plan.
Just as you tap, you will be led towards a page where you have to fill all the necessary details like your delivery address.
Next, choose your preferred delivery time.
At last, you have to make the payment. You can also choose to pay cash on delivery.
And once you are done with that, just place the order.
Steps to port number online

Porting your number from and to any telecom services across the country has been made super easy with 10digi. Here are the porting steps to initiate the porting process:
Visit 10digi.com or download the app from the Google Play store.
The screen opens into the homepage, where you can view the services offered by 10digi. Tap on 'Port Number'.
Next, you will have to choose among the various telecom services like Idea, Airtel, Vodafone, and Jio.
After you have made your choice, you will see all the plans offered by the operator that you have chosen. Just tap on your preferred plan.
Next, you must fill all the mandatory details to get your number ported at your new SIM card delivered on your doorstep.
Make the payment. You can also choose COD.
Just place the order and you are done!
10digi other services
10digi is not just about SIM cards and numbers. You can get several other services and products:
You can buy Jio phone.
You can find mobile accessories. Buy USB cable, car charger, or buy mobile charger.
You can also buy Jiofi.
10digi services across the country

10digi helps you with its outstanding service around the busiest cities in the country. And don't worry if it has not reached your city because 10digi is just on the way.
Delhi
Mumbai
Pune
Bengaluru
Gurgaon
Noida
Ghaziabad
Faridabad
Conclusion
Don't have the time to visit a store, go through the hassle and paperwork, and buy a SIM connection? 10digi is undoubtedly the most unique and user-friendly platform with excellent customer ratings that is just here to help you with its fantastic and reliable service. With its user-friendly services and smooth home delivery, you can get all your telecom requirements full-filled with just a few clicks on your phone. So, hurry up and avail the best service possible.