Simply put, SEO refers to the gamut of practices and methods that focus on ensuring a website's visibility and traffic. The website of a brand is the face of its marketing campaign, and the whole digital strategy revolves around the portal. Entrepreneurs and website owners often forget that SEO is also about establishing authority. It is not just about gaining traffic, but more of targeted traffic and having that competitive advantage. To be more precise, SEO, or Search Engine Optimization, can be used as a tool for branding.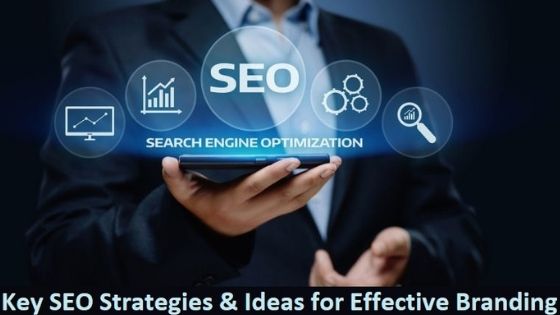 Key SEO Strategies and Ideas for Effective Branding
In this post, we are sharing a few ideas on how websites can use SEO for better branding.
Relevant content
As an entrepreneur, you may have heard many times that "Content Is King". However, search engines, especially Google, don't want irrelevant content. You can post thousands of articles and can hire the best SEO services for link building, but it would mean nothing if the content is not relevant. The foremost and the most critical aspect of online branding through SEO is to post appropriate, niche-specific content that the target audience wants to read.
Collaborate for link building
Link building has to be an organic process for the best results. You want to be absolutely sure that the acquired backlinks have some value for your website. Collaborating with niche blogs, content creators and bloggers can be extremely handy. It is also necessary to focus on authority websites. One backlink from a known site would do much more for your brand than dozens of irrelevant ones. Backlinko has shared awesome guide for link building which you can follow.
Respond to brand mentions
There are some handy tools that help in tracking the mention of a website or brand, and these tools can help your company maintain a proactive stance with SEO. The idea is to follow your users and customers, respond to their comments and feedback. This is also often a part of online reputation management, but essentially helps in getting more from SEO efforts.
Focus on keywords effectively
Keyword stuffing is still a problem, and brands often make the mistake of using too many keywords. Target keywords are more important, and it has to in sync with SEO and online marketing plans. As Google continues to focus more on voice search, it is important to consider use of long-tail keywords and phases that pertain to the basic target keywords. The idea is to enhance user experience and gain more through basic SEO.
Add more content to your website
A static website doesn't really have the potential to hold traffic. It is necessary to play with content on the website and to ensure that all the essential on-page elements are optimized. Maintaining a blog on a brand website is a great way to garner traffic and retain existing users and visitors. The website should have more than just promotional content, and it is critical to take surveys and polls to know more on what people want from a website.
Reply to comments
SEO is closely related to other digital marketing strategies, such as content marketing and social media. Being active on different platforms and channels does help in branding and gaining more traffic. This includes all kinds of negative feedback, reviews and comments. Being responsive to the audience and their opinions only makes a website more responsible and valuable to the people and enhances brand value.
In conclusion
It takes considerable work to promote a website as a brand through SEO. Entrepreneurs and companies need to understand that the entire practice requires time, and it can be a while before tangible results seem obvious. Ensure that your company has the right SEO Company at disposal for the actual process, so as to make the most of channels and strategies.