Sharing Meme post on Instagram is a good Instagram marketing strategy that can help to brand awareness.
There are over one billion people on Instagram every month, so why is growth a big question mark for you? Not just you, but why will anyone face barriers to experience massive growth when the numbers involved are SO BIG. Simply because, people don't follow you for the sake of following, they follow you for a reason – to consume content that is educational, interactive and fun! That being said, you are not reaching your desired growth levels because your content doesn't serve one of these purposes.
So, let me tell you a form of content that can be all the three combined and individually beneficial, depending on how you use it to your leverage: Memes. They are not only funny and interactive but can also be educational. Let me quickly stroll you through some ways how they can be utterly advantageous for increasing your customer engagement rate: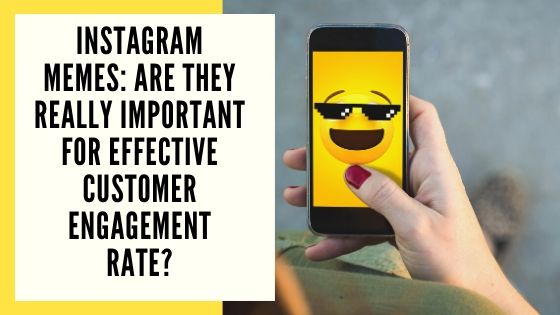 1. Memes show that you are authentic (most importantly, human)!
In my understanding, the first reason why memes gained so much popularity in such a short span of time was not that they are funny, but because they are authentic and show the real picture.
Once you start scrolling anyone's Instagram feed, you will get a spree of photos of their products or highly edited photos of the team behind-the-product. Not that this is wrong, but since every other picture talks about the brand, it becomes monotonous. Exactly where memes kick-in and brings a fresh air of fun content.
Brand Inspiration: Check how the famous beauty brand, Glossier, uses memes among its standard posts about beauty tips and products:
2. Audience comment more on meme-posts
Likes or double taps are important but it definitely doesn't win over commenting. Your posts are successful only when people have something to say about it.
Every time you post a picture, for instance, if you have a business of leather wallets, and every other picture is about your pristine product, your loyal following will double tap on it, but what possibly in the world will they have to say about the same kind of picture over and over again?
But with memes, it is different. Memes resonate with your audience and provoke them to like Instagram pictures and type comments. It's majorly because memes are both admirable as well as relatable. Comments are very important when the conversation is about higher engagement and wider reach. Plus, the way Instagram Algorithm works, it gives importance to posts and profiles which incur a growing number of likes and comments.
Brand Inspiration: Curology, a skincare company, sprinkles memes in between that not only adds fun to the beauty industry but also sparks engagement on the posts.
https://www.instagram.com/p/B68hmOdlmRP/?utm_source=ig_web_copy_link
3. You can't resist tagging when the meme is SO relatable
Like I said, sharing everyday posts might help you get those double taps, but just like comments, tags will also be very rare. Of course, something rare like announcements of upcoming sales, or breaking news about a product launch will provoke people to share with friends and family, but this kind of content is limited and might not always be available for posting.
On the contrary, memes can be created anytime – just add the dose of fun and laughter in it and you will see a spree of tags unfold in front of your eyes. Remember, the more relatable they are, the more tags you are likely to receive. It can be friends, can be family or even brands. But what matters to you should be that you are garnering tags, a major engagement boost.
To boost engagement even further, you can even encourage your audience and add captions like, "Tag the person you relate with the most," or "Tag the one who reminds you of this."
Brand Inspiration: Check this example from Burrow, a furniture brand with that clever caption below!
4. Memes can lead to unprecedented growth
For people managing social media accounts of businesses, which now legit has become a thing, everyone is seeking growth and an opportunity slipping out in this regard is something unwanted.
Mems can prove to be a growth aggregator provided they are put to use efficiently. Viral memes can help you secure a place in the trending events of your industry. Viral events need not be legitimate events that has to be organized, but even things like joining random but trending conversations on social media will be a major boost.
Things get even better when you repurpose popular memes, like the recent 'art and artists' trend and at the same time producing your own relevant content to keep up with the uniqueness.
After all the genuine reasoning above, if you are convinced about using memes on your own profile, I don't know what will.
Remember, that while a funny meme can make you a viral sensation overnight, a poorly executed meme can put you back in the drains. Know when a certain meme is not right for your brand, and take care of your audience's emotional and religious sentiments.
Related Post: