Waiting for Activation iMessage
Smartphones are the most important part of everyone's lives these days. They have already replaced our cameras, alarm clocks, planners and many more things. With so many phones in the market these days, people have become brand conscious, because of which iPhones have gained popularity among people. But sometime iPhone user getting "Waiting for Activation iMessage" error or iPhone activation error message on their iPhone home screen.
The built of iPhone is of great quality and provides top notch features. These phones come in the premium segment and provide value for money to the customers. Also read how to use iMessage on PC.
Even after having the latest technology, iPhone users face many problems. One of the common errors which the users see is- "iMessage activation error". While setting up iMessage, some users face the problem and see the error- "iMessage Waiting for Activation".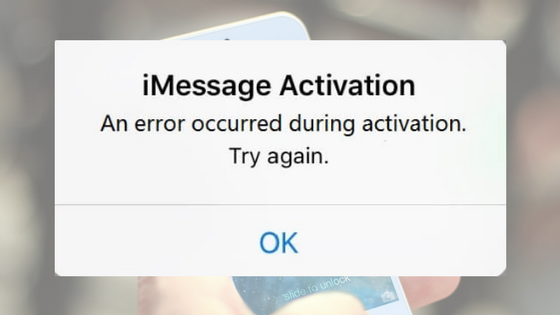 In this article, we would see the reasons for getting the error and its possible troubleshooting tips to rectify the error.
Few common reasons for getting the error : Waiting for Activation iMessage
The phone number of the user may not be listed in the Phone app.
Date & Time (under General settings) are not correct.
The device is not recognised which can be the reason for iMessage activation error.
iPhone might have network connectivity problems like Wi-Fi or cellular disabled.
Solutions for Fix iMessage "Waiting for Activation" Issue on iPhone running iOS 10, iOS 9, or iOS 8.x
Have patience and wait for few minutes
On seeing the error, wait for few minutes as the Apple servers might be busy and take some time. This depends on how many users are trying to activate the iMessage simultaneously at the same time.
Enable/Disable iMessage on iPhone
When you see the "Waiting for activation iMessage" error and it has been stuck on that for quite a while, you can try to Toggle iMessage OFF and ON again after some time. The steps are as follows:
Go to The settings.
Then settings → Message, disable toggle for iMessage
Wait for some time and then turn on iMessage again
Check the internet connection
A very good internet connection is required for iMessage activation to work properly. Therefore make sure your internet connection is enabled. If it is enabled then put the phone on Airplane mode and Enable the Wi-Fi/Cellular and try again. Also read best WiFi Analyzer for iPhone.
Update the Carrier Settings of iPhone
Whenever you insert a new SIM card into your iPhone, you need to download the latest carrier settings for your respective carrier.
You can do this by checking the general settings of iPhone. You can see the version of the carrier settings next to Carrier.
You can also do this by contacting your respective carrier and asking for remedies.
Apple ID Sign-out/ Sign-in
Another solution is you can sign out of your Apple ID and then log in again. The steps are as follows.
Under Settings → Message, scroll down to 'Send & Receive' and tap on it.
Switch off iMessage now.
Then go to Settings → iTunes and App Store. Tap on the Apple ID and press Sign Out.
Wait for a while and then enter your Apple ID details and Sign In.
Switch ON iMessage again.
Remove restriction setting for iMessage
Sometimes the restriction on iMessage in the Security option makes this Waiting for activation iMessage error. In that case, you have to remove all the restrictions on iMessage in the settings. Follow the steps below.
Go to the Settings → General → Restrictions → iMessage
By simply resetting network preferences, many connection errors can be resolved. Be sure to have Wi-Fi router passwords handy before doing this, because you will need to re-enter them again.
Go to Settings → General → and scroll down to "Reset"
Choose "Reset Network Settings"
If still the error persists then you have to factory reset the phone. This is not the ideal solution and should be done in extreme cases but it has helped many users as the phone is back to the original state and help in getting many errors resolved.
So we have discussed the maximum possibilities to solve the error. The above troubleshooting tips and tricks will definitely help you in getting rid of the Waiting for Activation iMessage error.
You might also want to check out these posts: Transfer Photos from iPhone to Windows, iPhone Wont Connect to iTunes, WiFi Not Working in iOS 9 on iPhone, Bypass iCloud Activation Lock on iPhone, Documents and Data from iPhone.