Fix Inaccessible Boot Device Error
An Inaccessible Boot Device error commonly occurs during Windows start up when windows cannot read data from the system or boot partitions. This error can be due to faulty hardware or problematic software. It can be due to other problems as well. As these kinds of errors can be serious, we will show you 'How to Fix Inaccessible Boot Device Error?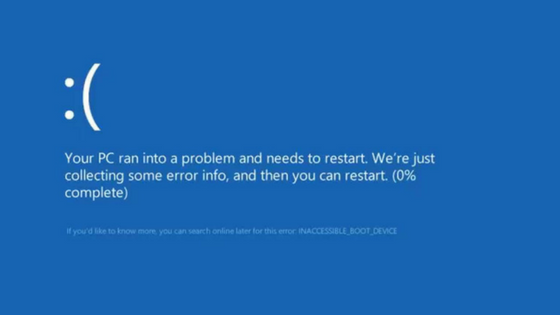 Update your drivers
Drivers are very important on any system as they allow windows 10 to utilise your hardware. But if your drivers are outdated and not compatible with windows 10, you might get the error. These types of error can be fixed only when you update the drivers. You can go to manufacturer's website and download the latest drivers. If you cannot update the drivers manually, you can always take help of Driver update software.
Perform Windows 10 reset
If the INACCESSIBLE_BOOT_DEVICE error is caused by certain software, you can easily fix this error by performing Windows 10 reset. This process will completely format the C drive of the system. Hence, create a backup of all your data. After creating the backup, you might need Windows 10 installation media to complete this process. You can easily create a bootable USB flash drive with Windows 10 on it by using the Media Creation Tool. To perform Windows 10 reset, do the following:
Restart your computer while it boots. This should start Automatic Repair mode.
Select Troubleshoot > Reset this PC > Remove everything.
Insert the installation media if you are asked to insert Windows 10 installation media.
Select only the drive where Windows is installed > Just remove my files and click the Reset button.
Follow the steps and wait for reset process to complete.
If the problem persists even after Windows 10 reset, you should check your PC for faulty hardware.
Check for faulty hardware
BSoD errors can sometimes be caused by certain hardware, most commonly RAM, so if you are getting the INACCESSIBLE_BOOT_DEVICE error make sure that to check the RAM. If your RAM is working properly, you have to check other major components such as your hard drive or motherboard. You will have to perform a detailed inspection of your hardware in order to find the exact faulty hardware. The recently installed hardware can also cause these types of errors. Hence, if you installed any new hardware recently, try to remove it or replace it and check if your system works without it.
Check for loose cables
Loose cables can also be one of the reasons for the INACCESSIBLE_BOOT_DEVICE error. Therefore, you need to shut down your system, unplug it, open your CPU and check if everything is connected properly. Few users have managed to fix this problem by just connecting their hard drive to a different port on their motherboard. You can also try this method and see if it fixes the error.
Enter Safe Mode
In safe mode, the system will start with only necessary drivers and the most basic software. Thus if the INACCESSIBLE_BOOT_DEVICE error is caused by certain third-party software, you should able to use Safe Mode without any problems.
After entering safe mode, test if the PC works correctly. If there are no problems, you can use Safe Mode to update or uninstall certain drivers or applications that might be causing this error.
Conclusion
The INACCESSIBLE_BOOT_DEVICE error can be bothersome, but it can be fixed by taking certain precautions or by following any of the methods. This error can probably be easily fixed by either entering safe mode or by updating your drivers. Or you can also try other methods to solve this error.
Some Other Windows Solution