Are you searching for Instagram Video Downloader OR Instagram Image Downloader for Android? We have listed top 5 Android apps for you.
Instagram is the best place is to share the moments with the world. It is the most populated media sharing website or app in the world with approx. 700 million users. With Instagram, one can see photos and videos on the app. The drawback of the app is one can't download photos or videos using this app. But what is the way to download images and videos from Instagram? The answer is Instagram video downloader.
If you are browsing for an App that will help you to download the videos or photographs, then Instagram image downloader apps are the best place.
Today we are here to share best Instagram video downloader for you. You can use any of the Apps and save the images to your phone. Note that all apps are free and available on Play Store or app store respectively.
Related Post: How To Get Yourself More Instagram Followers?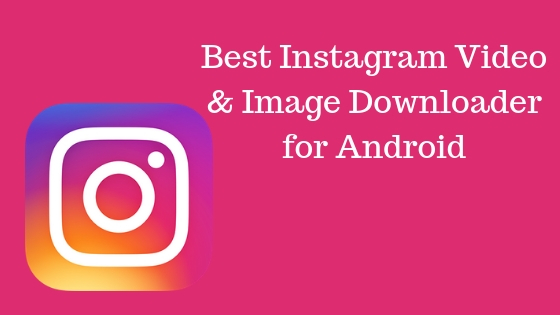 Best Instagram Video & Photo Downloader for Android
1. FastSave for Instagram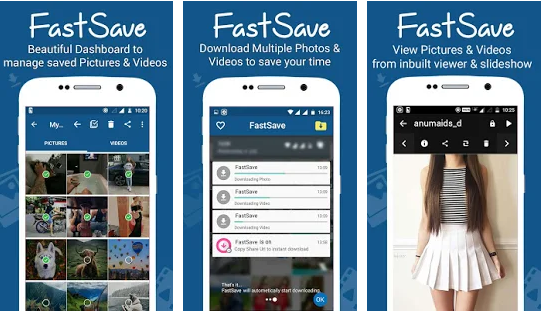 FastSave is the best app to download the media from Instagram. It can help you to save media files on your device for free. You can also view photos offline after downloading. Even you can repost them, too. In short, it is different from another app.
Famous features of FastSave for Instagram:
One can save multiple photos
You can view quick stories from the top of the screen
Good downloading speed
Manage quick saved pictures with beautiful dashboard
B long press on save photos, get all details of users
One can share, repost or delete photos and videos from the app
Hide photos in secret locker
Fantastic photo views with Slideshows and more
[appbox googleplay photo.video.instasaveapp]
2. Saver Reposter for Instagram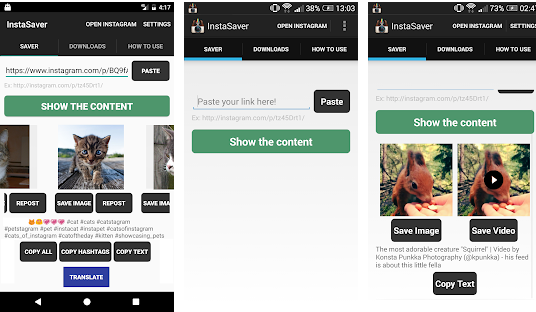 Saver Reposter for Instagram will help you to copy and save images, text, hashtags, & videos from Instagram posts to your smartphone or tablet. You can share them on the apps or keep it in your device. The app is very easy to use.
Famous Features of Saver Reposter for Instagram:
View all media that you have downloaded in your phone gallery
Open the app in one click and go back to the other app in another click
It can also have the capability to copy the description also.
The download can run in the background
You can also only hashtag from the description of the post and description only without hashtags
[appbox googleplay com.skwirrl.instasaver]
Recommended: How to Make Instagram Content That Goes Viral?
3. IV Saver Photo Video Download for Instagram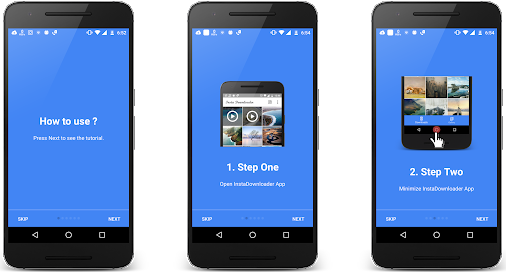 IV Saver is a tool to download the pictures, and videos automatic from the Instagram. You have to click on "Copy Share URL," and full post will be saved on your phone memory. The app offers easy to download and save profile pictures, posted photos, and video to your phone gallery from Instagram. Furthermore, it permits you to save/download all public or captions, private media, tags, profile Id, and name by just clicking on "Copy Share URL."
Highlighted features of IV Saver Photo Video Download for Instagram
No login required for single or multiple IDs
One can save pictures or videos
Get all profile details like profile pictures, profile name, links, etc. Save complete post
Get the post with the full caption with video or image.
[appbox googleplay gadinfotech.instadownloader]
4. Video Downloader for Instagram Repost App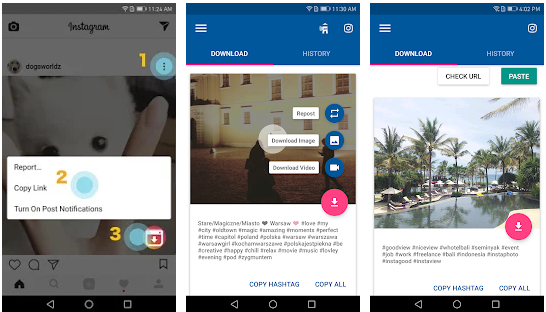 If you want to download and repost videos and images from Instagram or IGTV, then with this Instagram video downloader app you can get it all. Using this app, you can copy tags from vine and Instagram easily.
With one click, you can download or repost your favorite videos and pictures on Instagram, and it is absolutely free which makes it best.
Notable features of Instagram video downloader:
Download videos or repost with the app
Save all your favorite videos and pictures in your gallery
Instagram video downloader allows you to copy tags from the post
You can share the profile pictures, videos with friends and others
[appbox googleplay com.popularapp.videodownloaderforinstagram]
5. Repost for Instagram – Regrann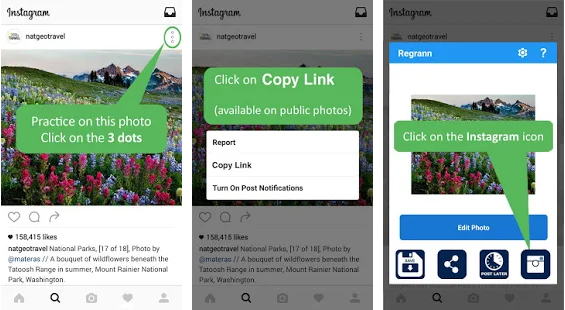 Repost for Instagram – Regrann allows you to repost the Instagram photos and videos without any watermarks. It allows you to save the photographs and videos to your phone memories. You can repost the photos without leaving the app.
Highlighted features of Regrann:
No any hidden In-App Purchases
Without leaving the App, one can repost pictures and videos quickly
Download photos and videos immediately
Enable or Disable Watermarks as per your need
To your caption, add signatures automatically
No login required to use it
[appbox googleplay com.jaredco.regrann]
Recommended: How to Create a Channel in IGTV?
Conclusion:
So here are most useful Instagram Video downloader and Instagram Image downloader for Android. Download app directs from Google Play Store and start using the app. If you have any other useful app in your mind then let us know in the comment we will update it here.