Are you looking for the best superhero wallpapers Apps to download HD superhero wallpapers? Here we are going to share a superhero wallpaper App for Android.
This year superhero movies are in the trend. The infinity war breaks all the records of craziness, meme, or movie collections. So if you or your friends need some special get up to look like Thanos or Thor, then it is okay! Even most of the superhero fans also look for superhero wallpaper for their device and pc. So if you are one of them who are getting bored with the usual wallpapers and look for new superhero wallpaper HD, then you are coming to the right place.
Here in this article, we will review the best superhero wallpapers apps for the android device. This wallpaper gives an outstanding look to your device. So let's take a look at HD superhero wallpapers for Android and keep your favorite superhero with you.
Recommended: Best Free Anime Streaming Sites To Watch Your Favourite Animes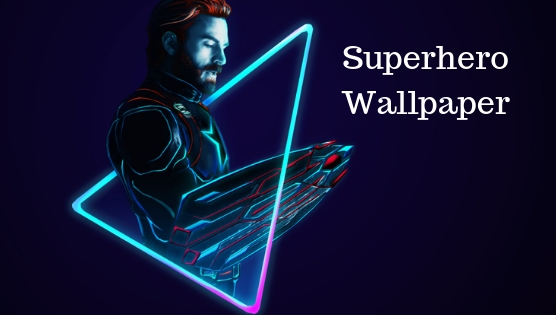 Best Superheroes Wallpaper App For Android
#1. Superheroes Wallpapers | 4K Backgrounds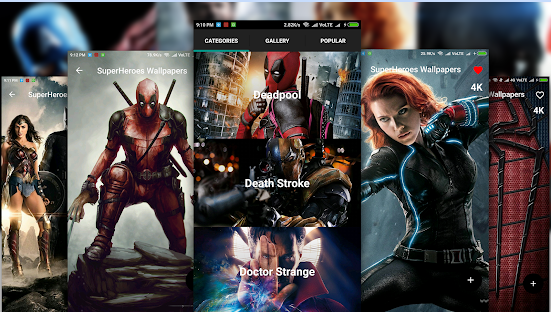 This app is compatible with each type of Android device, and the best thing is, it has a marvelous collection of superhero wallpapers in the universe. The Superheroes Live Wallpapers developed this app with a combination of about 1000 pictures of comic characters. You will find each one irrespective of the time of the character like Batman, Marvel, Iron Man, Joker, or Squirrel Girl. And all wallpapers are in HD quality only to gives you the best experience.
Highlighted Features:
All superhero Wallpapers are available in HD and 4K quality
The collection comprises of all superheroes
You will find more than 1000 different wallpapers
It has all superheroes, superheroine and supervillains wallpapers
[appbox googleplay hd.uhd.superheroes.wallpapers.top.best]
#2. SuperHeroes Wallpapers developed by Apphics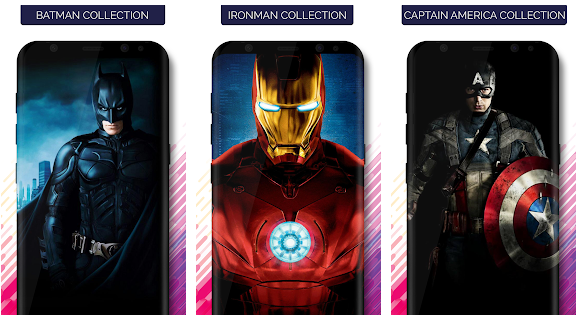 SuperHeroes Wallpapers offered best wallpapers including Marvel Superhero HD Wallpapers to give a smarter look to your android smartphone. Now get all superhero and supervillains on your device with a single click. This app automatically adds new wallpaper on your device, and you can download the one you want offline as well. All the pictures are in HD quality which gives the best appearance to the screen.
Highlighted Features:
Frequent update with new HD quality Superheroes Wallpapers
Make the list of your Favorite superhero wallpaper with this app
Smallest but beautiful User Interface.
[appbox googleplay com.apphics.superheroeswallpapers]
Recommended: PS3 Emulator APK – Download PS3 Emulator For Android
#3. Superhero wallpaper HD- Crazy Wallz
If you fond of superheroes and looking for the app to pick the best wallpaper, then this application from crazy walls is one of the best options for you. It will provide you premium collections of HD superheroes wallpapers. We are sure the collection will amaze you in each possible way and make your smartphone cooler than ever before.
Highlighted Features:
Daily new wallpaper arrives
One can choose from more than 30 categories
One-click wallpaper save, share and setup
[appbox googleplay com.appsie.superheroeshd]
#4. Superhero Wallpapers HD
Junaid Maknojiya Personalisation developed this app. It is fast and does not consume more app as it is small in size. This app is handy with more than 25+ Well arranged categories of superhero wallpapers. You can save and store the wallpaper with your favorite tab. Even the wallpapers can store and saved online as well as offline.
Highlighted Features:
All wallpapers available in this app are in HD and 4K quality
The collection accommodates almost all Superhero you've heard the name
App has a collection of more than 5000 wallpapers
It has a feature that updates new wallpapers automatically
[appbox googleplay com.jndapp.superheroeswallpaper]
#5. 4K Superheroes Wallpapers – Live Wallpaper Changer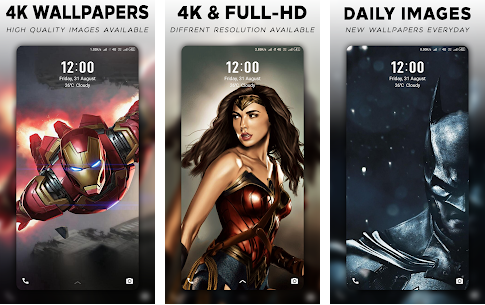 HD Pro Walls developed the application of superhero wallpaper for android. The app will give you device personalized look with different wallpapers in HD and 4K quality. It has approx. 10000+ UHD backgrounds and wallpapers. Each week the app updates and add more wallpapers to the collection. The best part is, it has almost all superheroes. So it does not matter who is your favorite superhero, as you will find everyone from the one platform only.
Highlighted Features:
Frequent update
All wallpapers are in UHD quality
Combines almost every awesome Superhero with 10000+ wallpapers
[appbox googleplay uhd.hd.best.quality.superheroeswallpapers]
#6. Superheroes Wallpapers QHD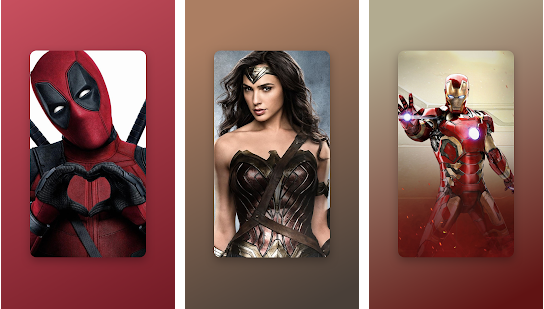 If you are looking for DC or marvel wallpaper HD, then this app gives you multiple options to personalized the look of your smart android device with a superhero or supervillain look. Appling Labs LLP developed this app with some of the best HD, QHD, UHD & 4K wallpapers for free. With a single click, one can set and share the wallpaper with this app. the interface of the app is user-friendly, and you don't have to do more to download the wallpapers. Just swipe right or left to switch between popular, latest superhero wallpapers or have a look into categories.
Highlighted Features:
Free Superhero Wallpaper
All wallpapers are in HD, QHD, UHD & 4K quality
One can share with the friends with one click
[appbox googleplay com.appking.superheroeswallpapers.hd]
#7. Superheroes Wallpapers by Ozone Studio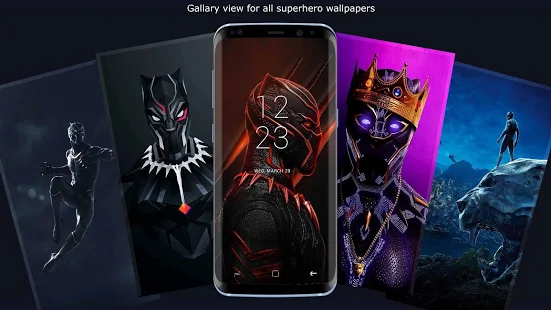 Ozone Studio developed this app for Android devices. The wallpaper picked from the app must give you an almost new look and powerful dimension to your device. The best part is, it is compatible with almost all Android devices. With superheroes, there is a wide range of supervillain wallpapers also. You can easily download them and even share it with multiple social media platforms with a single click. So, don't wait and personalize your Smartphone with your favorite character's wallpaper.
Highlighted Features:
Wallpapers and pictures are in HD quality
Extensive collection to choose superheroes/supervillains characters for wallpaper
30+ categories to choose the one wallpaper of your choice
Conclusion:
It is all about the best superhero wallpapers for Android. If you are one of those who enjoys the fantasy world of superheroes and supervillains, then this article and the app listed here is heaven for you. Keep the game of superhero on the point as this year these movies are in the rage.
Now don't search for the wallpaper on the internet as you have some of the best app's list on your hand and the good thing is you can update with wallpapers without browsing. So don't wait and pick the one which is best for you, download it, install it and use it. Thank you for reading!
Related Post: