Mobile engagement offers amazing opportunities waiting to be tapped. There are many companies that are investing in the marketing campaigns and are recognizing the importance of such medium that will bring an increase in the sales conversion. The user mobile engagement is an important feature of any marketing promotion campaign whether it is through the website or mobile app. Here are some regular tips that will keep your users engaged on your mobile by
Follow up leads
Use buttons rather than text links
Experiment with the fonts and colors.
Keep important content on the top
The website development and Design Company won't just help you build a user-friendly mobile application but helps you to increase the mobile engagement with the professional strategies and techniques. But, you must be totally aware of the 5 tips for increasing the mobile engagement for the sales conversion. Let us have a look!
Recommended: 6 Instagram Post Ideas for Better Engagement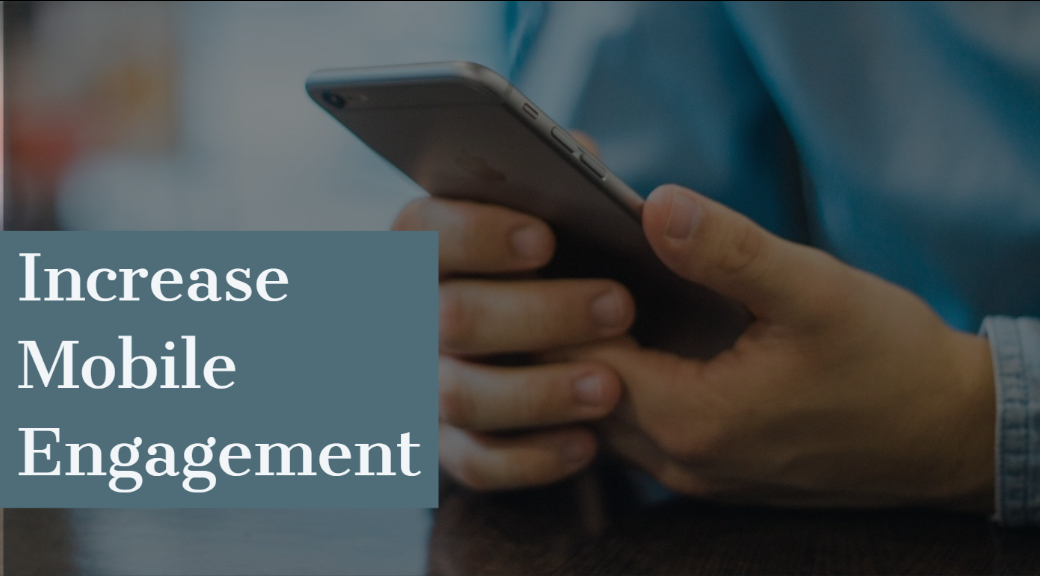 How to Increase Mobile Engagement
#1. Improve Your Page Speed
As per the research, around 53% of the users abandon the site if it takes more than 3 sec to load. The mobile website taking longer than this will upload even using the 3G connection. Thus, if people will not see your website, how are they going to a concert in sales? You can
Scrap away any unnecessary buttons, designs and tabs that make the loading time much slower for the web page
You also can try the Accelerated Mobile Pages that helps the webpage to load much faster on the mobile device.
Test your web pages online and check how much time they take for loading and improve on its design.
#2. Leverage Geolocation for the Mobile App Engagement
The geolocation with SMS API reveals where the customers are in a real-time. It is the most powerful way of delivering the relevant content at the right time and right place. Here is how the brands will use the customer location to integrate their application in customer shopping journey:
Send out push notifications just to remind people about the drop in whenever they are nearby.
Notify your customers of special promotions and products when they are near the store.
Offer discounts when the customers are close to the competitor stores and direct them towards the store instead.
Announce any local events in nearby locations.
#3. Message your Customers In your App
You may use roaming control in-app messaging features and push notifications that will make your customers feel engaged and welcome. Some of the examples will include:
Trigger your customer with a tagline like 'We miss you' type of messages if they do not open your application for a long time.
Send a welcome message or coupon after they install the app.
Ask them for providing feedback and customer review some days after the initial purchase.
Send customers the free delivery option and discount if they empty their cart.
Send the relevant messages over your company's peak periods.
Show them perfect matching items when they add any product in their basket.
#4. Use Push Notifications
It is one best digital marketing strategy, which can keep you well connected with your customers and bring back distant users with SMS API. Through updates and notifications, you will be able to keep your users well engaged on the webpage. Try to send the push notification in a form of videos, text, images and other external links.
#5. Keep your data part uncomplicated and simple
Websites demanding users to put in the data like their name address and more constantly make your users to shy away from seeing that page and also abandon them in midway. You must remember filling the information on the mobile is difficult than filling information on the desktop. Often, we will find mobile applications offering virtual rewards to the users that aren't very engaging. You may try some different strategies and roaming control options. Offer the physical reward like gift car and coupon to the users that can motivate them in using your mobile application often.
Bottom Line
So, you are aware of how to keep the users engaged on your mobile applications or websites, within no time you can witness results in a form of the increased sales conversion.
Related Post: