Handling an entire manufacturing unit is no child's play. It is, in fact, one of the most complicated industries, where tasks and processes are highly interconnected. If something goes wrong in one area, the entire manufacturing process will be affected.
Tasks like receiving orders, assigning them, managing inventory, taking care of operations, managing the shop floor, and delivering the orders to the end-customers are all vital elements for a manufacturing business. Managing it all manually can feel overwhelming and draining on resources.
Thankfully, technological innovations have developed smart solutions, like MRP software, to help automate such complex tasks.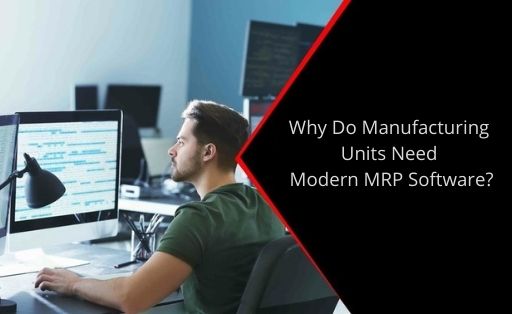 What is an MRP system?
MRP stands for Material Requirements Planning. This software enables companies to identify bottlenecks in the production process to minimize downtimes and mitigate waste. It also helps managers to forecast the amount of inventory needed to complete an order, as well as be aware of material and components availability.
What is the primary objective of an MRP system?
Although MRP software has evolved in the last two decades, the key deliverables of such systems are universally applicable as follows:
Ensure that adequate raw materials are available for order completion
Maintain a strict quality check for the final products
Ensure that stock is available to meet the customer demands, without overstocking
Plan a detailed roadmap of manufacturing processes, sales orders, and purchase orders
Help managers understand the customers' needs and customize products accordingly
Improve customer satisfaction levels
What are the features you must look for in MRP software?
MRP software is loaded with features, but you might not need to use all these features in your day-to-day business. Identifying the right MRP software with the right features for your particular business case is extremely important. When you choose a solution, look for these three features:
#1. Master Production Schedule
The MRP software must be able to prepare a master production schedule. This document is crucial for manufacturing businesses, as it clearly draws a detailed plan of new orders, forecasts, current production capacity, cost of material and components. It ensures that the big picture is clear from the get-go and all roadblocks are addressed before making the final product.
#2. Scheduling the Production Process
Manufacturers depend on the supply chain system to plan their inventory and track the materials necessary to complete an order. The MRP software had the ability to plan the entire supply chain system by identifying the exact inventory levels required to complete the order in the given time. Further, it also helps in calculating the time and costs required for achieving the optimum production levels.
Your MRP software of choice, must be able to analyze current inventory levels and check if they are appropriate to meet the production capacity. It lets you track inventory in real-time and automate raw material and product allocation for easy sales order fulfillment and improved efficiency.
Wrapping Up
If your company is in the league of new-age manufacturing and is ready to grow at an unprecedented speed, then embracing technology is the right way to go. MRP is a must-have software for every product-making business. It is an investment that will generate you long-term profits.
Recommended Reading: