(Point of Sale) POS Software Misconceptions
'Point of Sale' is defined as the place and time where a retail transaction takes place. POS Software known as Point of Sale Software is used by brick and mortar retailers to conduct sales. Most of these software's communicate with the inventory levels to keep everything in place. Some of the POS solutions have custom built as per the store needs. But these days' smaller retailers are opting for cloud based point of sale solutions rather than the traditional POS systems.
Related Article : Common Misconceptions About Big Data Analytics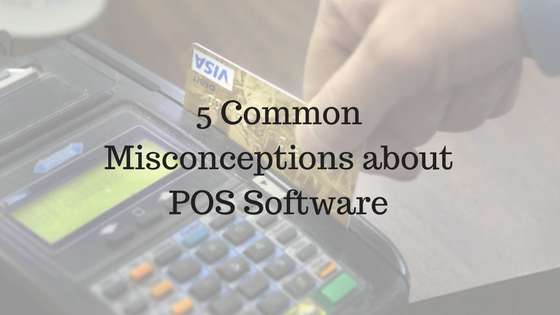 Misconceptions about the POS Software
POS system/software is one of the most complex software systems with different features that are required by all kinds of different end- users. Many of these systems are software suites which include sale, stock counting, vendor ordering, inventory, reporting modules and customer loyalty. Along with the benefits of the point of sale systems, there are few misconceptions that come along with it. Few of these misconceptions are as below:
They Assist only in Billing
The first misconception about the point of sale software is that they assist only in billing. But what is not known is that most of the POS software come with different features such as inventory management and account management other than billing. These applications automate and simplify all your daily business operations and helps users to manage it in real time in a comprehensive way from anywhere and anytime.
The Point of Sale app does not make your process critical, rather they simplify your business processes – from keeping all the record of any due/advanced payments from your vendors and customers to track your sales pattern, inventory status and many more. All this data is then consolidated and will be presented in a very compact report for users to make any kind of major business decisions.
They only Deal in Big Retail Chain of Stores and Businesses
POS system software increases the profitability of your business and makes your work easier and its benefits are considered higher than the benefits of a cash register. Sometimes due to lack of information, lots of people think that the POS software is not adequate for their business. They also believe that the Point of Sale retail software is designed only for big retail chain of stores and businesses. This misconception is false.
In reality, not only big retail stores but also small stores can benefit from this software. They help to shorten the check- out process and satisfy their customers regardless the size of your business. The POS software can also be used to generate useful reports which should be the base of your business decision for which the owners of small stores need facts to take proper business decision just like in the case of the owners of any big store/chain.
Not a Good Investment
Nowadays, without making a big financial effort, all business owners can purchase the Point of Sale software as it is a very good investment for their businesses which pays off very soon. It increases profitability as well as it simplifies work and the benefits exceed the costs in the long run. It can even be set up on your smartphone or POS software for PC.
Viewing it as an investment in your business, you can take advantage of the feature of rich POS software and retail software. It gives you control over every aspect of your business such as from tracking sales to the inventory management, to attendance and time and many other features. EPOS software is for independent retailers which are built to incorporate multichannel sales to get more of the right products in the right quantity at the right time.
There are many companies out there that offer affordable options for businesses that cannot buy POS hardware – some of these offer lease arrangements and payment plans that are reasonable. There are some processors that promote free equipment with a signed processing contract and always be sure to read the fine print as there may be some hidden costs associated with such kinds of deals.
Highly Expensive
Another misconception of the POS system software is that even though they do not cost much, their hardware and peripherals are surely going to be expensive. This is not true as it can be implemented on any system/computer and can work on any operating system.
The POS software was considered to be quite expensive when it first appeared in the market. It is a fact that only big businesses could afford it but now things have changed a lot. The hardware that is needed for implementing it as well as the software has developed a lot and at the same time, it has become more affordable.
The peripherals such as bar code scanners, receipt printers or electronic cash drawers are not expensive as they are not as exclusive as they used to be and are easily affordable. Sometimes a bar code printer may not be needed if the products come already bar coded.
Difficult to Operate
The restaurant software in the POS software is difficult to operate is the other common misconception about POS software. But in reality, they are easy to use and also efficient too. Finding the right software gives you a better level of control when it comes to increasing profits, operations and improving efficiency.
Apart from being more efficient when compared with cash registers, a restaurant software solution can also allow you to make detailed reports and helping the management at the same time to craft better business decisions that are more informed.
The Last Words
To summarize, when using POS software for PC or EPOS software solution, all your transactions and customer sales are made as well as recorded using your computer/ system. The computer is informed about the goods and services that you are selling and giving, the quantity sold as well as their selling price.
The POS software then calculates the total costs and tax and informs you if you need to give back any change to the customer. Additionally, it also records each sale that is made and tracks everything. It can automate various kinds of tasks and features and remember all the sales that have been made.
Some Other Useful Sofware