After sent delete Whatsapp message update,  now Whatsapp announce a new update Whatsapp group calling video and audio for Android and iPhone. With one of the recent update, WhatsApp comes up with a group calling feature. WhatsApp group calling for Android and iPhone users as a challenge after Apple launched group calling for iPhone. So for now with the recent update, all the iPhone and Android users can make group calling in WhatsApp, too. Don't miss to read Whatsapp tricks and tips which we shared already.
To use it users of Android and iPhone have to update their devices to the latest WhatsApp version. With it, you can add three people to group calling. So total four people can talk together via WhatsApp on their iPhone or Android devices.
Most of all people know how to update your device, but if you do not know, then the process is simple. On your device find the app store, go to WhatsApp and click on update and all done.
Once you do it, follow the steps given below. Note that using group chat option, you can make a video call as well as audio call, too. Even in the middle of the call, one can switch to audio or video mode. Cool, isn't it?
NOTE: Since the group calling feature is common for iOS and Android, steps to use it remain the same for both OS devices.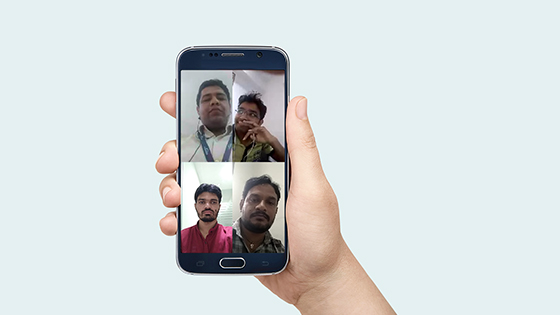 How to Make Whatsapp Group calling (Video and Audio) on Android and iPhone
Below is the simple step to conference call enabler Whatsapp and start making Whatsapp video and audio group calling.
Step 1: First, open your WhatsApp on your android or iOS device.
Step 2: Now, select a contact and click on the audio or video icon from the top right corner of the screen.
Step 3: When a person picks up your call, add the next person to the conversation by tapping on the plus icon, located on the top right corner of the screen.
Step 4: Now, from the contact list, add your friends and family member you want to join the conversation.
Step 5: For adding participants, search form your contact list and tap on it. A pop-up will appear asking you to tap on Add button.
Step 6: Upon tapping the "Add" button, a person will add to the group calling.
Step 7: By following the above steps, you can add three people to your group chat, and with you, it becomes four people in your group calling.
Do not worry if one person disconnects the call you can still enjoy your conversation with the remaining person. So from now onwards, four people can enjoy chit-chat over video call and audio call using WhatsApp with a group calling feature.
Note that though you are the one who makes a call as an initiator, yet another person can also add the other contact to the group call. And it is not limited to the WhatsApp group of the app. you can use this feature irrespective of groups and contacts save on one person's device.
Prominently, WhatsApp has recently approved only admin to send group messages on Android and iPhone. This feature was especially for the groups created in the app though.
IT'S YOUR TURN!
WhatsApp has always been trying to become more advanced by providing different dynamic, user-friendly features at regular intervals. So which feature you like the most about WhatsApp? Share your reviews using the comment section below. After all, we also love to hear from our readers.
Related Post: