Video plays an integral part in the content marketing strategy, so does the video converting software. Online content is taking the path towards video, whether it is SEO, product marketing, or content marking. According to one study, more than 50% of marketers start adding videos of different times on their various social media pages.
Also, 81% of online activity is through videos in 2021. Instagram reels, YouTube short videos, and other innovative videos are in trend. So for all those trying to gain their organic traffic have only one choice: either adopt videos or die!
However, don't hurry to share your videos on social media because most devices and platforms limit the input video file type. In other words, not all devices and platforms can read and play your videos right. Let's assume you upload a MKV video to a platform like TikTok that supports only H.264 MOV/MP4 videos, then you'll bound to meet the uploading failure, A/V out of sync, or other errors. Therefore, it's essential to convert the video before sharing or uploading it. But what to do for converting the video file? Don't worry; the answer lies here. VideoProc Converter is the answer.
VideoProc Converter is a one-stop video processing that offers you a professional and speedy video converting and compressing experience without any mastery. So, let's dive and find more about what VideoProc Converter is offering you.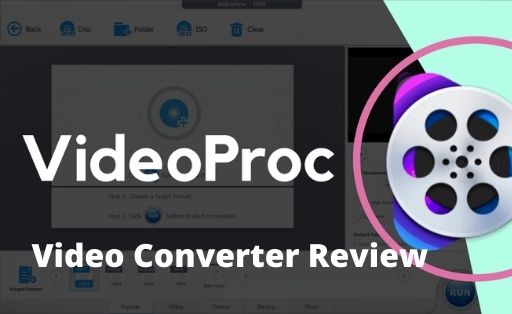 What Is VideoProc Converter?
VideoProc Converter was created by Digiarty Software in 2006. As the name proposes, it's designed chiefly for the conversion of video and audio files on Windows and Mac. With it, users can effortlessly convert video and audio files from 420+ popular video and audio formats to 370+ others. It's also a solid choice for beginners and video editors who want to adjust or compress video and audio files while not sacrificing the picture quality. VideoProc Converter has reached more than 180 countries with over 3 million users in just two years, and the number is still growing. Want to know more about this fantastic tool? Keep reading.

Pros and Cons of VideoProc Converter:
When it comes to tools or software, they have their benefits and drawbacks, and VideoProc Converter is no exception. Have a look at the pros and cons of this tool.
Pros:
User-friendly interface
Annotations feature for best video experience
Boost interactivity and engagement
Support full GPU acceleration. Word No.1 conversion speed
Screen recording tools for display, Webcam, and iPhone
Quick and straightforward functional controls
Enable separate video and audio downloads
Provides standard and high-quality video outputs
All in one convenient tool
Cons:
Not supported on Linux
5-Minutes of media file free trial
There are more pros than cons, but yes, it needs some improvement. Overall, the platform makes sure it provides ease of use from learning to editing, recording, and converting.
Notable Features of VideoProc Converter
#1. File Support
VideoProc Converter supports 420+ file formats, including MP4, MOV, MKV, AV1, H.264/AVC, H.265/HEVC, HDR, HDR10, HLG, Dolby Vision, Apple ProRes, MP3, OGG, FLAC, and more. This means you can convert AVI to MP4, DVD to MP4, HEVC to H.264, VP9 to H.264, MKV to AVI, MP4 to MP3… without installing any additional software.
#2. High Quality
VideoProc Converter applies the most recent x265 high entropy codec to process your video files and supports the advanced adaptive pixel-scaling algorithm, ensuring you can retain 99%-100% of the original picture quality after the conversion or compression.
#3. World's NO.1 Speed
With the support of full GPU acceleration tech powered by Intel®, AMD®, NVIDIA® GPUs, and Apple M1/M1 Pro/M1 Max, VideoProc Converter has the capacity to convert large HD/4K/8K videos at the speed up to 47x times faster than the real-time playback. Better yet, it won't slow down your computer or raise the CPU usage.
#4. Powerful Screen Recording
The screen recorder feature can record from your screen as well as from your iPhone and Webcam. It is helpful for gamers, educators, and others who want to record their screens live and stream in real-time. With this feature, you can record webinars, meetings, lectures, gameplay, and much more.
Screen recorder offers 3 Recording Modes. Even you can use the Green Screen Recording option for live recording. Some utility tools can help you add text, voiceovers, outlines, images, and arrows. You can easily highlight, draw or crop the content you want.
#5. Flexible Editing Options:
VideoProc Converter has all basic editing options to create mesmerizing 4K videos. These features are as follows. Everyone can do top-notch work on his or her videos in no time.
A. Cut:
Remove unwanted segments or shorten your videos.
Reduce file size and rearrange clips
B. Merge:
Join different video files from other gadgets
Use the MKV Multi-Track feature for combining audio and video in a single MKV file.
C. Crop:
Eliminate any distracting portions of videos
Improve image composition by removing black bars and highlighting the focal point
D. Subtitle:
Enable or disable subtitles for each video
Extract subtitles, add external subtitle files, Find subtitles online, and choose subtitle language.
E. Effect:
Add visual effects like Edge, Painting, Mirror, Grayscale, and others
Sharpen the video tracks, artify videos, adjust brightness & contrast, and fine-tune the color
F. Rotate
Rotate your videos clockwise or counterclockwise with a single click
Mirror flip your video vertically or horizontall
Conclusion:
In the end, VideoProc Converter is one of the best video converters. This video conversion application is made for you, whether you are just a beginner, pro, vlogger, hobbyist, or digital marketer. With the help of this, you can convert video to desired format in no time and with minimal effort. So, what do you think? Want to try your hand? Share your views.