When we look at our phones or other devices' screen time, it's clear that we spend a lot of time viewing videos. The popularity of video content stems from the notion that it keeps viewers interested and draws them to the product or information displayed. If you also wish to keep your audience hooked on your video content, then VideoProc Vlogger is the ideal option for you.
VideoProc Vlogger video editing software is free, easy to use, and accessible, allowing anybody, whether a professional or a novice, to make a fantastic video. Remember that every video tells a narrative, and a competent editing tool needs to include all of the necessary details for an engaging video.
Now, if you are wondering what VideoProc Vlogger is capable of, then read along the lines and discover more about this impeccable video editing tool.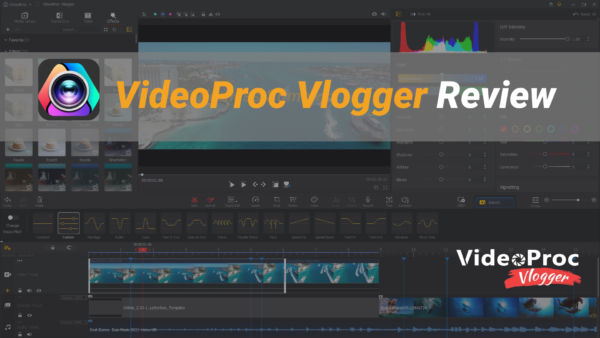 What is VideoProc Vlogger?
VideoProc Vlogger is a videography software that is easy to use and suitable for all developers. Though it is free software, it is loaded with features to let you create eye-catching edits for everyday creativity, memorable occasions, Vlogging, or fun. Even though the primary intention of this tool is for video editing beginners, amateur filmmakers, and Vloggers, that doesn't mean that it is not accessible to other kinds of creators.
VideoProc Vlogger is the best place to start your journey from being a beginner to becoming a pro. You are mistaken if you believe that it's simple user interface is unsuitable for professional video editing. With its variety of free and highly functional features, this video editing software can handle complex editing tasks such as multitrack editing, motion tracking, advanced color grading, speed ramping, and far more.
The Advantages of VideoProc Vlogger
VideoProc Vlogger is designed while keeping the needs of all video editors in mind. It consists of all the necessary features and gives you the upper hand while creating a fantastic video. So, let's take a look at the benefits of VideoProc Vlogger.
Easy to Use
If you are inexperienced with how to use a video editing tool, you may relax since Videoproc Vlogger provides you with simple and easy-to-use software that you can understand and use right away. It consists of a basic timeline, parameters, and media library. You can quickly recognize all of the controls because they are all labeled for functions like cropping, clip splitting, playback, adding motion, and many others. All you have to do is drag and drop anything from the media library to the timeline to make adjustments. When you're through with your production, you'll have no trouble finding the export option in this video editing software.
Video Processing with Full Hardware Acceleration
VideoProc Vlogger allows smooth editing of even the powerful 4K UHD files because of the Level-3 hardware acceleration. The prime purpose of this function is that it improves video processing performance, increases the speed of transcoding 720p and 1080p video, file size and video quality optimization, lag-free screen recording, and CPU utilization. Plus, you can also enable 4K videos on low-end devices.
Plenty of Features
This software has several creative features, highlight features, and editing tools to provide you with the best video editing experience possible. To name a few, you can trim, combine, add subtitles, minimize or remove annoying background noises and stabilize shaky video footage. Additional utility elements, such as text, highlight content, and so on, make it easier to connect with the audience.
Best Video Editing Solution for Beginners and Professional Video Editors
The best thing about VideoProc Vlogger is that it is suitable for both beginners and professionals. It consists of a comprehensive video editing suite that includes basic as well as advanced editing features. Its simple user interface makes video editing accessible even for beginners.
Supports a Wide Range of Formats
VideoProc Vlogger supports several file types. H.265/HEVC, H.264/AVC, HDR, HLG, HDR10, Dolby Vision, Apple ProRes, MOV, AVI, MP4, MKV, and many more formats are supported by this video editing software. Also, you can utilize video from a wide range of cameras, such as DSLRs, DJI, Apple Devices, GoPro, Drones, Recorders, iFrame Camera, and many more. Simply saying, if you have a video file of any format that you want to edit then, VideoProc Vlogger will almost certainly be able to help you.
Features of VideoProc Vlogger
Now that you know what VideoProc Vlogger is and how many advantages it may provide, We'll now go through some of its great features.
Creative Features
Motion
You can master the language of the camera in no time. Apply decent camera effects by selecting one of 28 motion presets, or you can add keyframes to personalize the motion route and directions. Apart from that, you can also create movements including pedestal, zoom in/out, pan, dolly, tilt, and many more. You can also reframe clips to any ratio and resize clips to match multiple social media platforms. This excellent tool generates dramatic transitions, and rather than dealing with numbers and values, you can visually slide the frame to identify its beginning and final status.
Speed
You have the option to choose among 14 built-in features or manually adjust the rate of speed change by dragging the curve of the Bezier Curve. Along with that, you can create variable speed effects with a smooth transition, dynamic and beautiful highlight reels/slow-motion, plus it lets you choose effects that will occur automatically and organically between keyframes.
Audio
In the audio section, it lets you edit the whole audio segment or a specific part. You can also adjust the volume/EQ, fade in/out, mute, modify the left/right channel, or add filters precisely. For novices, pick from 14 built-in presets to tweak the EQ with a single click. But if you are an experienced user, you can drag the curve to alter the bass, middle, or treble frequencies to optimize voices, add energy to vocals, decrease sibilance, remove noise, emphasize the BGM, or a specific instrumental sound. You also get three audio analysis options and 12 built-in audio filters.
Color
By changing the clip's color, temperature, and tint, you may create a unique mood for your video. Use one of the 93 pre-installed filters/luts or import third-party luts. It has comprehensive color editing tools and allows you to alter specific color ranges in the video using HSL editing (Hue, Saturation, Luminance).
Highlights Features
Compatibility with low-spec PCs. Without a hitch, you may edit, preview, render and export huge 4K files.
Timeline editing that is intuitive and accurate
Functionality for over 999 tracks in the timeline
Supports the most fundamental formats
Rendering Engine of Superior Quality
Review your edit in real-time by pressing the Play button and making adjustments in the Inspector area.
Set the preference to save projects every 3-5 minutes while editing for automatic backup.
Use shortcut for edit
Conclusion
It makes no difference if you are an experienced or inexperienced video editor since VideoProc Vlogger video editing software is designed for all types of video makers across numerous social media platforms. This tool is incredibly dependable, simple to use, and robust, making it an excellent solution for all of your video editing requirements.