Do you dream that all your data that are somehow on the Internet were as securely stored and protected? After all, we all know that security issues are more urgent than ever in the world now. And many developers are doing their best to come up with perfect methods to protect your Internet security.
One of these new and improved developments is Utopia P2P Ecosystem, which is based on multi-level data encryption, providing a secure location in the world network.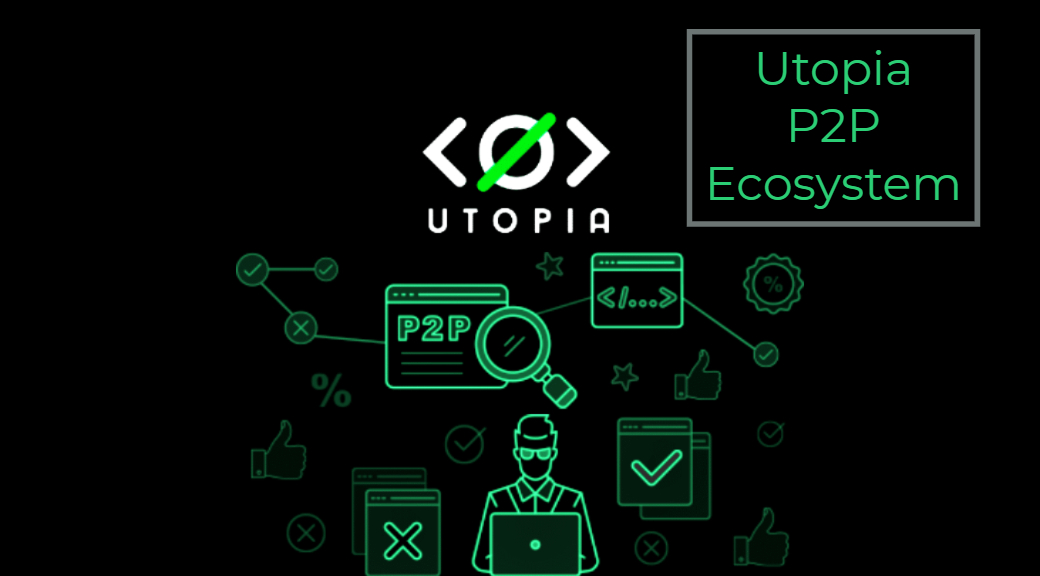 Utopia P2P Ecosystem: The principle of work
The main advantage of Utopia is the ability to use it completely anonymously. It becomes possible due to the fact that when registering a person does not enter any personal data. The nickname of the user is a specially generated personal key that opens access to the system. Thus, personal data cannot be used against you.
In addition, Utopia uses peer-to-peer architecture, which assumes that there is no single server for storing all users' data. Each user is a peer, that is, he stores information independently on his personal server.
The main encryption method uses a high-speed Elliptic Curve25519 that protects users' data, as well as a 256-bit AES that reliably keeps them from being hacked.
Utopia – a unique closed ecosystem, which contains all the necessary tools for users to successfully work and relax on the Internet:
Anonymous messenger – uMessenger.
To conduct confidential correspondence with friends and relatives, users can use instant messenger, which allows sending and receiving encrypted text and voice messages, as well as create private chats and channels, and then mark them on the uMap.
E-mail – uMail.
You can send and receive secret files using an alternative sharing service, which allows you to share secret files and documents with colleagues and partners. uMail encrypts each sends and received a message so only the sender and recipient have access to it.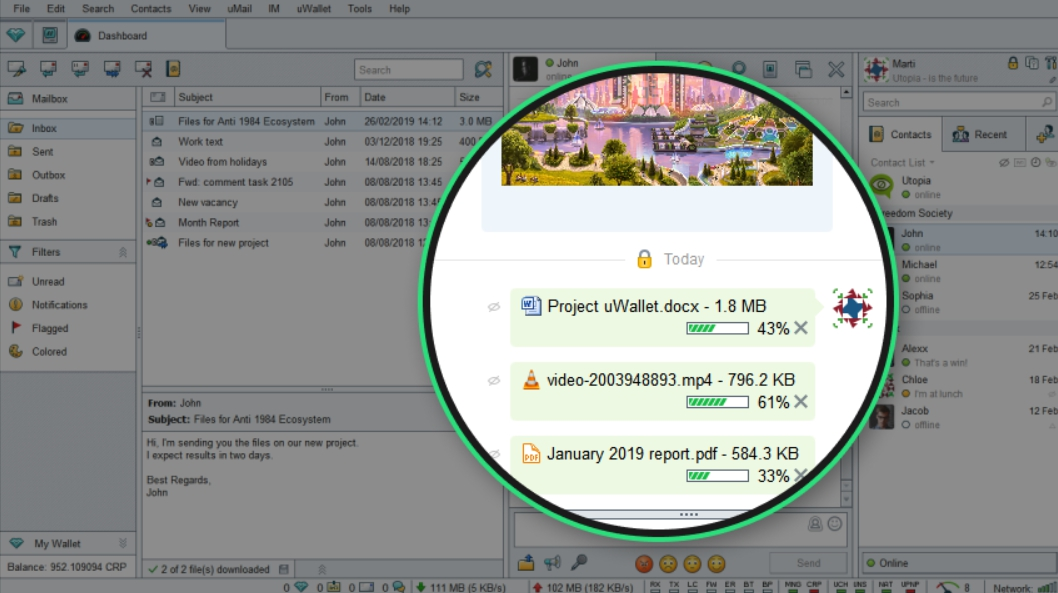 Browser – Idyll.
The browser provides anonymous and secure surfing on the net. It works on the principle of a closed circle: all sites have already been created within the ecosystem, and users do not need to go beyond its aisles. In addition, with the help of uNS technology, each Utopia customer can create websites on their own. Access to them opens a unique tunnel data technology.
E-wallet – uWallet.
uWallet stores Cryptons – cryptocurrency of the ecosystem, with which you can make any financial transactions on the network anonymously. That is, the user does not need to tell strangers their credit card details, etc.
Earnings – Mining Bot.
Using Utopia regularly you can earn cryptons for sessions on the Internet, and in the future, they can be used for financial transactions.
In addition, it has a convenient and pleasant interface, with the ability to change the design: you can choose a black or white theme. It is also convenient to use on any operating system: Windows, IOS, Linux.
If Internet security issues are in your first place, then use only a proven and reliable assistant that provides full protection from unauthorized persons and states!