Today in the world of technology, use of computers, smartphones, USB, memory cards etc. is extremely common and is increasing day by day for data storage like office work, college assignments, pictures, songs, movies and a lot more. But this ease can be converted into a nightmare if all data gets deleted from computers or smartphones. Since data loss is a possibility from all such technology, so one should always have a backup recovery plan in case your data gets corrupted or deleted from your PC since today much different data recovery software are available. In this article, we are going to discuss top 5 hazards of not having data recovery support.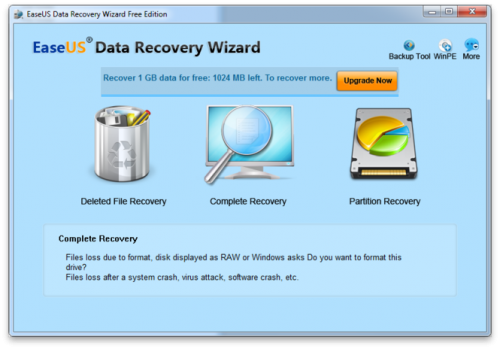 1. Virus Attack
Very simple reasons are there for losing data like you connected someone else's USB to your PC for files transfer but didn't run the virus check or antivirus scan and after sometime of file transferring, your PC screen flickers and then it went blank. Reason? Virus attack on your PC and hence data loss. And double loss when your PC don't have a data recovery software because having such a backup support can make up for your lost data and help to retrieve it.
2. File system damage
This type of failure is caused due to blackouts, hardware failures or software failures. Though modern file systems have a high level of protection against file system logical damages, but in front of such hardware and software failures, they remain helpless.
3. Human Error
Another reason can be that you spilled some water, juice or other liquid on your PC and the system gets crashed due to water getting inside it, leading to lost data. While working on your PC, you remember something important and gets up in a hurry and place laptop on the table but it slipped and crashed on the marble floor, another cause for data loss. One very common reason for that sometimes people don't save their data in local disk (E) of their PC and if Windows gets corrupt, data is also lost. Again a forever loss if your PC lacks a file recovery software.
4. IT Systems Failure
Just like all technology, computers, software, networks, and other IT systems are prone to failure. Lack of advanced preparation for such possible problems through cloud-based storage or data recovery software puts you at the significant hazard of permanent data loss.
5. Hacking
Hackers can invade into your business through IT network hacking that can affect your data leading to data loss. For your modern business, safeguarding your IT systems is the foremost step in the protection of your company.
If you back up your computer regularly using File history for Windows or Time machine for Mac, then you can restore the backup to restore your files if they're part of the backup.
If you can't find your lost data in the backup, then you need to download data recovery software like EaseUS Data Recovery Wizard Free 11.8 which is the best free data recovery software to recover deleted, formatted or lost data from PC, laptop or removable device easily and quickly. It has Windows as well as Mac version. EaseUS Data Recovery Wizard Free enables you to find out lost files precisely and recover from PC, laptop, hard drive, SSD, USB, memory card, digital camera, etc. until you get all lost data back again that was lost due to sudden deletion, formatting, hard drive corruption, virus attack especially ransomware/malware attack rising in this year like new outbreak of Bad Rabbit after the epidemic Petya and WannaCry Ransomware, system crash, volume loss, improper operation or other reasons.
2GB of data can be easily recover from EaseUS data recovery software free edition. It is an extremely easy, time-saving and safe free data recovery software for Mac/PC/laptop/Server that allows the user to move on step by step easily to get everything back. No prior recovery experience is required. It makes the user clear about all recoverable data by preview before recovery and get lost files back fast with exceptional recovery quality.
11.8 version of this data recovery software free edition includes upgrades like image recognizer to filter the found pictures by content, recovery of Canon camera video files (.mov) more efficiently, improved recovery quality, support searching folder by name after scanning and optimization of the UI for better user experiences. It supports a wide range of languages, devices, systems and hardware.
So no need to grieve on you lost data anymore because EaseUS Free Data Recovery Wizard has got your back!