Best Text Messaging Apps for Android – Advent of media – be it mass media or social media, has definitely made the world a smaller place. Now with just a phone call, message or email, you can communicate with anyone around the world. Though lacking the personal touch of a handwritten letter, these are excellent means of communication. Texting is quite common among the younger generation, who can't get enough of their friends ever. Best android message app like WhatsApp and Facebook messenger has helped connect long lost friends and relatives. However, not everyone prefers these means of communication over messaging services. Also, check to hide text message Android apps.
People who would prefer texting over other forms of communication are often perplexed at the amount of texting app options available. Most of these apps have some advantages over other available in the market. Here is a compilation of some of the best texting apps available for android. You can opt for any of these, depending on your exact requirements.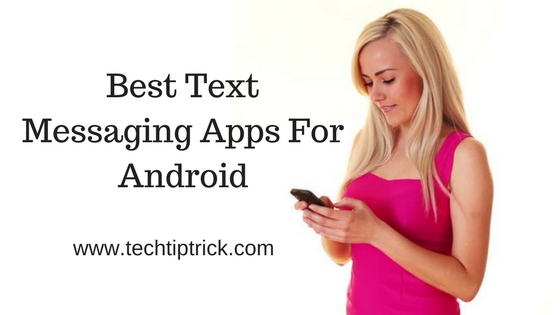 Best Text Messaging Apps For Android
Below we are going to discuss top text messaging apps for Android devices that you can download and use.
#1. Handcent Next SMS
One of the 1st and undoubtedly best texting apps available for Android offers a plethora of advantages. It has a wide variety of themes and skins to choose from and offers a private chat box which is password protected. You can send group MMS, greetings for special occasions like birthdays, anniversary or other festivities apart from emojis. You can even switch your devices and still use Handcent to send SMS, thanks to its cloud backup. The developers regularly update the app, so that you get the latest version for uninterrupted connectivity.
[appbox googleplay com.handcent.app.nextsms]
#2. Chomp SMS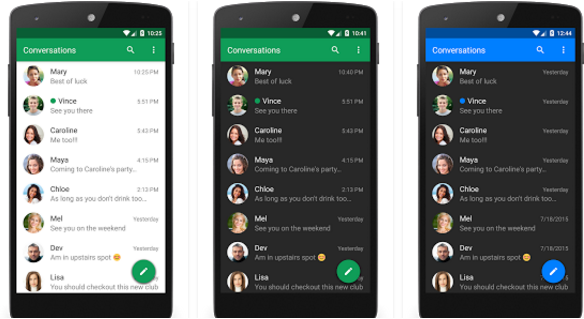 One of the most popular and best SMS app for android available on Play Store, it is free with in-app purchases. It is compatible with Android Wear and Pushbullet and has many enviable features. It offers you a range of emojis, SMS blocking, privacy and blacklist options apart from scheduled/delayed SMS sending, instant reply, MMS and group messaging. You can customize your chats with different themes, vibration pattern and LED colour alerts for different contacts. You even have the option of stopping a text mid-send, if required!
[appbox googleplay com.p1.chompsms]
Also check: Best Remote Control Android Apps
#3. EvolveSMS (Text Messaging)
It comes with Android Wear support and offers many exciting possibilities. You can send all sorts of multimedia messages including audio, video and gifs using this app, available free for android. It has some great features which include password protection, message archive, smartwatch compatibility, great looks, easy navigation and wonderful themes apart from a great user interface.
[appbox googleplay com.klinker.android.evolve_sms]
#4. Google Messenger
This free messenger app for android from Google is quite simple to use and has some nice features like sharing your location, text archive and search, SMS blocking, stickers and emoticons. It has a pleasant interface and offers you the option of taking photos, recording audio message, etc. Regular features like SMS blocking, sending bulk SMS, MMS to groups is also available.
[appbox googleplay com.google.android.apps.messaging]
#5. QKSMS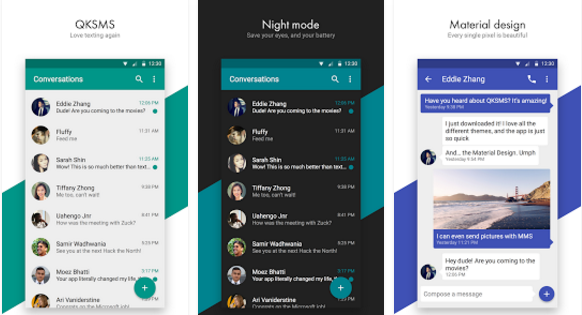 Offering protection from Stagefright bug, this relatively newer texting app offers interesting themes (including a dark theme or night mode), group messaging (SMS and MMS), floating notifications and search option. The best part of this app apart from quick replies and scheduled message delivery is that it is an open-source!
[appbox googleplay com.moez.QKSMS]
Also check: Best Clock Widget for Android
#6. Signal Private Messenger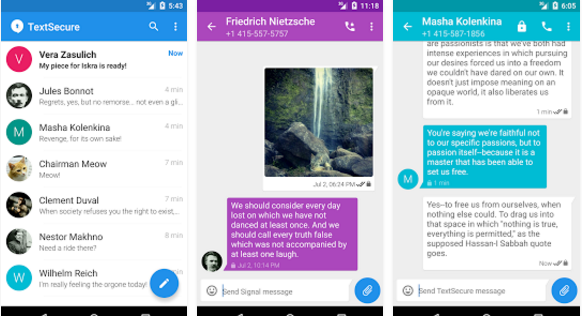 It offers end-to-end encryption just like WhatsApp, thereby rendering all conversations secure at both ends. This feature attracts most people who give importance to security. It is an open-source absolutely free app, which also allows group chats apart from phone calls. Other advantages of this easy-to-use attractive app are that you can also encrypt your attachments as well as your calls.
[appbox googleplay org.thoughtcrime.securesms]
#7. Textra SMS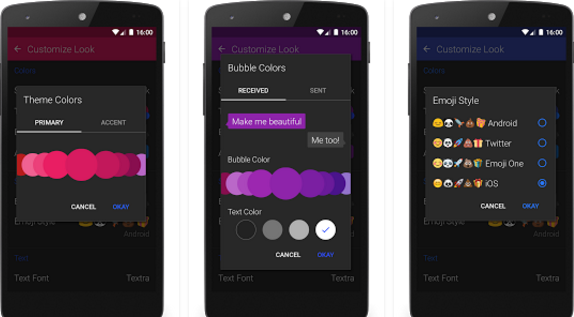 It is a free texting app, which is compatible with Android Wear, Pushbullet and MightyText and comes loaded with many features. It is a visually appealing app that has numerous built-in themes and emojis, along with features such as delayed sending, quick reply popups, floating notifications, message blocking, dual SIM compatibility, etc. It is fast, smooth and also has a small size, which means, memory space won't be a problem.
[appbox googleplay com.textra]
Conclusion:
All of the above mentioned best text messaging for Android has some unique features, which makes them one of the most sought after texting apps. Depending on your requirements, you can choose from any of the above to send messages. Happy texting!