The watch industry has had a unique reaction to technology and innovation. Whereas technology has significantly affected — perhaps even disrupted — almost all other industries, it has not yet made a similar mark on the watch industry.
People initially expected that the introduction of multiple smartwatch products from different technology companies was going to achieve this disruption. And for a short while, it did. The Swiss watch industry especially saw declines in sales and profits in 2016 and 2017. When the dust finally settled in 2018, however, the trends turned and the value of Swiss watch exports experienced growth again.
The smartwatch industry, in contrast, started strong. Smartwatches were poised to be the next major technological product after the smartphone and the tablet. It didn't take long for most major players like Apple, Samsung, LG, and Motorola to announce smartwatches. The products, however, failed to take off and only the Apple Watch really saw success in sales. The smartwatch industry has now declined into what is basically a monopoly.
Recommended: A Beginners Guide to Buying Premium Watches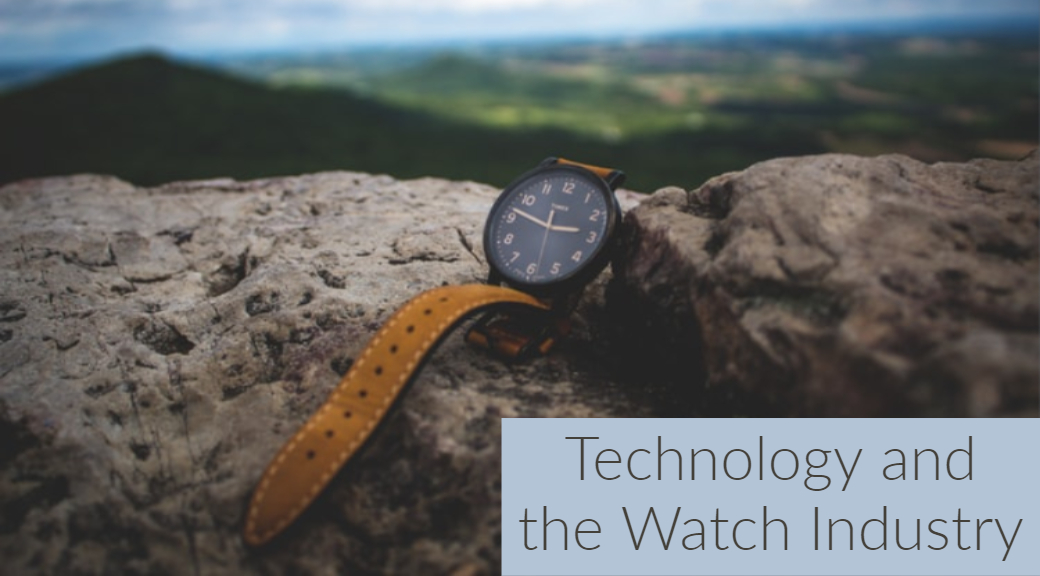 Why is there such an interesting relationship between technology and the watch industry? And what can we expect to happen to the dependable timepieces on our wrists in the coming years?
Market Segment
A misunderstanding of market segments is the primary reason for the interesting relationship between technology and watch industries.
People who want to buy mechanical, luxury watches just aren't interested in having a computer on their wrists. And people who do want smartwatches are not really looking for a simple timepiece in the first place. These two market segments are motivated by completely different factors. It was wrong to assume that one product could have appealed to the other market segment.
We can consider, as an example, the prices of these products. Most smartwatches that experienced success in sales were priced around the $300 mark. Luxury watches, on the other hand, sell starting at around $750.
If you're in the market looking for a new watch, and the functionality of a smartwatch appeals to you, it's very unlikely that you'll end up buying a mechanical luxury watch that's twice as expensive. There's just no point of you spending extra for a watch that will have fewer tech features.
Flip that scenario. You're looking for a watch with a rich history, a watch that you can pass down through the generations, a watch that can easily be a work of art hand-crafted by artisans. You really won't end up buying a smartwatch instead. This is the reason the watch industry won't be dying anytime soon.
There is an emotion people attach to mechanical watches, especially to luxury watches. This attached emotion is the reason why people don't throw away broken watches. People do get sentimental about their watches and often find watch parts at places like soflypart.com to bring new life to their beloved luxury watches.
Smartwatches and mechanical luxury watches may share many things, but their audiences do not really match or even overlap.
Recommended: Things That You Should Need to Know About Tudor Watches
Hybrid Watches
A common reaction that watches brands have is their introduction of hybrid watches. Hybrid watches look more like regular watches. These watches have the design of a traditional watch but have smart capacity and functions. These include heartbeat tracking, sleep monitoring, and sometimes even notification alerts. The smart capacity, however, will be more limited compared to the functions of a smartwatch.
Other Technologies
There are other technologies that can better apply to the watch industry. The relationship between technology and watch industries is not limited to watch design.
Analytics and Artificial Intelligence (AI)
Some of the technologies that are shaping the watch industry are analytics and artificial intelligence (AI). Companies can obtain rich data about their potential customers. Analyzing all this data usually requires the ability of AI. By using AI to analyze data, companies can drive production and marketing. Watch brands can make their decisions based on what they actually know about their potential customers.
For example, analytics using AI has revealed what people prefer when choosing watch straps, watch sizes, and color. This kind of information can help companies produce watches that people actually want, watches that people will actually buy.
Online Marketing
The watch industry can also look into technological advancements that can improve online marketing.
Watch brands, for example, can connect with social media influencers in addition to more traditional ways of advertising. Influencers have rich experience with tracking and analyzing social media impressions, engagement, and reach. With the help of influencers and their tech expertise, watch brands can reach a wider audience.
Watch companies can also consider making better use of live streaming to watch events. The announcement of a new product or design can become more engaging with the help of this technology.
There is also a lot of potential in using augmented reality. With the help of augmented reality, potential customers can use their phones and try to watch products virtually on their wrists.
Conclusion
Greater integration between the forward-thinking technology industry and the traditionally-inclined watch industry is both expected and preferable. This integration can benefit both industries and will provide better products and services to consumers.