Are you using Roku streaming player and find that your Roku remote not working so there may be an issue on your remote? And in this article, we have described five solutions to solve the issue of a remote. Note that you can use your Android as well as an iOS device as Roku remote. With Roku remote control you can perform the voice search. It comes with a 3.5mm audio jack, and it is an essential part of Roku. Even one can turn it into universal remote, too.
Roku sticks remote not working problems may differ, depend on the remote. If you don't know then let me tell you there are two types of remote available based on which type of remote you're using. If you don't know, there are two types of Roku Remote control available one is standard IR remote, and another is enhanced remote.
Standard remote comes with IR-blaster. Most of us know as we have used the old cable TV. To use it we have to point it towards Roku Player or TV whereas enhanced remote comes with the streaming player. It uses Wi-Fi connection. So need to pint it towards the TV.
Recommended: How To Install Kodi On Roku Without Jailbreak 2018
Before we start the part of Roku 3 remote not working solution first it is needed to find the type of Roku remotes that is which type of remote you are using. To identify it, we have to look for certain aspects. There is a full guide available to identify the remote, but you don't need it. You can easily find it with the following points.
As I said above, standard Roku Remote uses invisible IR light that transmits the command from remote to TV on pressing the keys. So, if you are using standard IR remote, then you must know that there is an IR-blaster, which looks similar to small LED light on the upper side of the remote.
If you are using enhanced remote, then it will ask you to pair with TV or Roku player when you use it for the first time. Another thing is it comes with a pairing button, and you can find it by opening Battery compartment.
Recommended: Best Online Music Streaming Sites for Free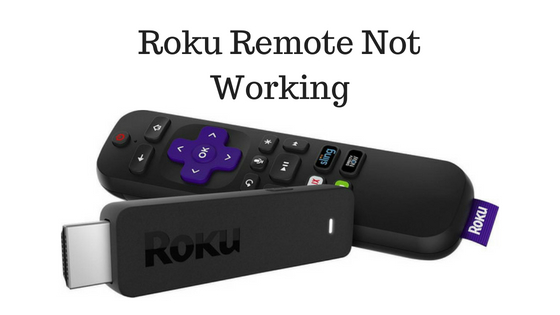 Roku Remote Not Working – Guide to Fix It
There is the total basic solution to fix this error.
Solution 1: Restart Roku and re-connect stick
Seldom Roku Player get stuck, and it is the reason behind not working of the remote. Though there is not an option of reboot Roku on the player you can restart it from the settings.
Step 1: To reset it, go to Settings>> System >> System Restart.:
Step 2: After the following restart, the remote won't work then remove the Roku streaming stick from TV and Turn off the TV.
Step 3:
Next, re-connect Roku Stick and re-start your TV.
Most of the time it works for a Roku streaming player, in case it won't work then follow the next solution.
Solution 2: Change the batteries
Yes from the title you know what to do as all we are using batteries in different equipment. In case if you don't know, then you need alkaline batteries to run your Roku Remote. And it is likely that you have not changed it for a long time, so it discharged. And it is the reason to stop working Roku remote.
It happens because we use normal Batteries and they don't work longer in an Enhanced remote as it uses Wi-Fi to transmit button presses.
So before buying the alkaline battery, first, use any normal battery. And check the remote. If it starts, then buy the alkaline battery for more extensive uses.
Solution 3: Use HDMI Extender Cable
If you are utilizing HDMI streaming stick and it directly connected with TV then as per Roku's recommends troubleshooter, you need an HDMI Extender Cable.
Solution: 4 – Fix Standard IR Remote
It is a mostly working solution to solve the Roku stick not working. On Standard IR Remote, one can easily find it working or not with your smartphone camera. Yes, to check it, you need a smartphone with working camera as it is capable of seeing the light wavelengths which human can't see from the naked eyes.
To inspect the Roku Remote, keep the smartphone camera and remote in front of each other and press any key from the remote. If you can see the blinking light in the camera, then your Roku remote is working and if not then Roku Remote is damaged.
After checking the remote by smartphone, you find that your remote is in pretty good condition to work. Another possible error is you're not pointing the Roku Remote in the right direction. So it may be the cause of Roku remote not working. To solve it check and follow the steps as precaution or troubleshooter.
Check there is not visible obstruction between Roku remote and device.
Point Roku Remote to the device from approx. 12-17 centimeter away, and press any key of a remote. If the battery is low then from this much distance, Roku remote can Work correctly.
After checking it, Roku stick remote is still not working, then download App and try with Android or iOS device which has IR blaster.
If the app works correctly, then there is a problem with your Remote. And you have to buy new remote offline or online from the store.
If the App is not working, then there is a problem in your Roku Streaming Player. So the last way is to reset your Roku device. But before resetting the Roku device, Make sure, there is not any problem with the Remote, and it is working perfectly.
Solution: 5 – Fix Enhanced Roku Remote
Enhanced remote work with wireless network and hence you don't have to need to point it in front of a TV. So for enhanced remote first possible reason is an improper pairing or sometimes it happens that it get disconnects. So the first solution is re-pair the Roku Remote with your device.
You can know it from the first step. But if you don't know then follow the instruction given below to repair your remote:
Step 1: Turn off Roku and take off the power cable.
Step 2: Next, take off batteries from your Roku remote.
Step 3: After a minute, re-connect power cable again and re-start Roku. Place the battery inside the remote after the home screen appears on a screen.
Step 4: Now pair remote. For that hold pairing button until the remote light starts flashing and wait for 30 seconds.
Step 5: After 30 seconds the pairing dialogue box will appear, follow the on-screen instruction to pair.
Change the Battery:
Apart from pairing issue, another possible reason for enhanced remote is the battery issues. Try to replace the batteries and check remote is working or not.
Download app:
The last option for you is Roku App to fix Roku Remote not working as you can use it as an alternative to Roku remote. You can download the app form particular play store, or you can go to the following link to download:
You can buy a new Roku Enhanced remote from Roku Store is another alternative.
CONCLUSION:
It is all about how to fix Roku remote not working. We hope it works for you. We always welcome your questions and doubts related to this article. So do not feel shy to ask it. Thank you for reading!
Related Post: