Over the years Xbox One controllers have come a long way, and there's never been a better time to pick the best Xbox one controller up than now. Over years of monotony, Microsoft has improved the Xbox controller design for comfort and control by adding modern conveniences like Bluetooth support and revising the shoulder bumpers for native play on Windows 10 PCs.
Most of the new official Xbox One controller will treat you well but to pick Xbox one wireless controller depends on how much you want to spend and how much you like the look with the other conveniences.
So here we have mentioned 7 best Xbox one controllers with great colors and a special edition that must catch your eyes. So let's start the tour of Xbox one wired controller, please wear your seat belt properly!
Recommended: Xbox 360 Controller Driver Not Working on Windows 10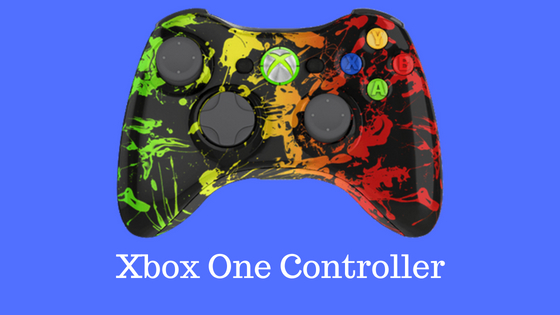 Best Xbox One Controller
If you want the best of the best and the cream of the crop, then Xbox One Elite Controller is for you. No there is no more change in design compared to the regular controller, and it is better compared to others. Everything has been upgraded. Like the D-pad, thumbsticks are removable, and it can replace with different options depending on the game your choices you play. There are four additional configurable firing mechanisms, paddles on the back, and custom button mapping for Xbox One and Windows 10 with the Xbox Accessories app. but it has not a Bluetooth.
The body is almost wear-resistant as Microsoft can get, and once you hold it, you will find the difference with the regular controller. Yes, it is astounding! Microsoft considered professional gamers and created the Elite that fit their needs successfully.
It will cost you around $125 if you can find it as it is. The stock is limited as the next Xbox Elite V2 is on its way to launch. In short, it is the best console controller that gets even better, and if you want to brighten up the look, you will find third-party accessories.
Why Is The Xbox Elite Controller The Best?
Xbox Elite Controller is comfortable to use for a long time, sturdy, and most importantly you get a great feeling when you hold it. And it has a noticeable lifespan, so more serious gamers choose this cool Xbox one controllers reasonably quickly.
It is hard to think that anyone will make a better controller before the Elite comes. You don't believe, but Microsoft worked with some of the professional gamers to design this controller, as per their need and as a result, it keeps the same great design with the improvement of all other things. The sticks are more durable and removable. Even the D-pad is more durable.
Now with the paddles on the rear, the user can map to any button on the controller handling the guide app for Windows 10 and Xbox One. The entire thing covered with a soft-touch. It has hand-grips, and trigger stops, too.
Few people declared that this controller is not worth at looking its price tag and there is nothing wrong with it for them. But those who are willing to pay the price, the Elite Controller is the very best choice. You can use it many years longer than a regular controller with serious features. It may be hard to find a better Xbox 1 controller then this.
It is the best Bluetooth controller. With the latest version of the official Xbox, One controller has changed the design and add more grippy parts on the rear side than the previous model. And yes there is Bluetooth so that the gamer can connect to a pc easily without any wired connection.
It needs the total customizability like the Elite Controller, but there are still appearances that can change in the Xbox Accessories app. And now you can pick it from the wild design of dreams, different colors and game tag stamped on it so it can be forever yours with the new Design Lab, but unfortunately, it is available in select countries only for now. Its price starts at $79.99, and Microsoft's latest regular controller is better than it is ever. And the Bluetooth feature means you can enjoy wireless gaming on your Windows 10 PC without a dongle.
It is the best retro gaming Xbox one pro controller. Xbox and Hyperkin come together and improve the classic OG Xbox controller, known as the "Duke."
It was an awkward beast of a wired controller, sporting huge Xbox branding and, at the time, joystick and unique triggers placements. Microsoft has emphasized this classic design giving us the controllers we have today, but if you want to endure OG Xbox back combat games as they meant then buy this controller. It is a stunner at $70 only and worth it for an Xbox fan.
It is well made with improving refinements across the board, which includes shoulder buttons, 3.5mm audio and in the center a gorgeous OLED display that on every press showcases the OG Xbox boot animation. After buying it, you will feel it like it came straight out from Microsoft's labs. Retro gaming is at its finest with this controller. It comes with black and white buttons for those OG Xbox games.
Razer Wolverine Ultimate is the best wired Xbox controller. From starting it was never made just for an average, but it comes to limelight when they focused eSports Wildcat: the wolverine.
The Wolverine is a fully modified, wired controller that's a variation on the standard design. You've got paddles on the rear, built-in hardware audio controls down the bottom and around the Xbox button RGB lighting.
It costs around $160, so it is not cheap, but it built well and looked like a professional one, packed to the gills with amazing features. In short, it is customizable, well made and perfect for the gamers. So there is nothing to not like about it, and yes it has Chroma lighting.
If you are looking for a pocket-friendly Xbox wired controller then solid Xbox One controller then this one from Amazon Basics that meets your need nicely. It costs only $25, but you do not get any fancy features, and it is a wired controller, but it is white and black like the Xbox One S. The shape and size are not regular like a regular controller, but it is almost same, the headset jack is on the bottom, and the buttons are in the right place. No frills, but as per price great value ad a great value controller and only available as a wired controller.
If you might find that a dedicated arcade stick and you are a big fan of beat-em-up games, then it is the best method of input. Yes, the stick is not cheap and costs around $150, but it is the choice of Xbox One fight fans.
It's packing KURO buttons and an original Hayabusa stick, and if you are modifying it up a little, then it's OK, too, as it is pretty easy to do with this stick. There is sufficient cable storage, and it looks pretty sharp, too. It is the best arcade stick for Xbox fight fans with a slightly different model in a rather fantastic Tekken 7 paint job.
If you have driven cars with a worse wheel than this console is for you. The TS-XW is from Sparco and Thrustmaster is the very top of what you'd want a console to run your wheel. It is based on a real Sparco wheel, trimmed in Alcantara and made from metal with fantastic force feedback and precise-feeling paddle shifters.
It is not for the faint at heart because starting with this wheel gives you a bit of work. The pedals are adjustable and lifelike and all thanks to Thrustmaster's system that can exchange out the different design wheel itself to use on the same base. It is the most expensive one on our list and costs around $700. For Xbox One racing, the best wheel you can get is Thrustmaster TS-XW. The detachable wheel can replace with different designs running off the same pedals and base.
Conclusion
It is all about the Best Xbox One Controller. There are a lot of great wireless Xbox one controller as well as wired Xbox one controller out there, but it's still hard to replace Microsoft's Elite controller. It is absolutely the best one after comparing the different aspects. If you are Pro-grade gamers, then you will also like Razer's controller. Even if you are looking for a wireless one then also it is a good choice. In the end, the Xbox One has some top-class controllers on offer.
We hope you also find the one you are looking for. Write a note and share it with other users and us using the comment section below. We love to listen to form the gamers inside you! Thank you!
Related Post: