In this article we are going to show you how do troubleshoot a Kik Login Fail or Kik login error. Follow the step by step guide to get solution for your Kik Messenger login error.
Kik Login Fail
Kik has emerged as one of the most popular messaging services worldwide. This app allows you to share video, picture, and text messages with other Kik messenger users online. You can also make video and voice calls with this app.
Although Kik login is easy and usually poses no challenge, sometimes login may fail and cause frustration. This is why we will look at various troubleshooting methods to resolve this issue.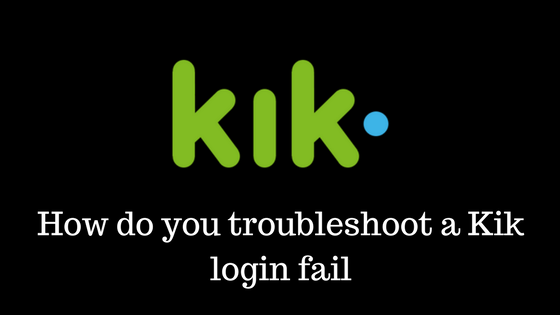 Have you created an account?
In order to log in to Kik the very first thing you need is an account. When you create an account you also create the username and password to log in to Kik. Here is how you can register for a Kik account.
Step #1 : Launch Kik application on your mobile device
Step #2 : Tap 'Register' or 'Create a new account' button on the login screen
Step #3 : Enter the following information on the subsequent screen:
First Name
Last Name
Kik Username (it must be unique)
Email address
Password
Birthday
Step #4 : Once you have filled out the information, tap 'Register' button on the bottom
Step #5 : Type the codes on the next screen to verify your human identity and to tell the app you are not a robot
Step #6 : Tap 'Finish'
That's it! You now have a Kik account. You can log in with your username and password.
Forgot your password?
There is a good chance you are not able to log in to Kik because you have forgotten your password. If that is the case, you will first need to reset the password. Here is how you can do that:
Step #1 : Launch Kik app
Step #2 : Tap 'Login' on the home screen
Step #3 : Tap 'Forgot Password?' link
Step #4 : Follow the onscreen instructions to reset your password
You will receive an email on your registered email address with the password reset link.
You can also reset your password on a computer. Visit the website https://ws2.kik.com/p and enter the email address you have registered your Kik account with. Now click Go. You will receive an email with the link to reset the password.
Check your internet connection
If you remember your password and are still not able to log in to the Kik app, there could be a problem with the internet connection.
To check whether it is the internet issue or just some Kik issue, open a browser and try to visit any website. If the website opens and Kik login still fails, there could be some problem with the Kik server. Although such server issues are rare they are still known occurrences. You will want to wait it out and let the Kik team fix the server issue.
If you are on the mobile carrier data services and the mobile browser does not open the website there is a problem with the internet connection on the phone. Check if the 'mobile data' is turned on. If it is on and you still cannot connect to the internet, you may need to contact your carrier.
If you are using Wi-Fi, make sure your device is connected to the network. Go to the Wi-Fi settings and check if the device is connected to the wireless network. If not, select your network from the list and complete the connection (you may need to enter the Wi-Fi passcode).
If Wi-Fi is connected and is still not working, try and turn the router off and back on. Rebooting the modem usually takes care of the issue. If you are still not able to connect, contact your Internet Service Provider (ISP).
Reboot Your Device
If the internet is working fine, then there could be some Kik server issue. You could check the Kik server status on http://downdetector.com/status/kik. This page usually gives the right information. You can also look up on the search engine for any currently known server issues.
But, what if there is no problem with server, your login credentials, and your internet? What if Kik is working fine on someone else's device connected to the same network? Well, it could be some temporary issue with device or just the Kik app on your device.
We would recommend you to turn your device off and turn it back on. Rebooting often works in such cases as it refreshes the operating system as well as all the apps. When Kik app is refreshed, you never know the login problems might just go away.
Remove Kik and Reinstall
If none of the remedies seem to be working, you would want to uninstall Kik from your device and then reinstall it.
Sometimes the app files get corrupt and prevent the proper functioning. This is why reinstalling could be the only way to go.
It does not take a long time to remove and reinstall the app. It is available on official app stores, so installation is pretty straightforward too.
Related Article: